Pughasa
Lhasa Apso / Pug Hybrid Dogs
Information and Pictures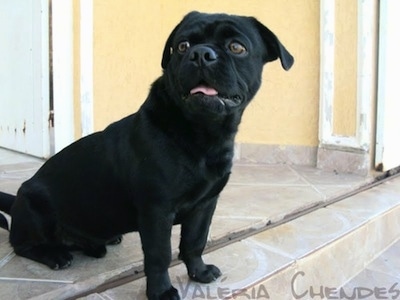 Abel the Lhasa Apso / Pug mix breed dog (Pughasa) from Brazil at 9 months old
Other Names
Lhasa Pug
Description
The Pughasa is not a purebred dog. It is a cross between the Lhasa Apso and the Pug. The best way to determine the temperament of a mixed breed is to look up all breeds in the cross and know you can get any combination of any of the characteristics found in either breed. Not all of these designer hybrid dogs being bred are 50% purebred to 50% purebred. It is very common for breeders to breed multi-generation crosses.
Recognition
ACHC = American Canine Hybrid Club
DBR = Designer Breed Registry
DDKC = Designer Dogs Kennel Club
DRA = Dog Registry of America, Inc.
IDCR = International Designer Canine Registry®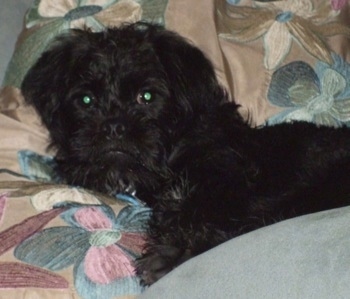 "This is Deuce at about a year old. When we got him, he was not a recognized mixed breed that we knew of, and we only paid $75 for him! He's a Pughasa—his mom was the Lhasa and his dad a black Pug. Deuce is smart, funny and has a very cuddly disposition. He's very loyal, has fun socializing with other dogs and going to the doggy day spa to be pampered. Deuce enjoys his walks and potty trained very well. We got him at 4 weeks and he was trained in the first few days!! We definitely look forward to having another one someday!"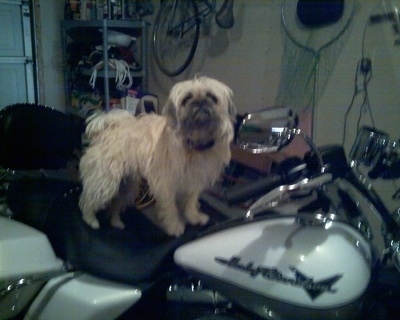 Fergie the Pughasa (Pug / Lhasa Apso hybrid) "Fergie loves to ride on Daddy's Harley. She also has her own jacket. She likes to cruise around the neighborhood and show off to her friends. Fergie is a true performer and loves attention. At almost 1 year old, she has grown to a 14-pound fun-loving princess."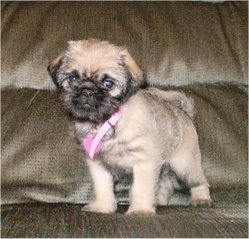 "Fergie is a Pughasa (Pug / Lhasa Apso hybrid) shown here as a 6-week-old puppy, and the smartest, sweetest puppy we have ever owned. She has the personality of her daddy (Pug) along with his stocky build. She has the hair of her mommy (Lhasa Apso) and her sweet disposition. This is definitely a wonderful mix."
Fergie is a Pughasa (Pug / Lhasa Apso mix breed) puppy at 6 weeks old with her toy.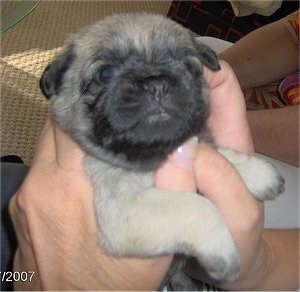 Fergie is a Pughasa (Pug / Lhasa Apso mix breed) puppy at 2 weeks old.