Paperanian
Papillon / Pomeranian Hybrid Dogs
Information and Pictures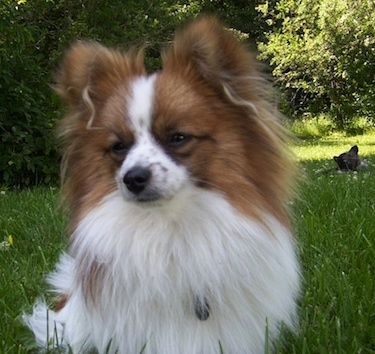 "This is Cain. I have another Pom / Papillon hybrid who is a wolf-sable female named Sky (seen to the right in this pic and in pics below). Both of these dogs are the designer mix known as Paperanian and they are lovely lively little dogs. They are very social and get along well with other dogs as well as cats. For such small and delicate looking dogs they love the outdoors and will follow me anywhere, and that includes taking a swim through a stream in necessity. They make the best pets as they are very affectionate and are not big barkers if you do not let them get away with it."
Description
The Paperanian is not a purebred dog. It is a cross between the Papillon and the Pomeranian. The best way to determine the temperament of a mixed breed is to look up all breeds in the cross and know you can get any combination of any of the characteristics found in either breed. Not all of these designer hybrid dogs being bred are 50% purebred to 50% purebred. It is very common for breeders to breed multi-generation crosses.
Recognition
ACHC = American Canine Hybrid Club
DDKC = Designer Dogs Kennel Club
DBR = Designer Breed Registry
DRA = Dog Registry of America, Inc.
IDCR = International Designer Canine Registry®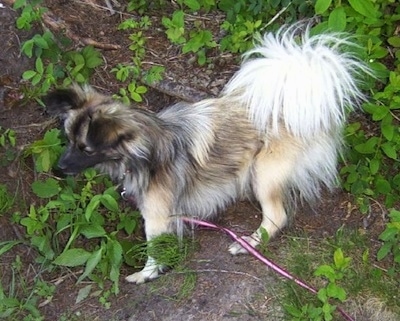 Sky the Paperanian (Papillon / Pomeranian mix breed dog)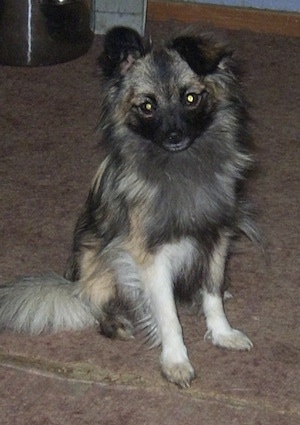 Sky the Paperanian (Papillon / Pomeranian mix breed dog)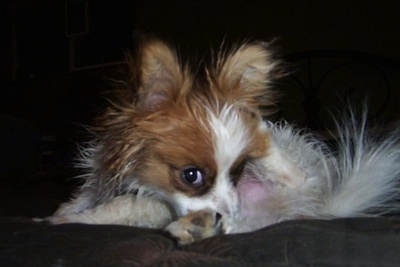 Cain the Paperanian (Papillon / Pomeranian mix breed dog)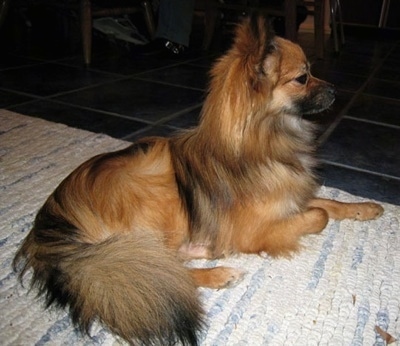 "Colby the Paperanian at 8 months old—his father was a Pomeranian, mother was a Papillon."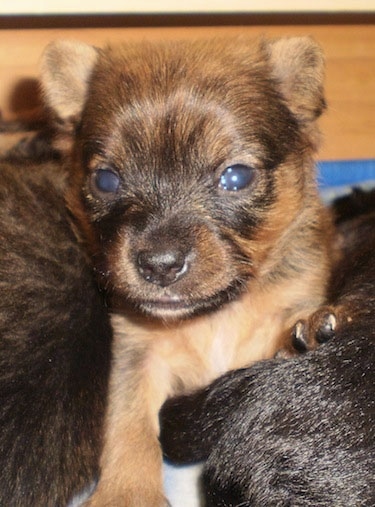 This is a first generation Paperanian puppy at 3 weeks old. It is 50% Pomeranian and 50% Papillon.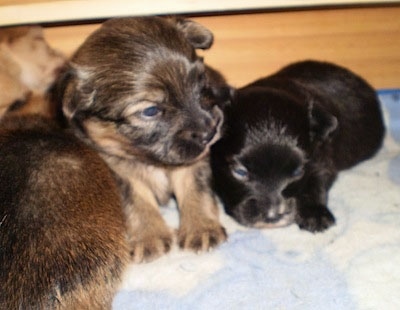 First generation Paperanian puppies at 3 weeks old (50% Pomeranian and 50% Papillon)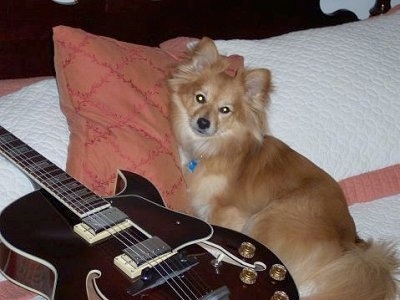 Papillon / Pomeranian cross (Paperanian) with a guitar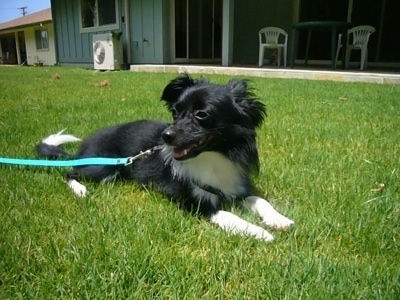 "Makanui is a Paperanian at 16 months old. He is very sweet and gentle. He loves to play with other dogs and loves adults and children alike. He loves to go on car rides and walks downtown because he is very social and enjoys meeting all of the people walking around town. I think Maka is the perfect mix of temperaments. He is very smart and has picked up commands very quickly. He travels in a small bag on the airplane with my husband and me. He is truly part of our family."
"This is one of Maka's trips…he is sitting at the Fairmont Orchid Hotel pool in Waikoloa, Hawaii. We love to stay there for weekend getaways because they are pet-friendly."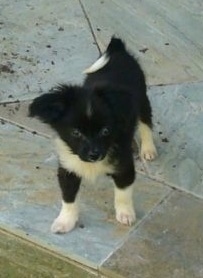 This is Maka the Paperanian as a puppy at 3 months old.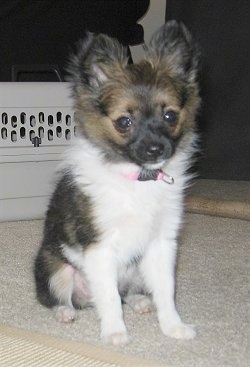 "This is Robin. She is about 10 weeks old in this picture. Her mom was a Pom and her dad was a tan/white Papillon. She is a feisty little girl, totally fearless about meeting big dogs. She tries to jump on their heads! She also loves meeting new people; she'll run up to anyone with her whole body wagging. She is very smart, and has been easy to train so far. She even knows how to stand up and dance. I can't wait to see what she will look like when she's older."
"Robin, my Paperanian checking out her first Halloween pumpkin. She is almost 9 months old, and you can see her fur has gotten much longer, but not as long as a Papillon's. It's long and straight, and the backs of her legs have the longest fur—it's very cute! She is very feisty, she loves to play tag and chase either me or my Pom-Chi Bruce around the house. She isn't too much of a barker, only when she hears the doorbell or when the other dogs in the neighborhood are barking, then she will put in her two cents to the conversation. She has been great at learning her basic obedience; learning to stay was a bit harder because she always has ants in her pants, and likes to run around. She is the sweetest dog, though, and will try to climb onto your shoulder to lick your face if you let her!"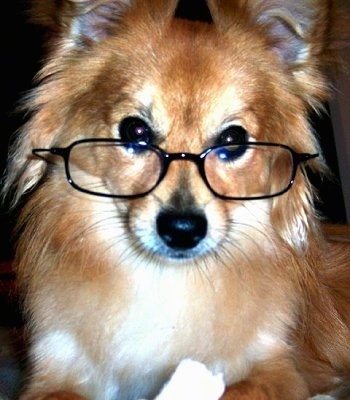 An adult Papillon / Pomeranian cross (Paperanian) wearing human glasses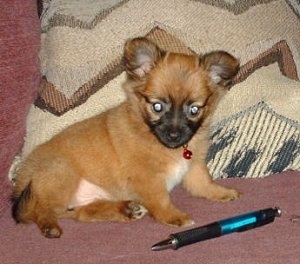 Pebbles the Paperanian (Papillon / Pomeranian hybrid) at 8 weeks old—daddy is a red sable Pom (registered) and mom is a tricolor Papillon (registered). Her owner says, "Pebbles is so adorable and I can't wait to see what she will look like as she grows. She is 8 weeks old and weighs 1 lb. 13 oz. She is already spoiled rotten, I call her my Portable Pocket Pooch because she goes to the office with me every day; she has even been shopping in Walmart! Good thing I have nice size pockets on my smock LOL. She is little Miss Personality Plus! She is already developing the fringes on her ears and, as you can see in the pictures, her ears are oversize. I am hoping for a coat of a Pom with the ear feathering of the Papillon, but I will love her no matter what she looks like!"
Pebbles the Paperanian (Papillon / Pomeranian hybrid) at 6 months old—"She hasn't grown much at all, and I am guessing at the weight, but definitely less than 5, more like 3 lbs. tops."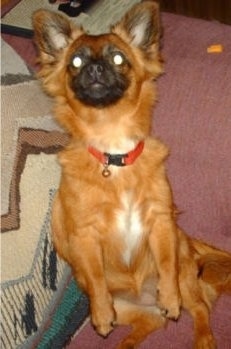 Pebbles the Paperanian (Papillon / Pomeranian mixed breed dog) at 6 months old