Petite Goldendoodle
Golden Retriever / Toy or Miniature Poodle / Cocker Spaniel Hybrid Dogs
Information and Pictures
Petite Goldendoodle, photo courtesy of Timshell Farm Goldendoodles
Other Names
Petite Groodle
Petite Curly Retriever
Petite Goldenoodle
Petite Goldenpoo
Pronunciation
--
Description
The Petite Goldendoodle is not a purebred dog. It is a cross between the Golden Retriever, Poodle (Toy, Miniature or small Standard) and the Cocker Spaniel. Breeders are producing a much smaller Goldendoodle (Petite Goldendoodle) by first downsizing the adult, breeding female Golden Retriever. Breeders accomplish this by crossing the Golden Retriever with a Cocker Spaniel. The puppies that come from this cross-breeding are called Golden Cocker Retrievers. The Golden Cocker Retriever is bred with a Miniature Poodle (either by natural breeding or surgical / artificial insemination). The Petite Goldendoodle puppies are ½ Poodle, ¼ Golden Retriever and ¼ Cocker. The Petite Goldendoodles will be smaller dogs when grown because of the downsizing of the mother dog. The best way to determine the temperament of a mixed breed is to look up all breeds in the cross and know you can get any combination of any of the characteristics found in any of the breeds. Not all of these designer hybrid dogs being bred are 50% purebred to 50% purebred. It is very common for breeders to breed multi-generation crosses.
Note: Some breeders are using other types of spaniels besides Cocker Spaniels to create a Petite Goldendoodle. Be sure to ask the breeder what exactly is in their lines of dogs.
Recognition
DRA = Dog Registry of America, Inc.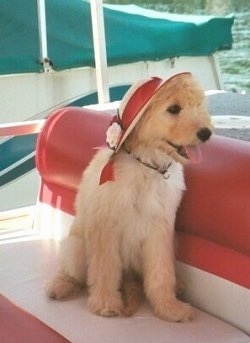 Orly out on the boat! Photo courtesy of Timshell Farm Goldendoodles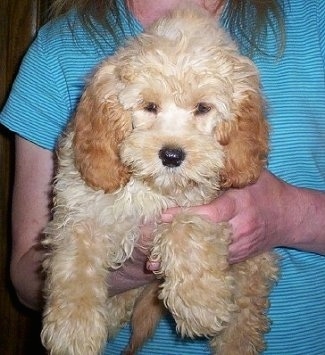 F1 Petite Goldendoodle female golden-colored pup shown here at 9½ weeks old—she is 25% Golden 25% Cocker and 50% Mini Poodle. Photo courtesy of Burr Oaks Dood Ranch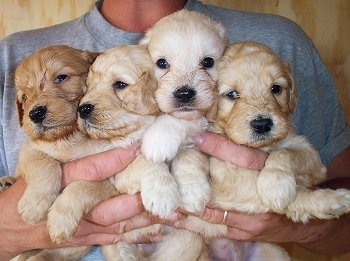 Young Petite Goldendoodle puppies, photo courtesy of Timshell Farm Goldendoodles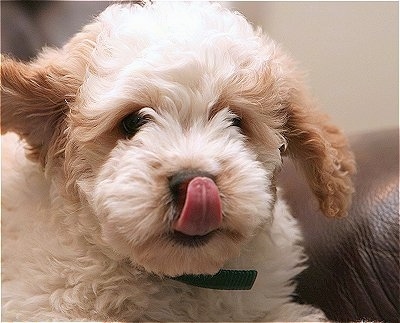 Parti Petite Goldendoodle puppy, photo courtesy of Timshell Farm Goldendoodles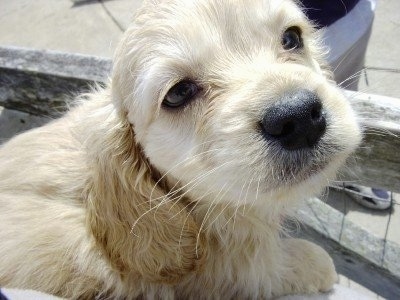 Petite Goldendoodle puppy at 6 weeks old with the Cocker added in—¼ Golden ¼ Cocker and ½ Mini Poodle. An F1 Cockapoo was bred to an F1 Mini Goldendoodle. Pups are still first generation. As an adult this pup will weigh 15 to 20 pounds. Photo courtesy of Burr Oaks Dood Ranch
Petite Goldendoodle puppy at 6 weeks old with the Cocker added in—¼ Golden ¼ Cocker and ½ Mini Poodle. An F1 Cockapoo was bred to an F1 Mini Goldendoodle. Pups are still first generation. As an adult this pup will weigh 15 to 20 pounds. Photo courtesy of Burr Oaks Dood Ranch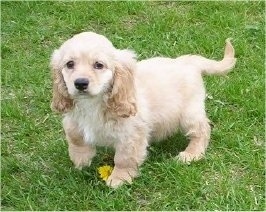 Petite Goldendoodle puppy at 9 weeks old with the Cocker added in—¼ Golden ¼ Cocker and ½ Mini Poodle. An F1 Cockapoo was bred to an F1 Mini Goldendoodle. Pups are still first generation. As an adult this pup will weigh 15 to 20 pounds. Photo courtesy of Burr Oaks Dood Ranch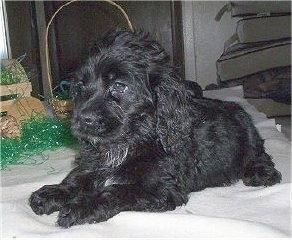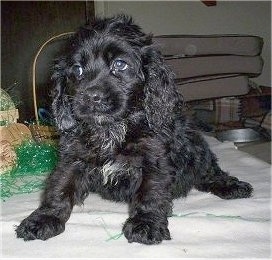 Petite Goldendoodle puppy with the Cocker added in—¼ Golden, ¼ Cocker and ½ Mini Poodle. An F1 Cockapoo was bred to an F1 Mini Goldendoodle. Pups are still first generation. As an adult this pup will weigh 15 to 20 pounds. Photo courtesy of Burr Oaks Dood Ranch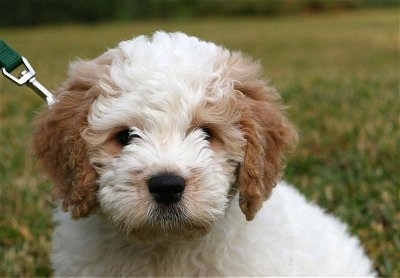 Parti Petite Goldendoodle puppy, photo courtesy of Timshell Farm Goldendoodles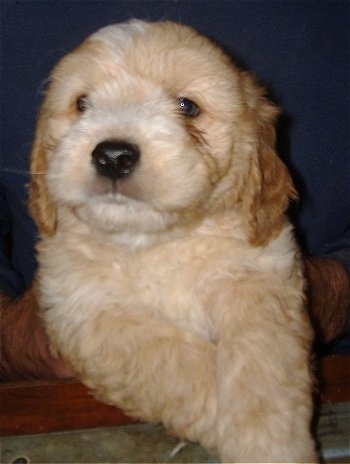 Young Petite Goldendoodle puppy, photo courtesy of Timshell Farm Goldendoodles