Raising a Puppy: Mia the Blue-Nose American Bully Pit—24 weeks old
A day in the life with Mia the American Bully (Bully Pit) puppy. Mia's eighteenth week—24 weeks old, 48 pounds, 17 1/4 inches from the ground to the highest point of the shoulders (the withers).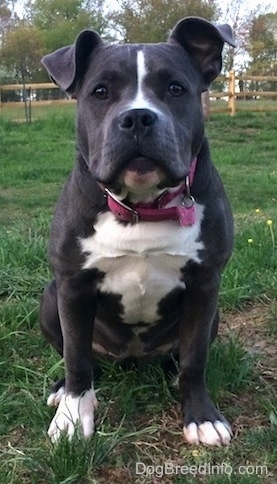 24 weeks old (About 5 1/2 months)
Running with Mia
Mia, caught on video being a leg-licker. She loves following the humans. If you run, she'll go with you. Notice how she does not try and jump up. Good girl.
Learning Tircks
Mia learns brand-new tricks. She already knew 'paw' therefore 'high-five' came easy. Spencer, the Pit Bull, does his 'touch it' trick. Sara then teaches Mia, the Bully puppy, a harder trick, 'dead dog.' It takes more time for her to get the connection of rolling on her side. Spencer already knows it and he plays dead next to Mia. Mia looks at him wondering why he got the treat. Watch how Mia slowly learns that if she lays on her side she gets food. By the end of the short session Mia was willingly rolling on her side. Notice how Mia throws in her 'spin' trick. This was the very first time 'dead dog' was taught to her. She picks up on it relatively quickly.
Learning Door Manners
Mia learns to have good door manners with the help of big brothers Bruno, the Boxer, and Spencer, the Pit Bull.
Dark Steps
Mia was up in a barn loft. It had gotten dark and there were no lights to turn on in the stairway.
She was afraid to come down. Her eye sight is not the best and she couldn't see the steps. Sweet-talking was not convincing her. She just cried. I tried walking out of sight. No go. She just cried. I walked all the way to the building next door to get some food. When I got back she was still at the top of the steps crying. I waved the food in front of her nose and suddenly her mind was in a different place. The power of food. She wanted some of that and she would do almost anything to get it. I moved the food slowly down the steps so she didn't go to fast because I didn't want her to fall. She followed the scent. When she was past the darkest area and was going down well I let her have it as she continued forward. She gains confidence while getting a tasty treat.
Van Manners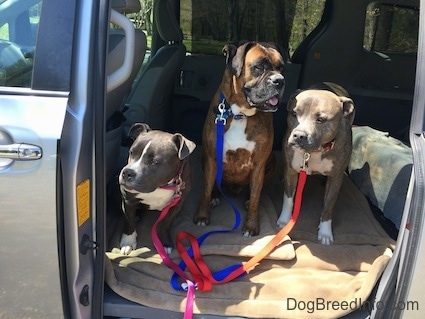 One of the things we are working on is Mia being a little more patient when the van door opens and it is not time to come out yet. She has not prematurely jumped out because I keep sending her back, but she does keep inching up in hopes to get out just a little sooner. What she does not realize is it only slows the entire process down. I don't bring her out until she stands still at a reasonable distance.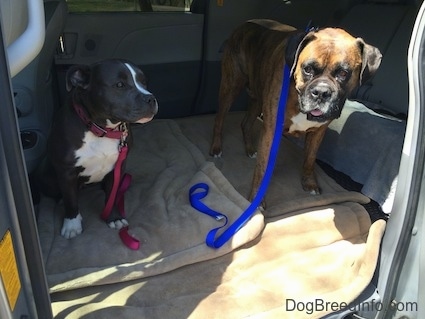 The calmest dog always comes out first. Bruno and Spencer are pretty much a tie, but Spencer is usually in the back not even trying to be in front of his other pack members, therefore he usually wins and gets to go first. Bruno is usually second.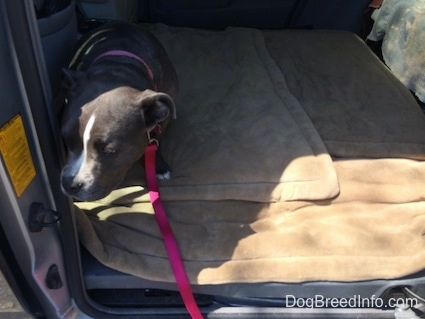 Mia of course was last. She keeps inching up without a command to get a look at what's outside, a deeper sniff of the air and maybe, just maybe, she can sneak out. "Back Mi-Mi. Stay."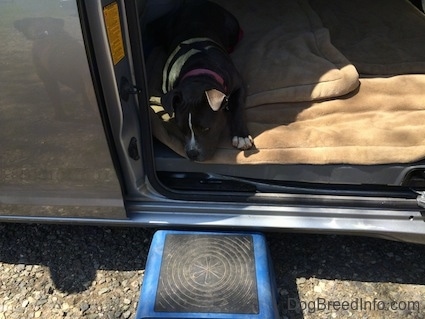 Um, no Mia. Army crawling won't work either.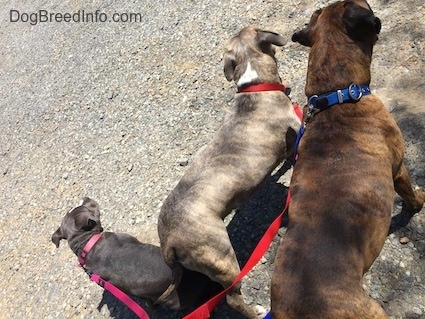 When Mia is allowed out she is faced with another challenge. She has to wait while I close the van. That means stand still; No pulling in any direction. Patience, Mia. Patience. The only way you are going to be able to travel all over with the pack is if you learn good public manners.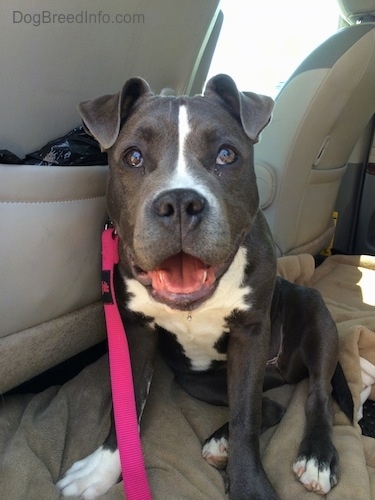 Mia is a happy girl.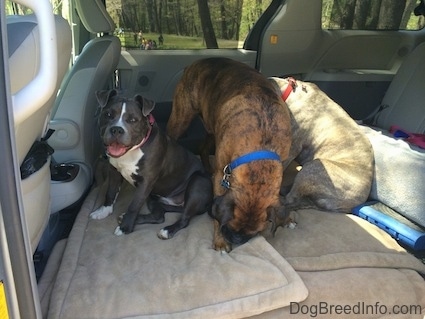 After the walk we practice staying in the van with the door open. Mia does a much better job when she's tired and happy to be resting.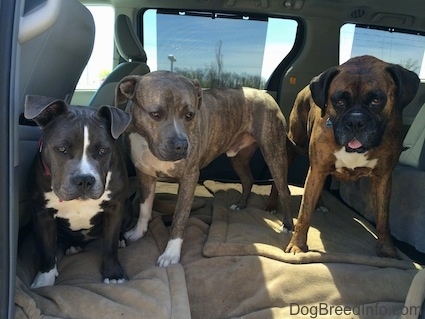 Stay. Good puppies.
Zooming Cars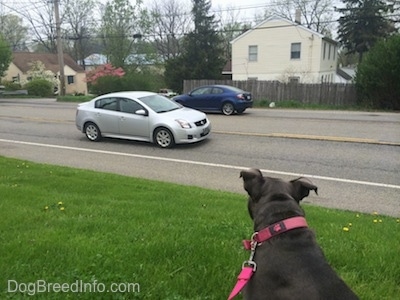 We were walking along a busy road when Mia suddenly decided to try and chase a car that had a loud engine. Luckily, I had a good hold on her leash. "No! Leave it!" Now I know what we need to do. Walk along more busy roads and teach her to ignore loud vehicles. The last time we watched cars it was in an entrance to a parking lot. This time the cars were zooming by fast. It seemed to only be the loud ones that she wanted to chase after. Mia, you may be a Bully Pit, but you are still no match for a car.
The Mia-Lean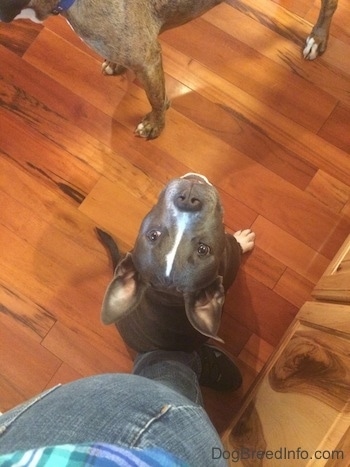 While preparing the dog's breakfast Mia decides to do the Mia-lean against my leg. Mia, look up at the camera.
Trip to the Mountains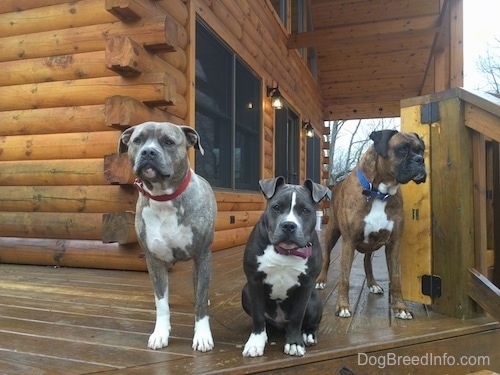 The pack on a weekend trip to the mountains. Spencer the Pit Bull, Mia the Bully Pit and Bruno the Boxer on the cabin porch.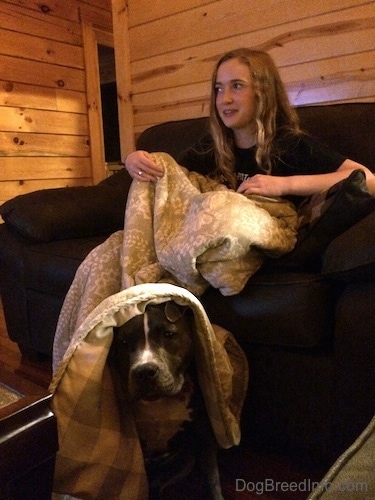 Where's Mia?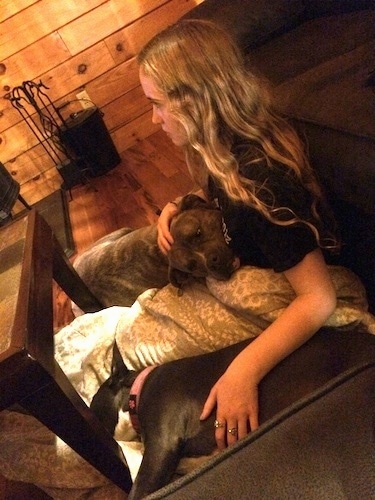 Sara watching a movie with her Pits, Spencer and Mia.
Trash Picker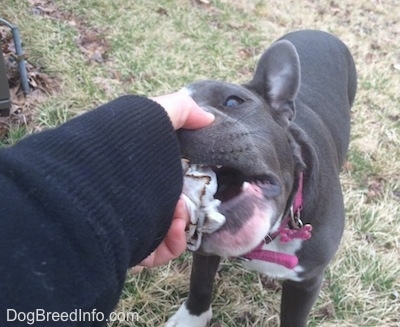 While on a weekend trip to the mountains Mia keeps sniffing out loot. Mia, you trash picker! Spit that out! Oh great, you look like you're going to swallow it. Open up. Give me that.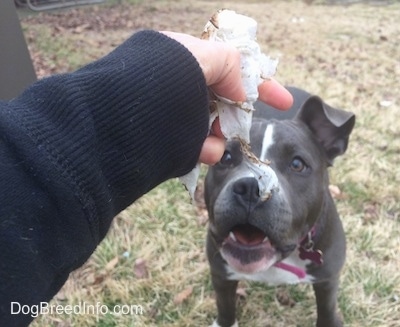 NO, you cannot have it back! Go find a bone or something.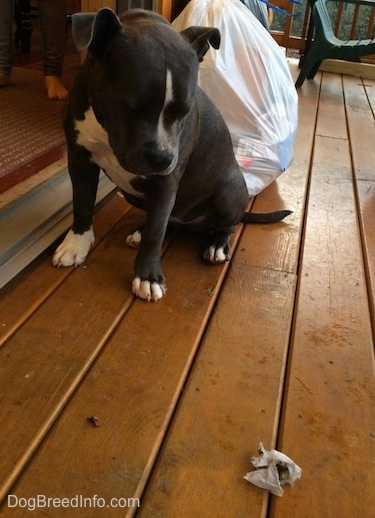 Really Mia? Another piece of an old napkin? Drop it! Good girl.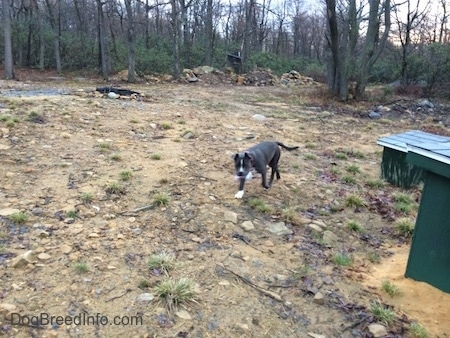 Mia, now what? You keep running off into the woods near the outhouse and coming back with things. Drop that, too! Are you getting into a trash can or something? Did someone leave the door open? What is that?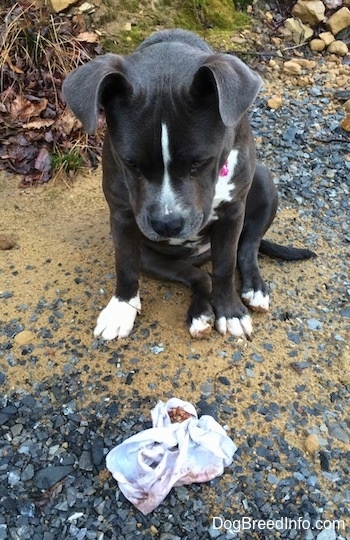 Oh my gosh, no way. That's a pair of underwear! I almost didn't want to post this it's so embarrassing. You not only find the most discussing things, you actually bring them to me as gifts. Mia, I do not want dirty underwear. Wherever you are finding this stuff, stop going there! I'll have to follow you to see what you're nosing around in.
Puppy No-No's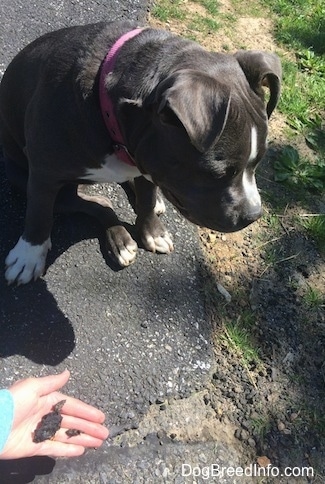 One minute I look out the window and you're just sitting there enjoying the sun. The next you're eating the tar off the driveway! Mia, you're a piece of work.
Here, have a bully stick to chew on. That should keep you occupied for a while.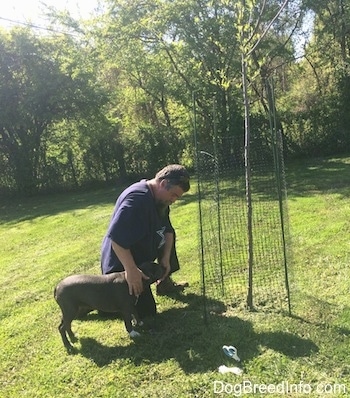 Mia! You just casually went over to Bob, said hello and quietly walked off with one of his tools. Quite happy about it I should add. Give it back to him you sneaky little puppy. "Drop it."