Raising a Puppy: Mia the Blue-Nose American Bully Pit—33 weeks old
A day in the life with Mia the American Bully (Bully Pit) puppy. 33 weeks old, 59 pounds, 18 1/2 inches from the ground to the highest point of the shoulders (the withers).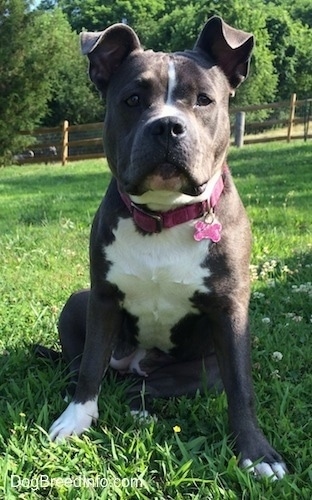 33 weeks old (about 7 1/2 months)
Waiting
A big part of being a pack leader is to teach general manners and communicate to the dog that you expect a level of good behavior on a regular basis. For example, we were headed out for a walk along the beach when I realized the gate needed to be closed.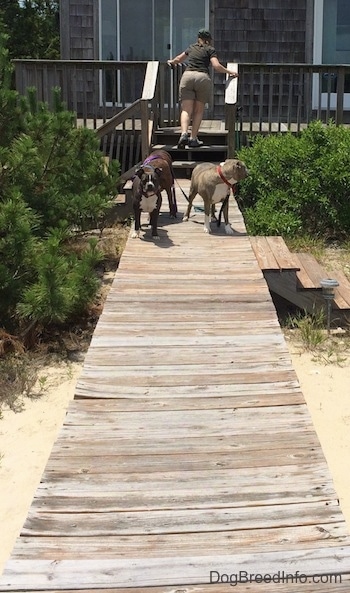 I asked the pack to stay and dropped the leashes so I could close the gate. No one attempted to run off. They heard the command to stay, saw me drop their leads and walk away.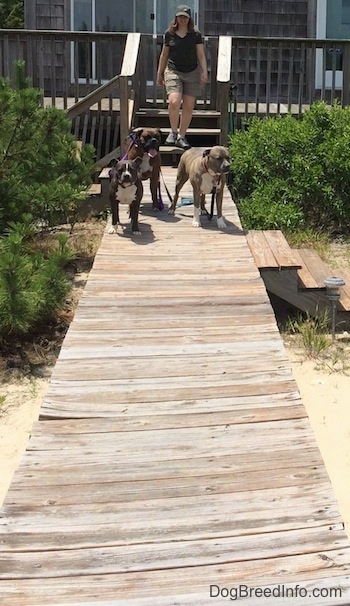 They were all respectful enough to stand still and wait for me to return.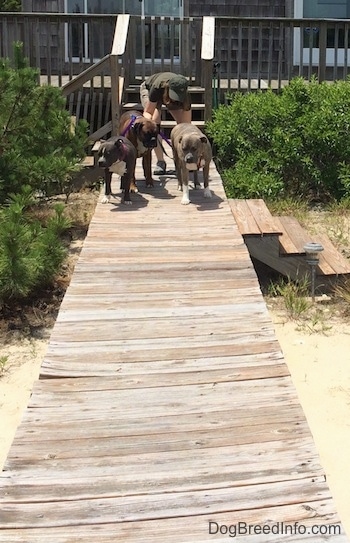 I bent down and picked up the leashes.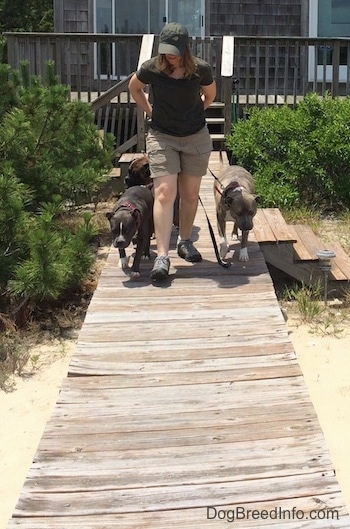 And off we went. "Good babies."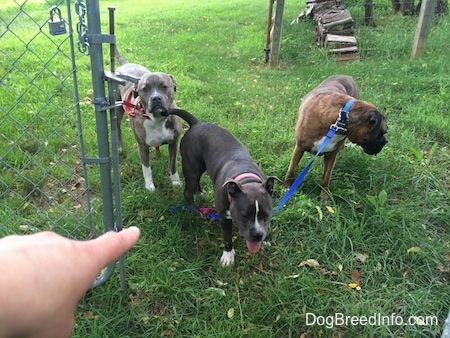 To earn this level of respect from a dog you must teach them general manners in a lot of other areas. For example, the concept that an open gate is not automatically an invitation to leave. Bruno and Spencer have it down, but Mia needs a reminder. "Hey, back!"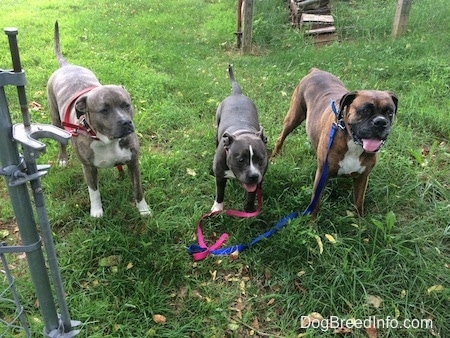 That's better, wait.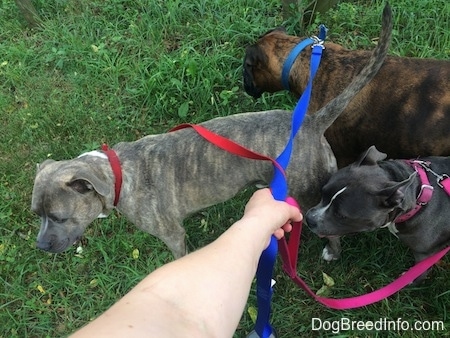 Good job, lets go for a walk now.
Beach Lover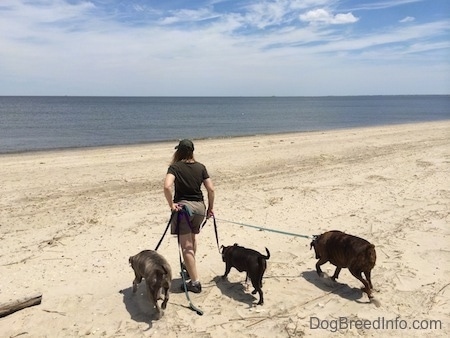 Mia is turning out to be a beach lover, which does not surprise me since she loves water.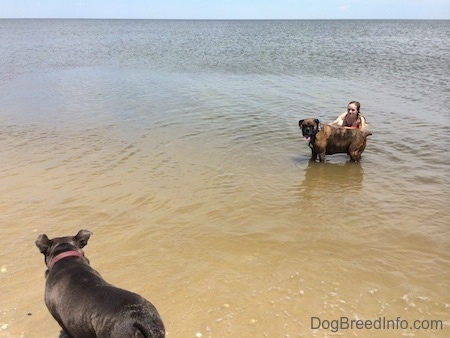 Bruno loves the water too.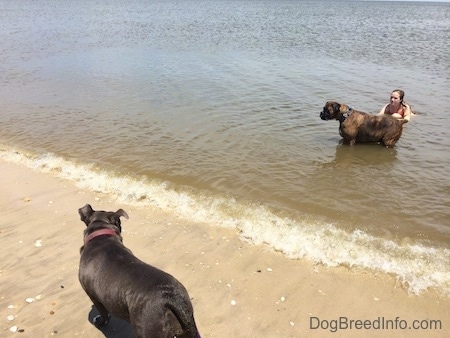 He kept trying to sit down, but a wave would come and he would stand back up again.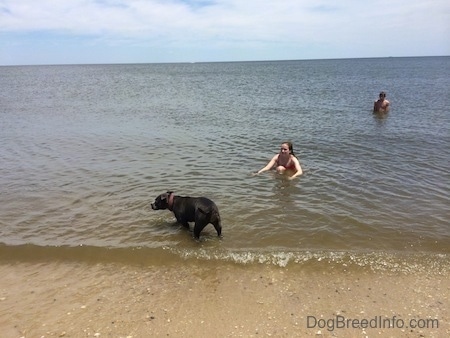 Mia tries walking out a little further this time. If Bruno can do it so can I!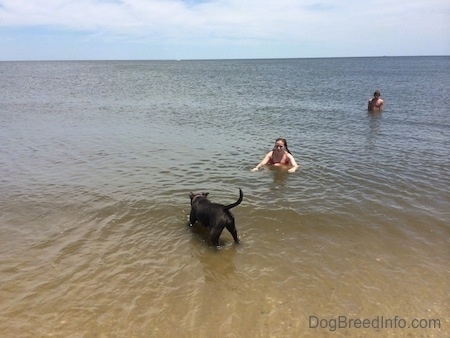 Mia walks out to Sara and has a great time playing in the moving water.
Pit Bull Haters
I had taken the pack for a walk down the street of a beach community when one of the friendly neighbors called out and asked to pet the dogs. "Sure, they would love it if you said hello." She told me she just wanted to see if they were friendly dogs, explaining that there were Pit Bull haters in the area and to be aware of them. By "haters" I mean those who judge the dogs as a group based on their breed, rather than by the individual dog. She had explained that she too owned a friendly Pit Bull Terrier, telling a story of how she was mobbed by a pack of five Golden Retrievers on the beach, two of the dogs were aggressive and growling at her. But no one thought much of it because, like most other breeds, Goldens get a pass on bad behavior. That same day I had witnessed a woman standing on the street talking to a neighbor holding the leash of her snarling, barking Chihuahua who looked like it wanted to kill the other lady the owner was having the conversation with and no one even attempted to stop the dog. But Chihuahuas get a pass, too. Because of the media hype, some assume Pit Bulls are "special", but reality is, they are no different then any other breed. Percentage wise, you are actually less likely to get bit by a Pit Bull than most other breeds. Pit Bulls do not have locking jaws, their bone structure is the same as other breeds. They do not attack and mull any more so than a Labrador Retriever. Fact is, a dog's temperament is a direct reflection of the human behind the dog.
The Sneak Attack
Mia Sneak attacks Bruno starting a play session. In the beginning it appears Bruno sees it coming, but then he walks off as if he had not. Mia succeeds at getting him to play.
Puppy No-Nos—The Shoe
I have to admit, it was funny, but it still needed to be corrected. I have written in the past how Mia will bring a person a "gift" wiggling and dancing around them, holding it in her mouth, as she shapes her body like the letter U making a wooo woooo sound. Several times daily people are presented with a random gift courtesy of Mia. This particular time a guest had come over and taken off their shoes at the front door. The friend was inside the house and Mia was outside. When Mia was let in she ran to the person's flip flops, picked one of them up and wiggled and woooed herself all the way to the kitchen to present them with the shoe. "Oh Mia, thanks. You brought me my shoe!" Mia, you silly puppy. "Drop it." You cannot get into the habit of thinking it is OK to play with shoes. Toys, bones and random things from outside are fine, but no shoes or socks. Got it pup?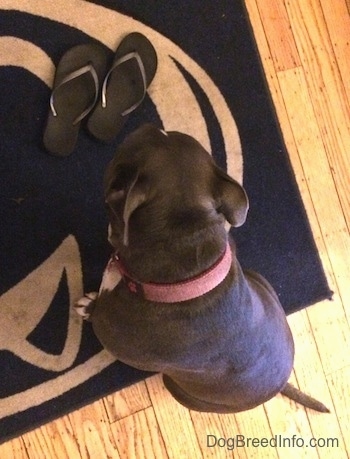 I put the shoe back and Mia sat down and looked at it. "No-no, Mimi".
Puppy No-Nos—The Paper Towel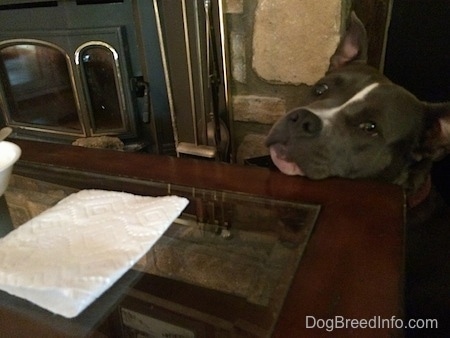 We were sitting on the couch watching TV when Mia came over wiggling at us. "Hello Mimi". We pet her head. Mia sat down next to us. After a minute or so she very casually raised her head up stretching her neck over the top of the table trying to take that paper towel right in front of us! "Hey! No!" Mia went back to her sitting position and we assumed that was the end of it.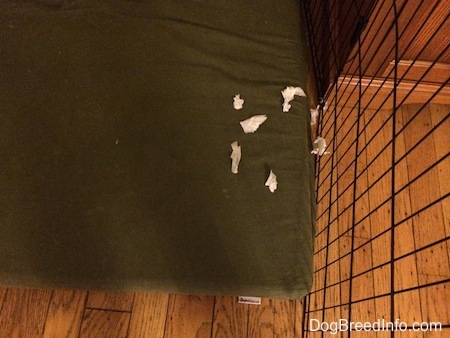 Later that same night I noticed a chewed paper towel on her dog bed. I looked over at the table and the paper towel was gone! When did she do that? Then I saw when.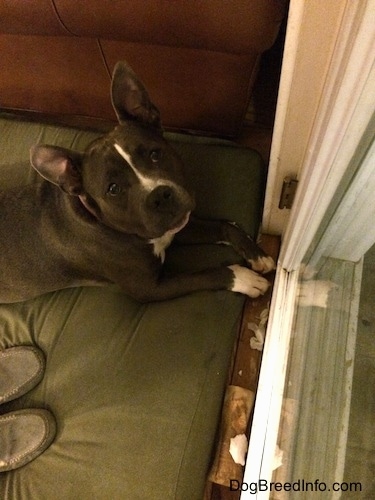 Right now, that's when! She was chewing it up right now on the other dog bed! You little stink-pod! You have paper towel hanging out of your mouth. Give me those pieces. Hey, quit getting me all wet. You little-licker. You're lucky your cute.