Raising a Puppy: Mia the Blue-Nose American Bully Pit—40 weeks old
A day in the life with Mia the American Bully (Bully Pit) puppy. 40 weeks old, 67 pounds, 18 1/2 inches from the ground to the highest point of the shoulders (the withers).
40 weeks old (9 months)
The Pick-Up Truck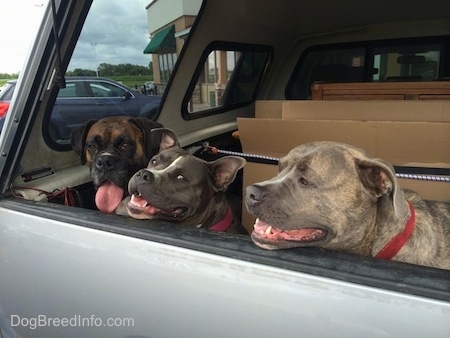 We had to haul some furniture and of course the pack wanted to come along. For that to happen they had to ride in the back of the pick-up truck. Bruno the Boxer and Spencer the Pit Bull had ridden back there before, but this was a first for Mia.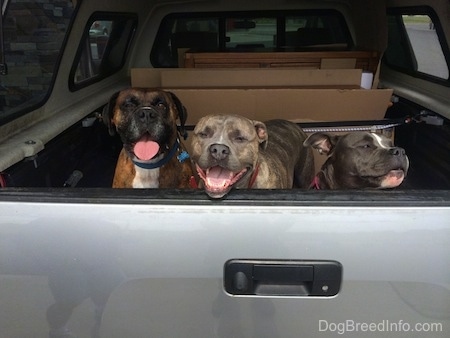 With her big brothers by her side, she took it all in stride.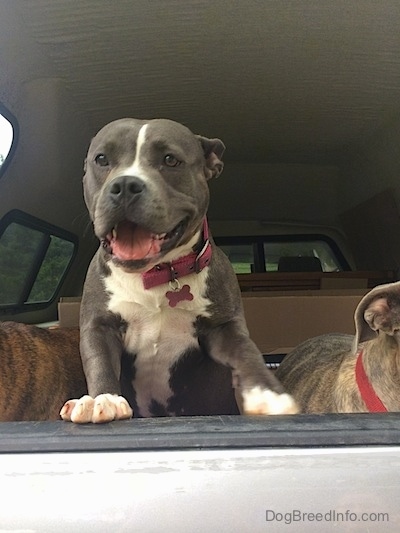 She had to learn not to jump up at the side. "Get down Mimi!" I know you are short and can't see out as well as your brothers can, but you still can't be jumping up like that. It does not seem safe.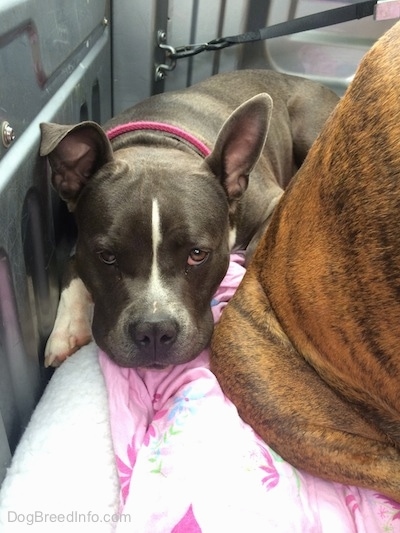 Mia settled down next to Bruno. We closed the cap of the truck before driving off. Mia seemed to love it back there, as long as she had ther big brothers with her, all was good in the world.
No Begging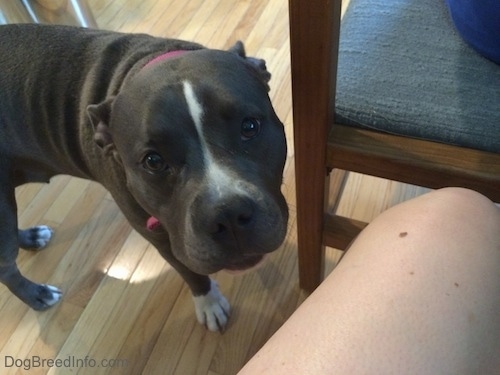 Mia, no begging at the table. Go lay down.
Store Manners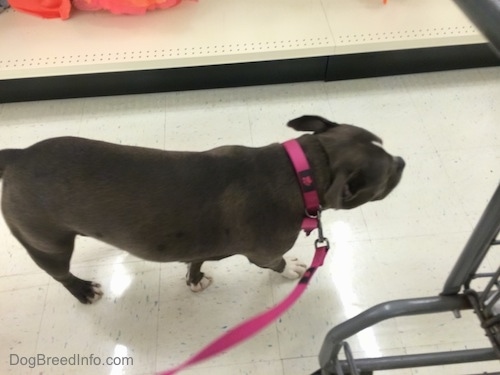 Mia's store manners have improved greatly. She is starting to understand, or I should say starting to respect the idea, that I want her to heel next to me and behind the cart.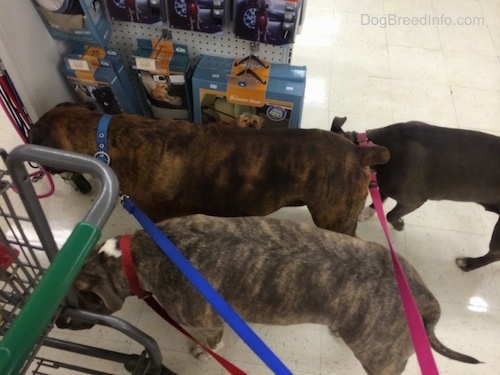 Mia seems to be paying more attention to what Bruno and Spencer are doing and copying them. The idea of being the leader of this pack seems to be fading even more.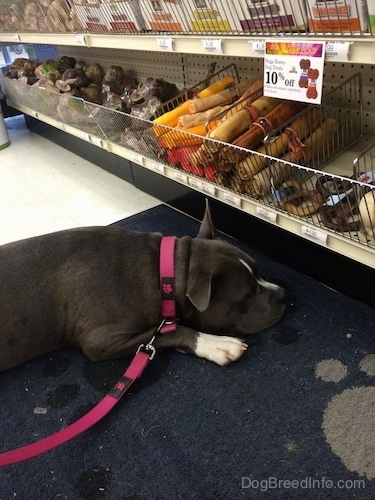 At check out Mia laid down next to all of the bones that she knew she was not allowed to chew.
Food Manners
Bruno the 7-year-old Boxer, Mia the 9-month-old American Bully and Spencer the 4-year-old American Pit Bull Terrier must practice good food manners. They can only eat their own pile. Silly Bruno takes one sweet potato, abandoning the rest to go off and eat it in the grass. Mia and Spencer are too smart to leave a portion of their piles behind.
Finding a Turtle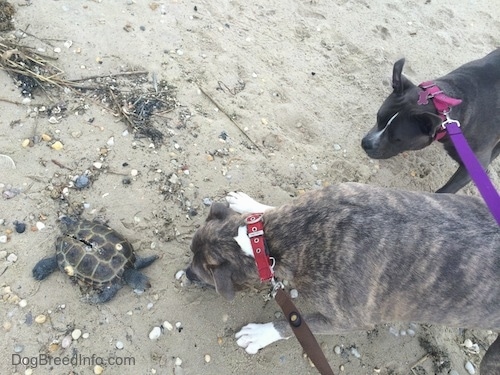 The Pits find a dead turtle on the beach that a truck must have run over. Spencer the American Pit Bull Terrier is a little more forward than Mia. He wills himself for a closer sniff. Mia keeps her respectful distance smelling the air. She is curious, but she does not want to get too close to the odd creature.
Snuggle Up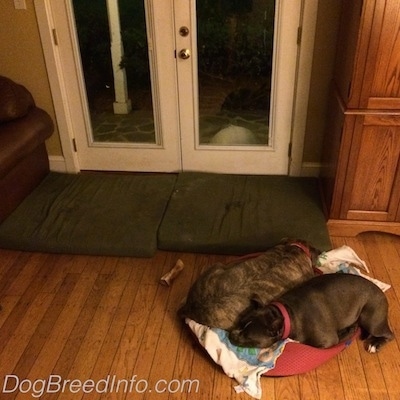 Because sleeping with big brother on the little bed is so much nicer than alone on the big bed.
Puppy No-nos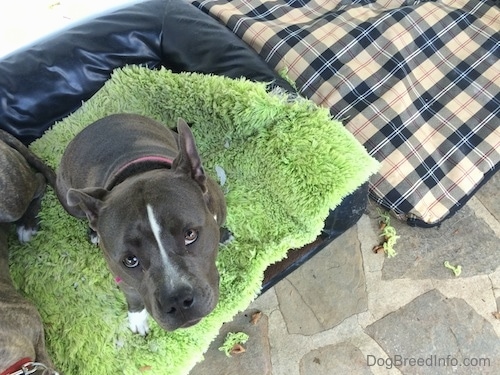 I have not been able to catch Mia chewing the rug on the porch, but the evidence that she's still at it is all around her. She won't understand chewing the rug is off limits until I catch her. If I walk outside while she is near the rug I distract her and she comes to say hello to me. I suppose in order to catch her I will have to read a book outside on the porch so she forgets I am there. The problem is every time I am near her she likes to come sit with me. She only chews it when there are no humans around to hang with. The rug just might be doomed if I can't catch her. Poor Spencer loves to sleep on that rug.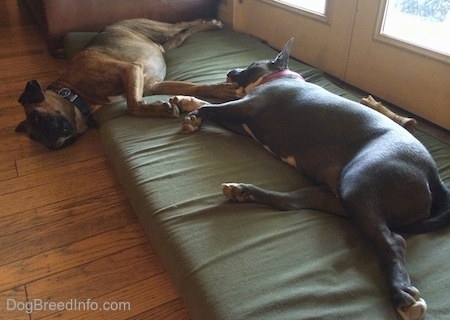 Mia was sleeping with Bruno.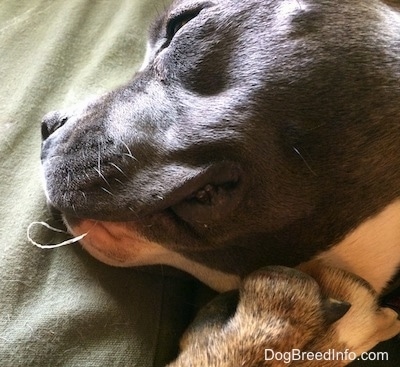 I looked over and noticed something in her mouth.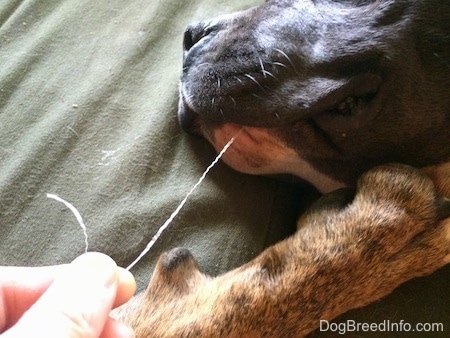 Oh my goodness! It's long.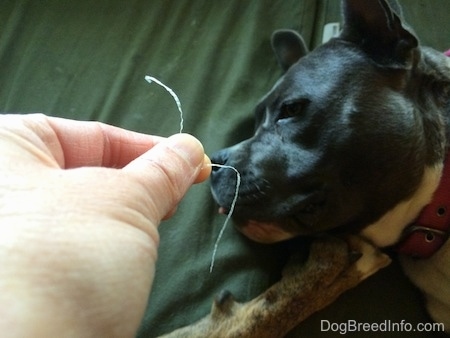 It's a piece of that green rug! Sorry Spencer-Puppy, but I have to take the rug away. Your kids sister appears to be eating it. I will work on getting you a new porch bed. Mia I hope you didn't actually swallow any of that!