Raising a Puppy: Mia the Blue-Nose American Bully Pit—45 weeks old
A day in the life with Mia the American Bully (Bully Pit) puppy. 45 weeks old, 65 pounds, 18 1/2 inches from the ground to the highest point of the shoulders (the withers).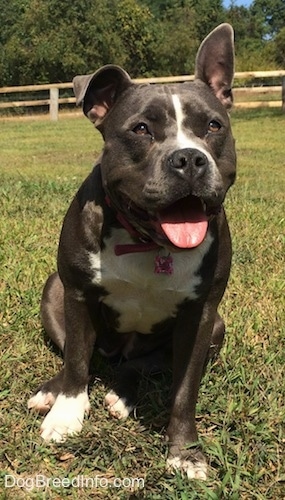 45 weeks old (10 1/2 months)
Out and About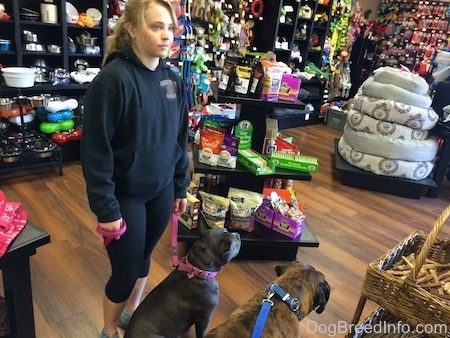 Mia being a good girl at a pet store with her big brother Bruno the Boxer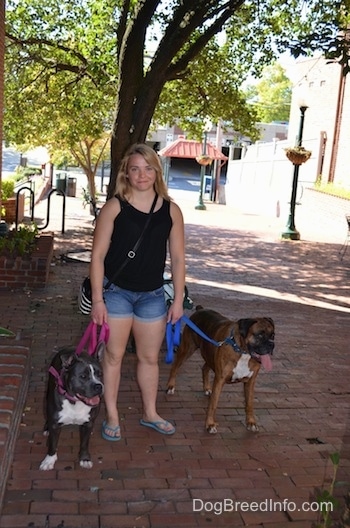 Amie walking Mia and Bruno around town.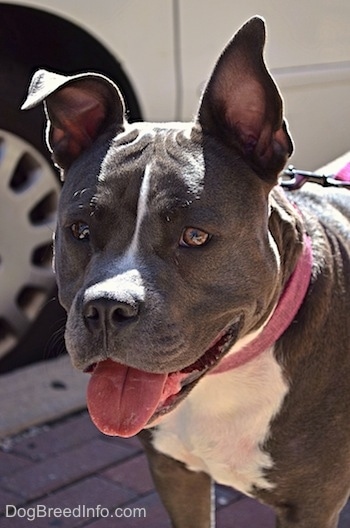 Pretty-girl Mia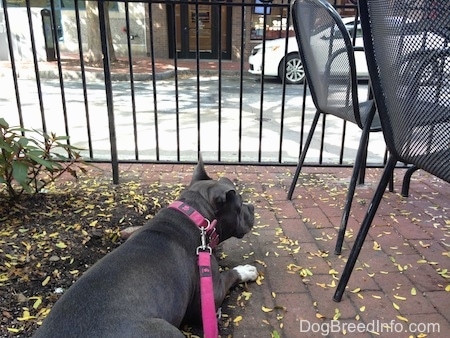 Mia people watching as the humans eat lunch in town.
Playdate at the Gym
Mia continues to go to Crossfit West Chester with Amie. She absolutely loves it. When she sees Amie pick up her leash and say "Do you want to go to crossfit?" Mia woooo woooos, turning in circles with her head low and her tail wagging and runs to the truck.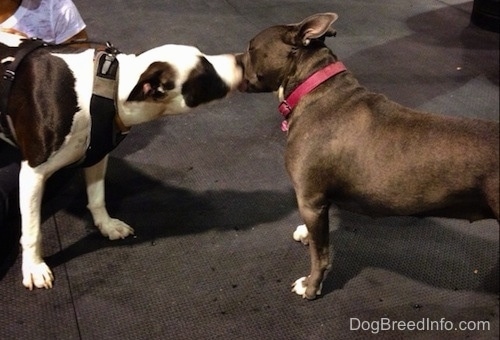 Mia met Duncan the DNA tested American Staffordshire Terier / French Bulldog mix. The dogs got along great. Mia followed him around everywhere he went.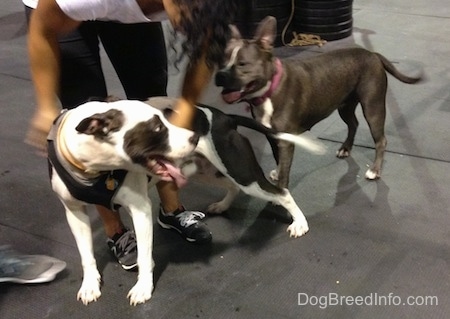 Notice that neither of these dog's tails are up and their ears are slightly back. Their mouths are relaxed and parted open with their tongues hanging out. That is body language from one dog to another meaning they come in peace. No one means any harm and no one wants to dominate the other.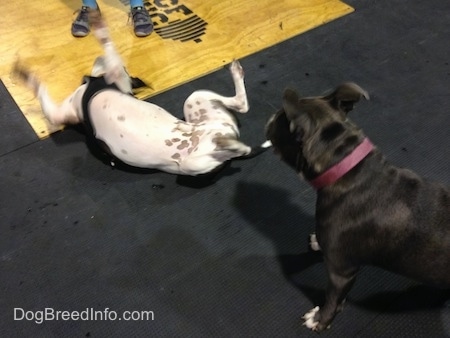 Mia watches Duncan roll around like a silly boy.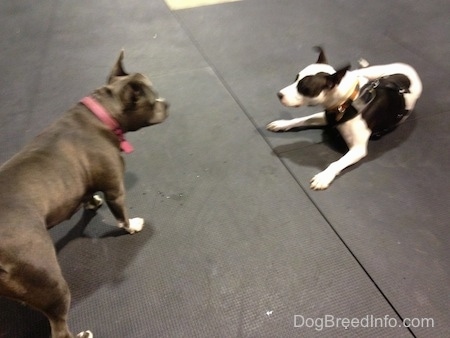 Hey there, do you want to play?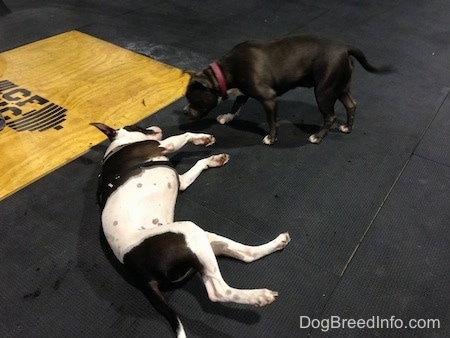 Another Playdate at the Gym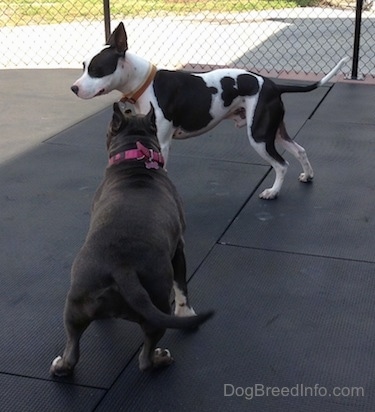 Yay! Duncan is at the gym again. Another playdate!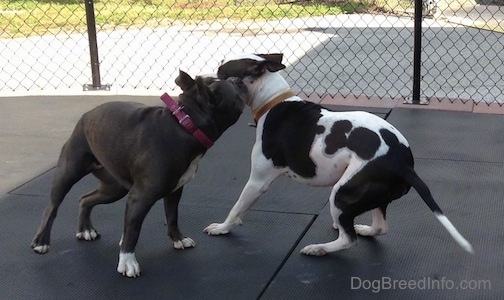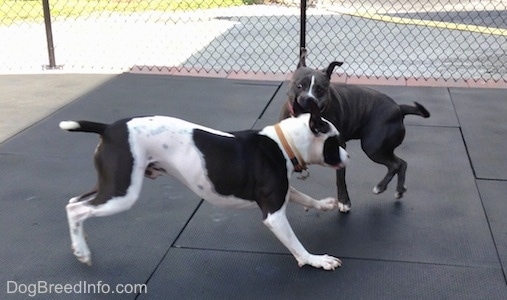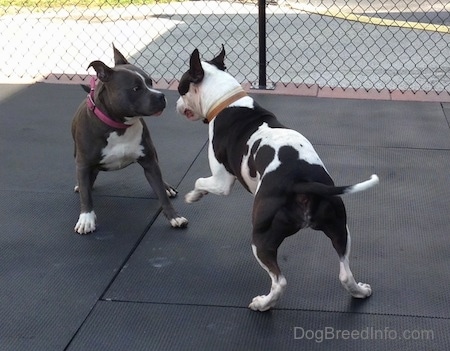 Cuddle Time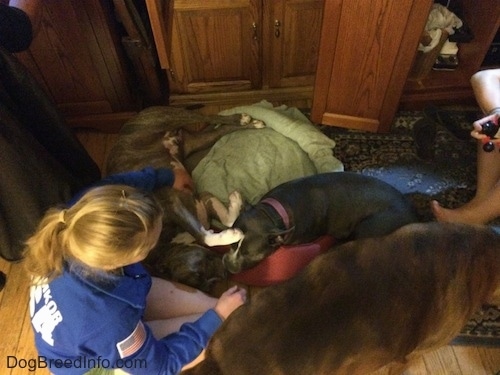 The dogs are not allowed up on the beds or other furniture, so the humans get on the floor for some pack cuddle time.
Morning Dangers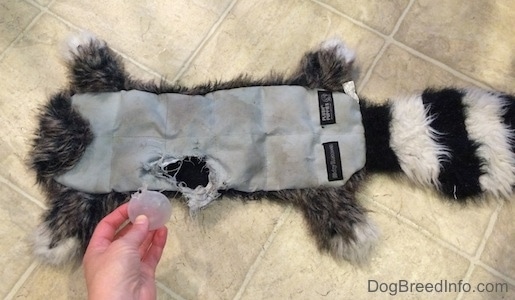 Mia loves cloth toys with squeakers in them. The problem is she also loves to purposely work really hard at getting the squeaker out. She knows where it is and she knows just where to start ripping the cloth to get to it. Therefore we try and give her bigger, heavier toys she cannot destroy such as bones and horns to chew on.
Every morning as each person gets up Mia runs to get them a toy so she can dance around them. The person usually does not have shoes on and Mia sometimes drops that toy and picks it back up as she dances around their bare feet. This dog runs a high risk of breaking someone's toe!
Puppy No-Nos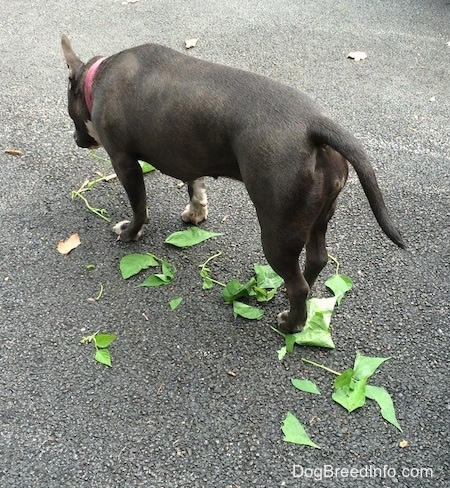 Mia! That is my green bean plant you are chewing on and I'm pretty sure it didn't grow there in the driveway! You pulled it out of the garden!