Raising a Puppy: Mia the Blue-Nose American Bully Pit—48 weeks old
A day in the life with Mia the American Bully (Bully Pit) puppy. 48 weeks old, 62 pounds, 18 1/2 inches from the ground to the highest point of the shoulders (the withers).
48 weeks old (11 months)
Playdate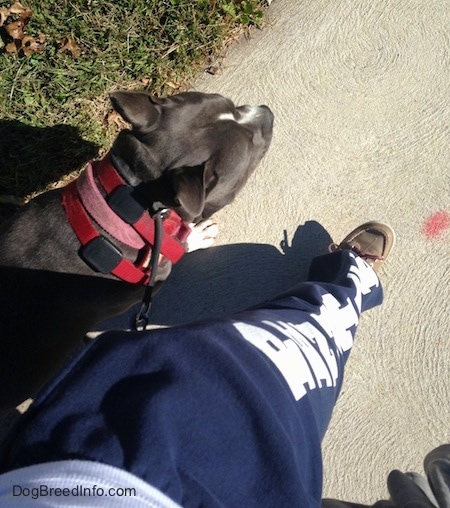 Amie hyjacked Mia again for the day. She took her for a mind-calming pack walk before going to the crossfit gym, lunch in town and a playdate with Duncun the Staffy / Frenchie mix.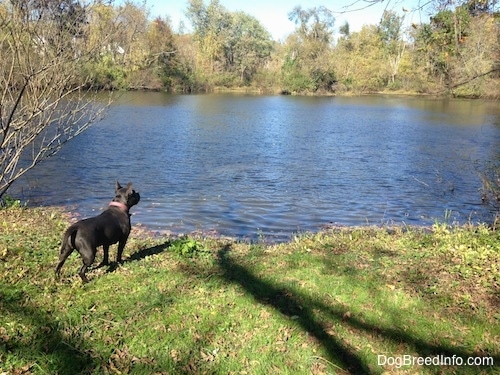 Mia loved the pond at Duncun's house.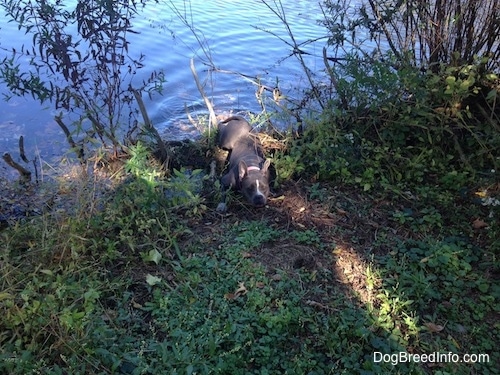 It was a chilly day, but that didn't stop her from enjoying the water.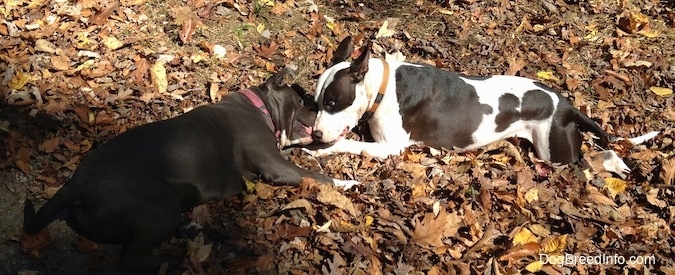 Mia and Duncun share a stick.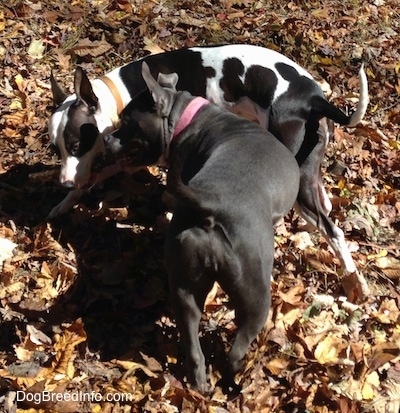 Tug-of-stick wars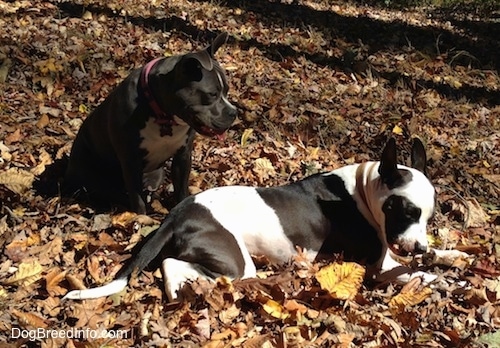 Mia takes a breather while Duncun chews on the stick.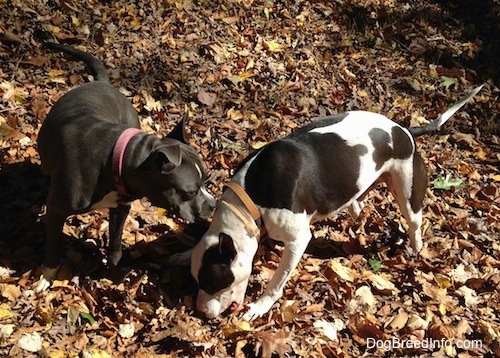 Breaks over, let me have that thing!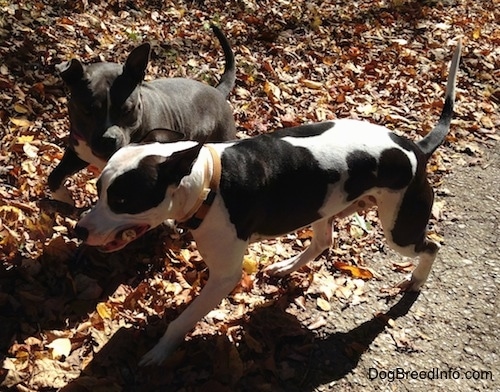 Sorry, sticks mine...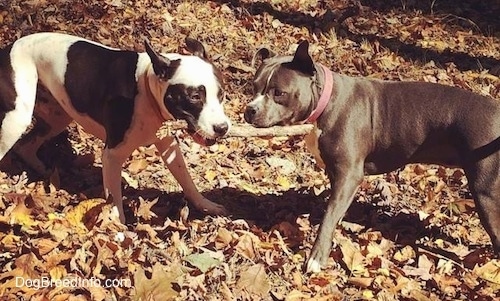 Oh fine, we can share it.
Posers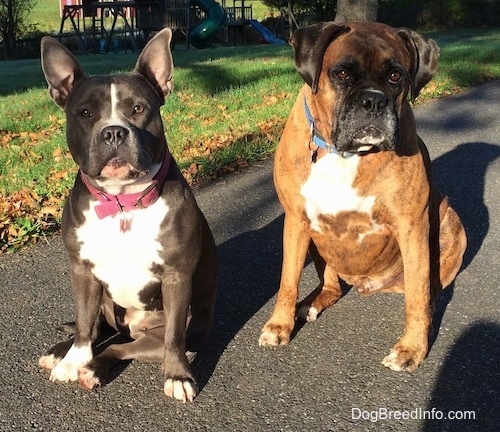 Mia with big brother Bruno the Boxer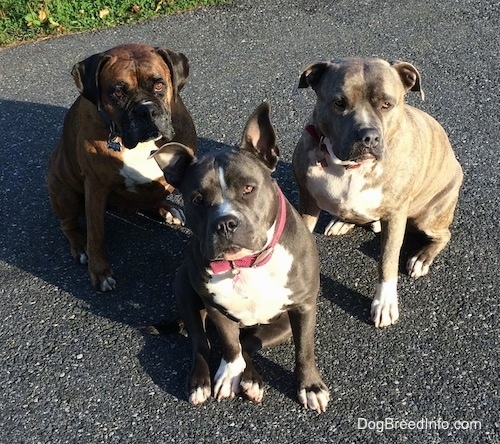 Mia with big brothers Bruno the Boxer and Spencer the Pit Bull Terrier. Yep, Mia put herself in front, "Excuse me brothers, I need to sit here."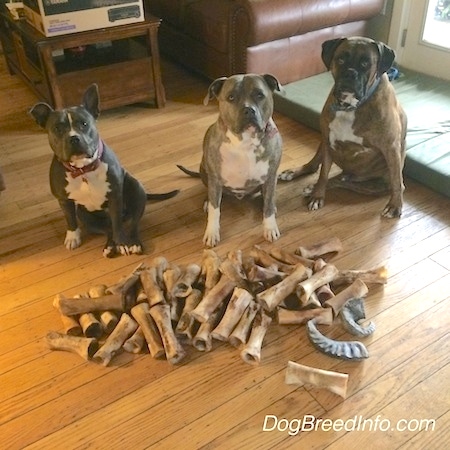 Seriously? Mommy, this is all we get?! Can't we have more bones? The pups get a new bone from the butcher a couple of times a week. The old bones get tossed into the toy bin. Time to clean house and get rid of the bones that lost their flavor. Those elk horns never lose flavor. They will be staying. Mia loves them.
Always Testing the Limits
Bruno was on the dog bed chewing on an elk horn. Spencer was laying down a few feet from him also on a dog bed and Mia was across the room. I was about to head into the kitchen to eat breakfast when I heard a growl come from both Bruno and Mia. I turned to find Mia trying to steal Bruno's horn. Without thinking I assertively yelled "HEY!" with a growlly voice. Mia immediately stood up and headed across the room away from me as if to say "Yikes!" Then in mid motion she suddenly scooped up a stuffed toy, lowered her head and wiggled her way back to me. She began dancing around my legs with her entire body wiggling, tail wagging, head low, ears back and a toy hanging from her mouth. Meanwhile Bruno resumed his horn chewing. In dog language Mia was telling me she gives up, she accepts she's not boss and she will let me have the roll. The toy was a gift. I just stood there looking at her keeping my emotions in "Mamma-Bear mode". Mia walked over and laid down next to Bruno, but this time she did not try and take his elk horn. The entire time Spencer had remained laying down in a relaxed manner on the dog bed a few feet from Bruno. He didn't even flinch as he knew that he had done nothing wrong and none of that was directed at him. He tends to wag is tail when a human tells Mia no.
This video shows an example of Mia in gift giving mode. Here she has the same elk horn she had tried to steal from Bruno.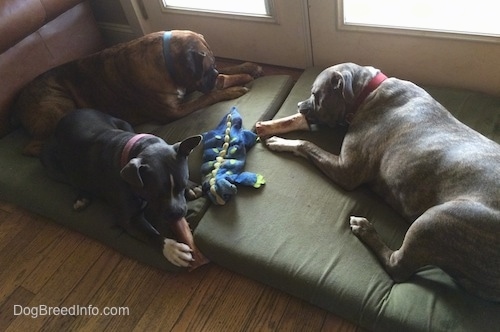 The next day Mia happily chews a new tasty bone next to Bruno and Spencer. As usual, when you remind Mia of the rules she goes back to following them. She will most likely always be the type to test her limits, but as long as someone is here to jog her alpha brain she will be a balanced, happy dog.