Raising a Puppy: Mia the Blue-Nose American Bully Pit—50 weeks old
A day in the life with Mia the American Bully (Bully Pit) puppy. 50 weeks old, 62 pounds, 18 1/2 inches from the ground to the highest point of the shoulders (the withers).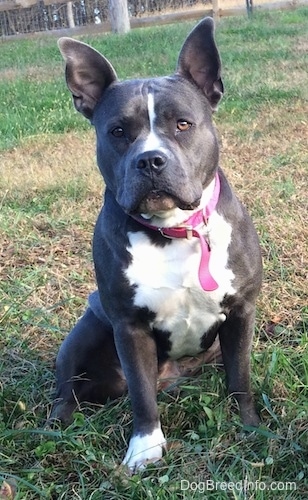 50 weeks old (11 1/2 months)
Welcome to the Family Princess Leia
Mia loves it when her friend Leia the rescued blue-nose Pit Bull comes to visit. Mia and Leia went for a long pack walk as their first meeting and the two of them have become friends. Since Leia was just spayed the dogs cannot have a play session until she recovers from the surgery. That task is a bit hard on Mia's bully brain, but the bright side is, it's a good mental exercise for her. Calm, Mia, calm.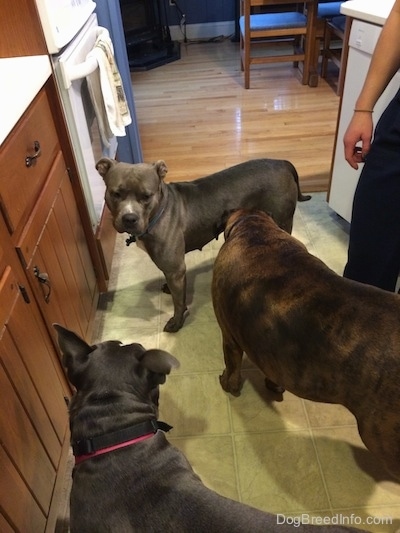 Leia lets Bruno the Boxer smell her. The pack went for a short walk with Leia. It was shorter than we would have preferred, as Leia was still recovering from a recent spay, but it was long enough to drain some energy. It is apparent that Leia is iffy with other dogs, but she responds well to corrections. When Leia growled Mia the American Bully Pit and Spencer the American Pit Bull Terrier backed off, but Bruno the Boxer did not and had to be told to leave it. Leia was told NO for her anti social behavior. When Leia is fully recovered we will pack walk them together longer and more often to help bond Leia with Bruno and Spencer. Even without the walks, the more Amie works with Leia the calmer she is around the other dogs as she learns some basic manners and accepts that she is no longer in charge.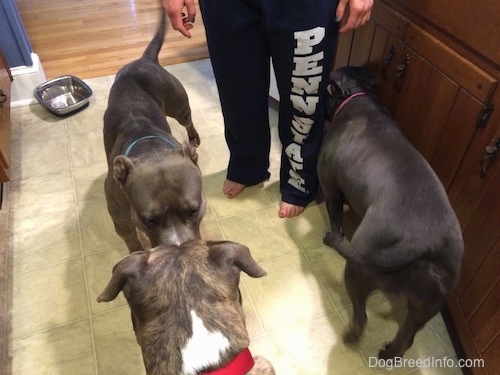 Leia smells Spencer as Amie stands guard to make sure all behaves. Mia, I don't think you fit between Amie and the kitchen counter. But we all know you are going to try anyway.
One Brave Cat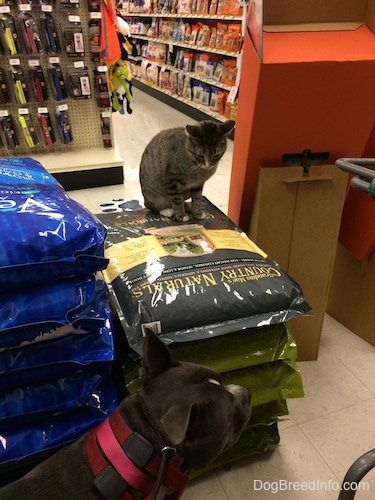 At the pet store we were waiting in the check out line when one of the brave rescue cats that roam the store came walking over and jumped up on a dog food bag right next to us. It was watching my pack of dogs. Mia was ignoring it.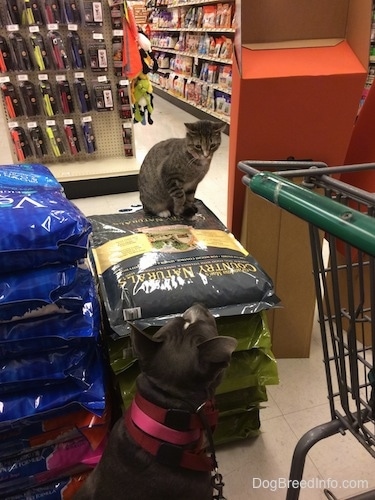 As the cat stared the dog's down Mia got curious and looked over at it.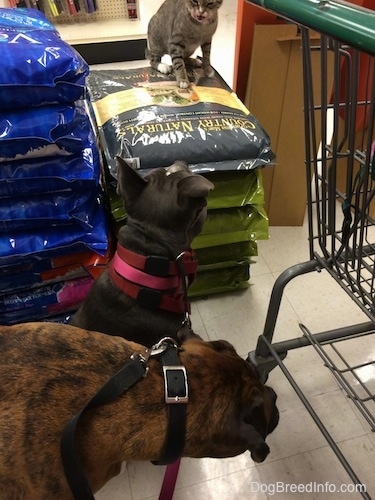 Apparently the cat didn't like being watched. This picture was taken right before the cat lunged forward and batted Mia all over her face. Mia turned away from the cat deciding it was best to not stare back.
Puppy No-Nos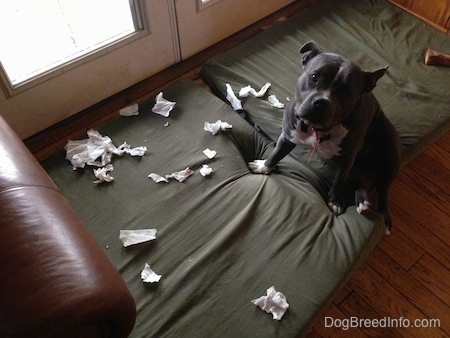 Mia, don't give me that face. YOU are the one that chewed the paper towel up. Now if only I could teach you to clean up your mess.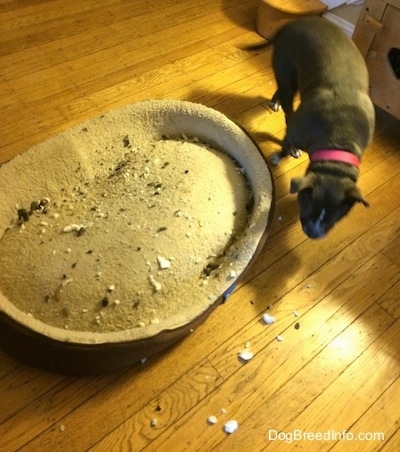 Oh my gosh Mia! There was a tiny hole in that dog bed from one of you pups digging before laying down and you've been squishing your nose down into it and pulling out stuffing! The same way you strategically remove the squeakers from your toys. Now that you have figured out what fun it is, that dog bed is toast. I better trash it now before there is mega stuffing all over the place.