Raising a Puppy: Mia the Blue-Nose American Bully Pit—51 weeks old
A day in the life with Mia the American Bully (Bully Pit) puppy. 51 weeks old, 61 pounds, 18 1/2 inches from the ground to the highest point of the shoulders (the withers).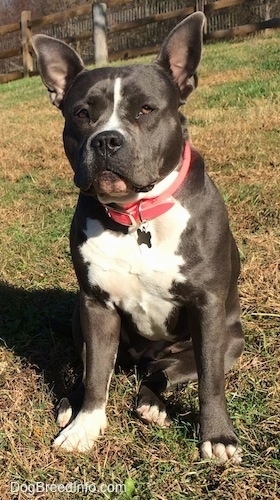 50 weeks old (about 11 1/2 months)
Welcome to the Family Princess Leia
The pack lined up for some tricks for treats. Leia, recently rescued from a high kill shelter, is excellent with people. You can touch her food and take a bone out of her mouth. She just wags her tail and licks you. However we saw her shoot some warning growls and even lunged once at the other dogs when they walked by her while she had a toy, was eating and when she was chewing a bone. She was immediately told we did not approve of that reaction to other dogs. Leia responds very quickly when she is told not to do something. It seems that she simply does not know it was not acceptable because she never had a human leader she respected show her the rules. Leia does not live here in the same house as the other dogs. She is Amie's dog and she comes to visit often.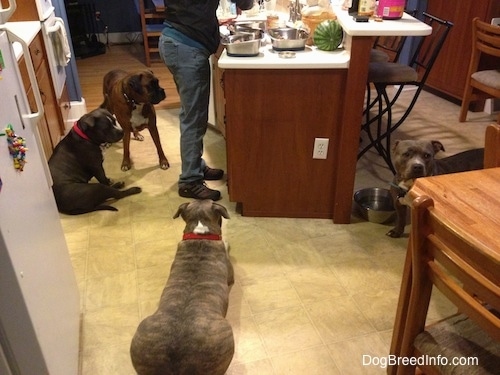 Amie decided the best approach to getting Leia to not challance the other dogs is to tackle it head on. After she fed Leia dinner with the rest of the pack, standing by to make sure no one attempted to eat anyone else's food, she lined them up for some treats.
Leia did great. She began to understand guarding is 100% off limits in this new life of hers. Mia, stand up for the picture... Hello Bruno!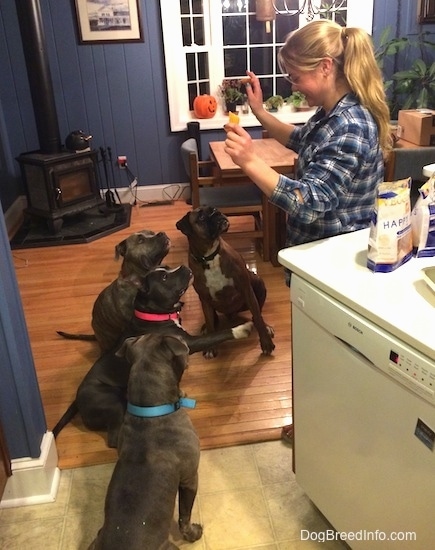 Mia, I said stand up, not paw, you silly girl.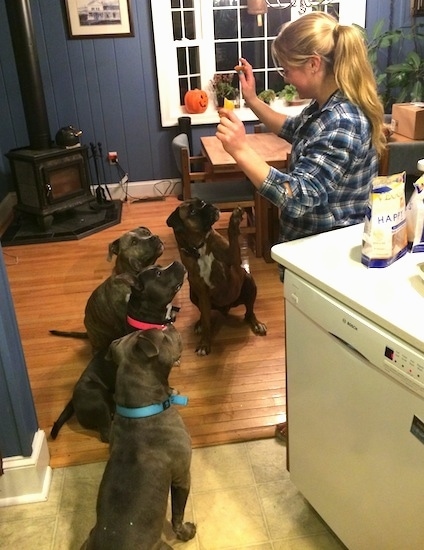 Good babies. Good shot. Hello Bruno. Bruno likes to wave for treats.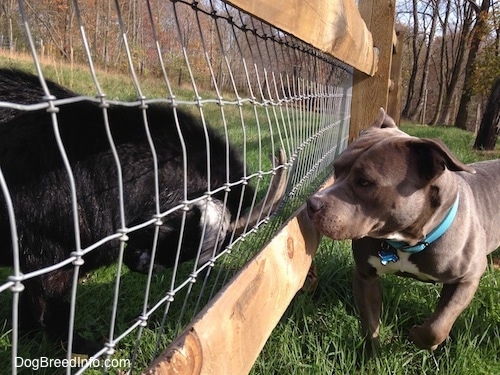 Leia must learn the rules before she can have the same freedoms as the other dogs. Brave Sweet-Pea bucks the fence when Leia comes close. Amie tells Leia to leave the goats alone. Amie is calm, but very firm with a lot of strong mental energy and Leia backs off of the goats at Amie's commands.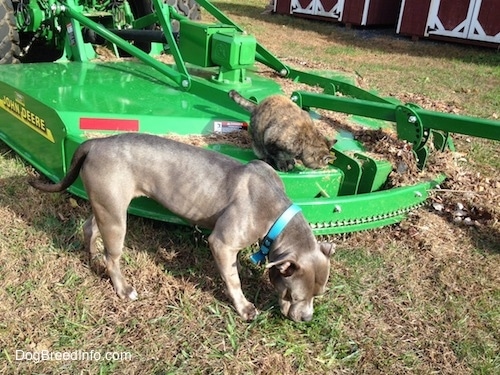 At first Leia wanted to chase the cats, but Amie walked her up to the cats while on a leash and corrected her for lunging. Leia soon learned that cat chasing was off limits. Amie is a strong pack leader and Leia respects her enough to accept the rules.
After only 2 weeks Amie's new rescue dog Leia has learned enough rules to run and play with the pack. No cat chasing, ignore the goats and no toy guarding. You are now a follower just like the other dogs. Mia the American Bully and Bruno the Boxer can hardly keep up. Leia never knew it could be this good. Her tail is still up a little too much, which makes my own dog's tails go up, but that is getting less and less. We work on getting them back down. Her tail is down most of the time where as before it was up most of the time. Leia is learning. Read more about how we introduced the dogs at Introducing Dogs.
Visiting the Beach in the Fall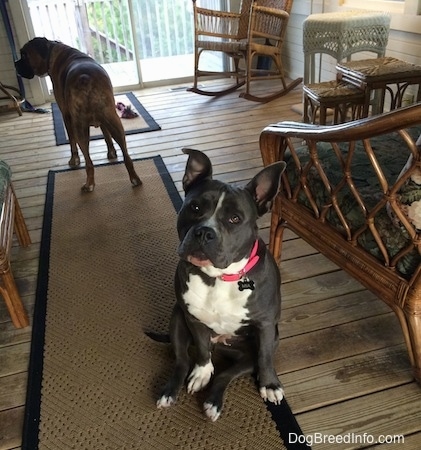 Mia, do you want to go play on the beach?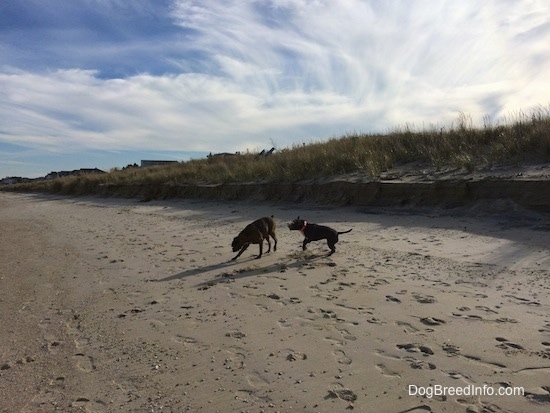 Taking the dogs to the beach off season is the best. It's not too hot...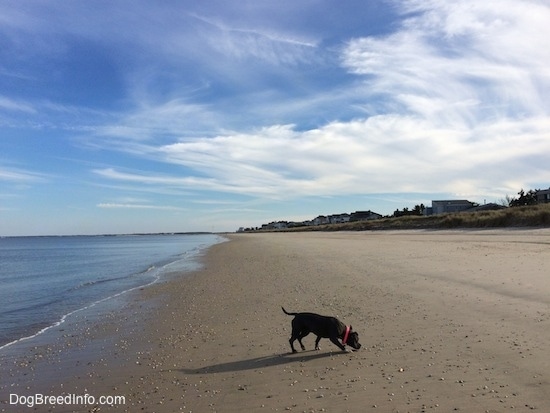 ...and they have it all to themselves.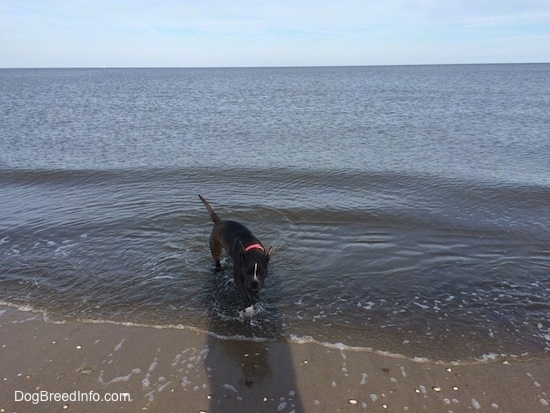 Mia, I think the water is a little cold this time of year, you silly puppy.
Squirrels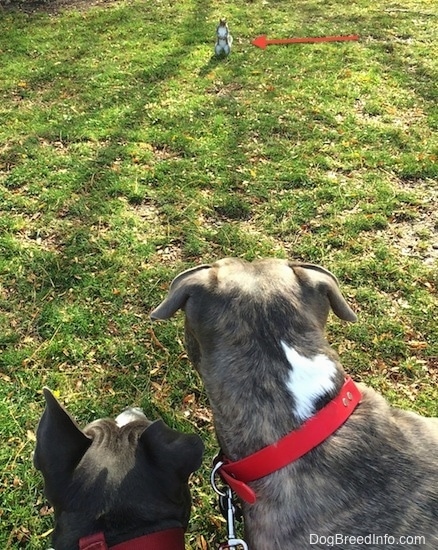 We visited a new park that had the friendliest squirrels I have ever seen. They walked right up to the dogs and looked at them.

It took every ounce of will power Spencer and Mia had to not bolt at them while on a leash. In this picture Mia was looking at another squirrel who was out of the camera's view. The little critters were everywhere and they were not afraid of anything. After shaking in anticipation Spencer had calmed down and was just watching and would even look around at other things. On the other hand, Mia's brain never calmed. She watched every move they made. She could not get over the fact that they were so close to her. Spencer and Mia like to watch the squirrels in our back yard that hang out in the large oak tree. I never trained the dogs to leave the oak tree squirrels alone as they will never catch one. They stay up in the trees and are rarely on the ground. I have taught the dogs to ignore squirrels while we are out walking, but these squirrels were different. They would walk right up to the dogs just out of leash range and the dogs sensed our own fascination with them. If I did not have dogs they most likely would have walked right on top of my feet hoping for some food. Bruno was also at the park. He was more interested at wiggling at the humans though, ignoring the squirrels at the first command to do so.