Raising a Puppy—Mia the Blue-Nose American Bully
Socialization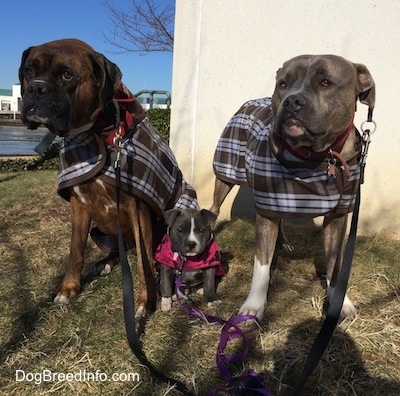 Socialization is a very important part of the development of a puppy. Puppies should be shown all kinds of sights, sounds, places, people, and objects to help them adjust and become secure with their surroundings. If you do not take the time to socialize when the dog is young, you may end up with behavior issues such as, but not limited to, a dog that is fearful, skittish, or unsure. The dog may be afraid of new things and may not like car rides. Mia is going to live on a farm and travel around to all kinds of places, seeing new things daily. She needs to get used to and be comfortable with long car rides, new places, strange objects, sounds, people, dogs, cats, and other critters. She has to learn to behave on a leash no matter what she may see. She needs to learn manners to ensure her safety at all times. She has to be trustworthy with strangers, as all kinds of people will be coming to say hello to her.
The weather has not been nice to us since we adopted Mia into our home. We have seen snow, sleet, freezing rain, rain, fog, and temperatures in the single digits with a wind chill dipping down into the negatives. The ground has been cold and wet. It has been cramping our out-and-about style, but we have been doing our best to get out before we all go stir crazy. Pack walks are a big part of bonding dogs into one pack. I am looking forward to nicer weather.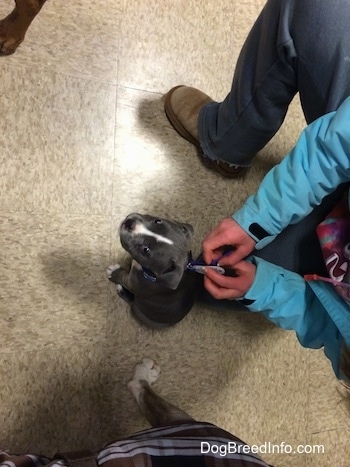 Another frigid day outside. We went to a pet store to buy her a coat and a new collar.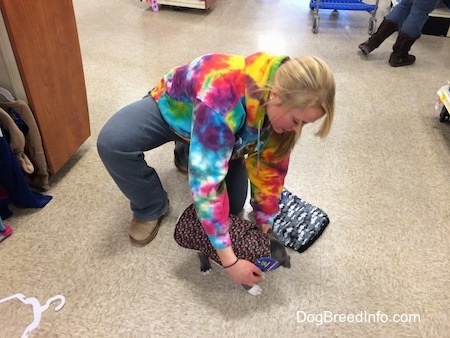 Fitting her for a coat was not easy because that belly of hers is so big and round that most small coats didn't fit. We finally found two that did. You little roly-poly.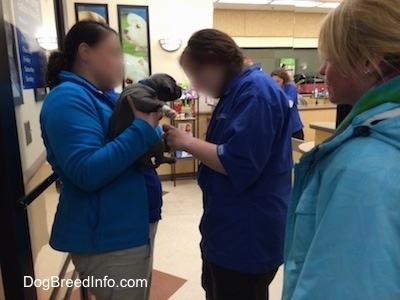 We stopped and said hello to the people in the grooming department and Mia got a complementary nail trim. She was a very good girl.
First Pack Walk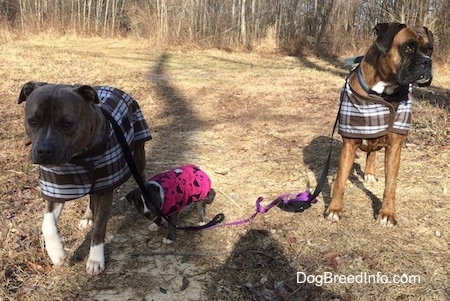 Our very first pack walk was in the back woods, with a play session in the yard afterwards. It was cold so we could not stay out for long. Mia did great on a leash. She followed Bruno and Spencer like a pro. Mia only walked a small part of the walk and was mostly carried. She is too young for a long walk.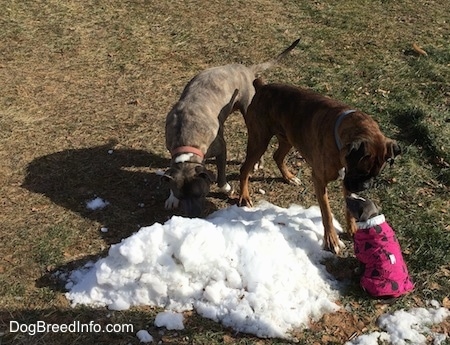 A play session in the yard
This video was taken the first time I put a leash on Mia. It was a quick walk around the house. She did a great job and even helped carry the leash. Biting the leash while walking is something you want to teach a dog not to do, but when you are at the beginning stages of getting a puppy to walk on a leash, you do not need to worry about the little things like holding the leash in their mouth and heeling perfectly. One step at a time, adding in more as they understand the basics. If you try and get perfection out of a puppy immediately, you will more times than not create confusion. You have to use your good judgment as to how much and what each puppy can handle and how quickly to add more onto their plate. Every dog is different so there is no exact order or time frame, but the end goals should all be the same. Mia does walk behind me on the leash. She has yet to try and get in front of anyone. Big brothers Bruno and Spencer are great role models.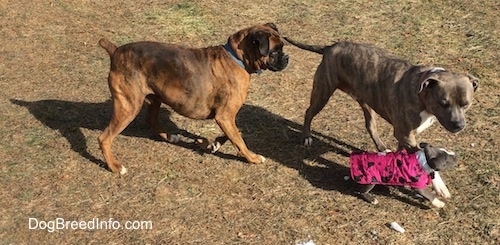 Playing with Mia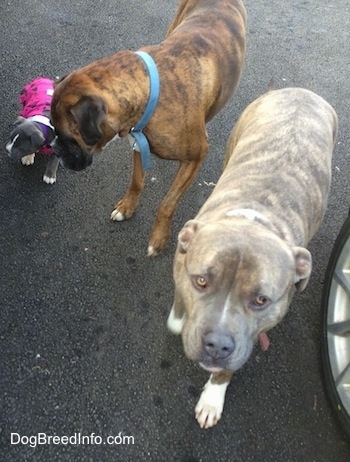 "Hey mom, is that little thing going to live here? Or is this just a long visit?"
A Break in the Weather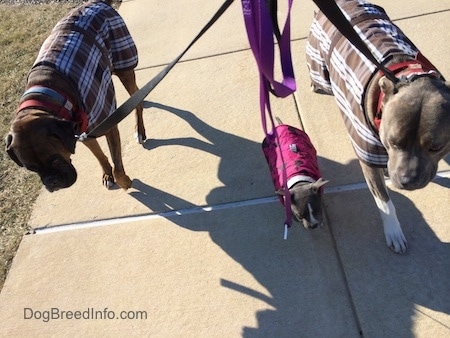 Finally, a warmer day in the low thirties with nothing falling from the sky. Let's go for a pack walk. Mia followed the big dogs. I had all three of them by myself, so I had to walk backwards and lift the leashes into the air to get this shot. Mia walked for short spurts and was carried for a good part of it, as she is too young to keep up the entire time.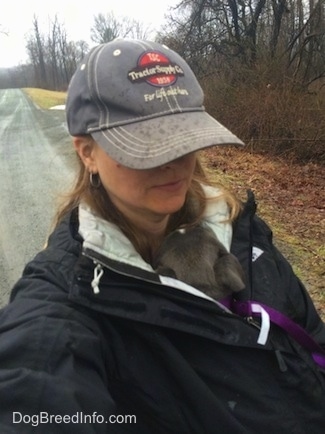 Mia at 8 weeks old is carried inside my jacket. It's cold outside and she is too young to walk the entire way, yet it is comforting and very good for her to be able to come along and be part of the pack.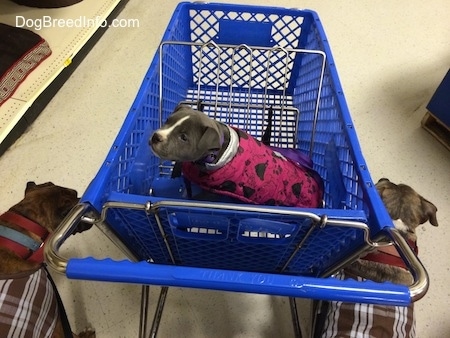 We stopped in a pet store. I put her in the cart, keeping one hand on her as the other two leashes were around my arm. Both Bruno and Spencer heeled by the cart. They are pros at pet store visits and do great walking next to shopping carts.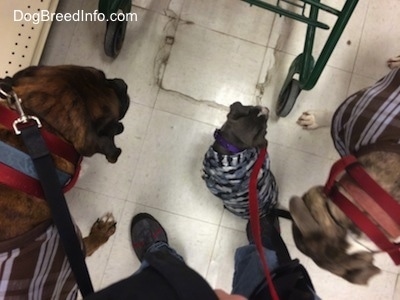 This is Mia at 8 weeks old at a pet store with big brothers Bruno, the Boxer, and Spencer, the Pit Bull Terrier.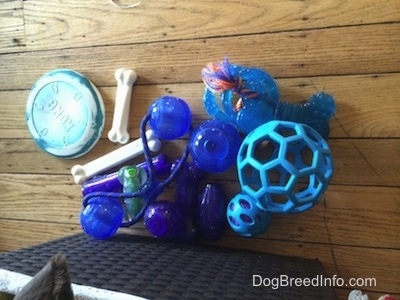 Mia gets some new toys at the pet store. All of our dog toys were geared towards big dogs. She needed some smaller toys to play with that would still be safe for the big dogs. We picked blue toys. A lot of people choose the bright orange toys, but to a dog bright orange is the same yellowish shade as the green grass and brown floor, making it harder for the dog to see. If you want your dog to see the toys easier against the green grass, blue is the best color to choose. For more on this, read Understanding a Dog's Senses
A Visit Out to the Barn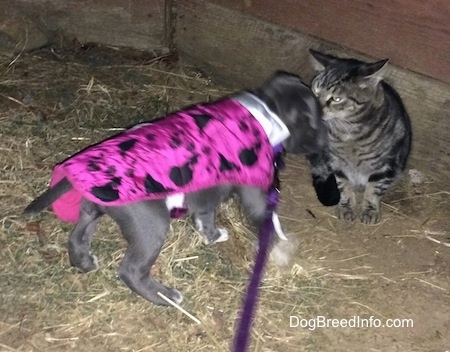 Mia meets the cats that live in the barn. The cats do not run. This tells me Mia has good energy.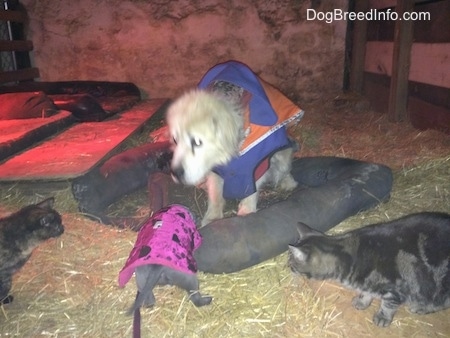 The cats actually come to her. That's a good sign. If Mia was not putting off good vibes, the cats would know and they would not be so close. Tacoma, the Great Pyrenees, likes Mia too.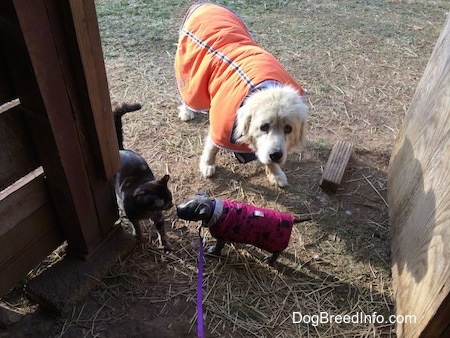 Banjo the cat goes nose to nose with Mia.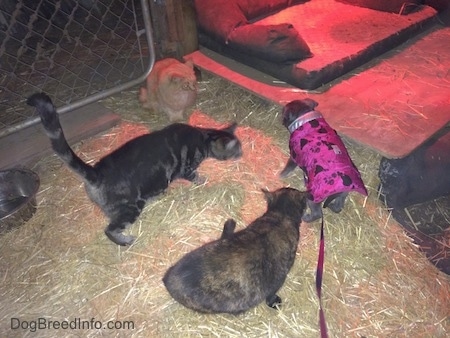 The cats are bigger than she is, but that has nothing to do with them going up to her.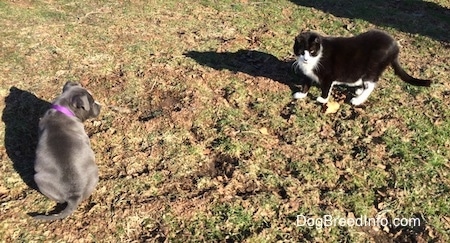 Sylvester the cat says hello to Mia. The few times Mia attempted to run after a cat in play she was quickly corrected. She will learn cats are not play toys.
The Chickens and the Goats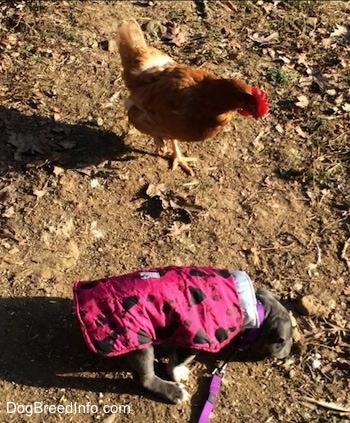 I took Mia to see the chickens, but it was as if the chickens were not even there. She was too busy eating poop. "Hey! Don't eat that! Yuck! No puppy kisses for a while." The chickens all walked up close to her; another good sign that she has good overall energy.
We also visited the goats, but I did not get a picture because Mia was straight down by my feet the whole time. I had to be careful when I walked that I did not step on her. Just like the chickens, it was as if the goats were not even there. She totally ignored them.
Out and About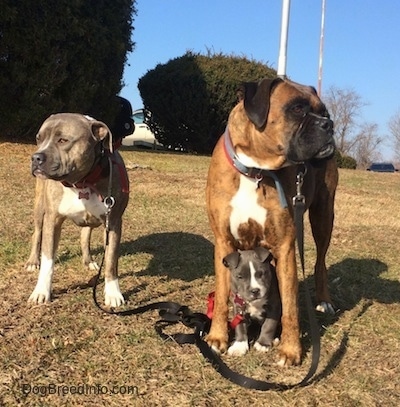 I took Mia out and about visiting friends at several different work buildings. We walked around the industrial park. Mia stuck close to her big brothers. When Mia seemed unsure about something we would stop and hang out to allow her to soak in her surroundings.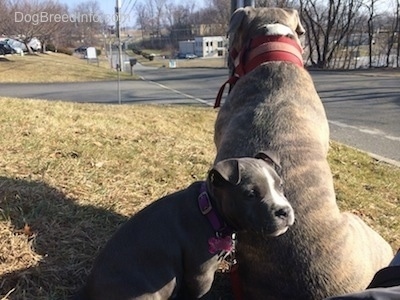 We sat and watched the cars and trucks drive by. Mia stood close to Spencer. If big brother's not worried about those things whizzing by maybe it's not so bad.
Road Trips
At only 8 weeks old Mia has gone on several long car rides. She's going to be a traveling pro just like her older brothers.