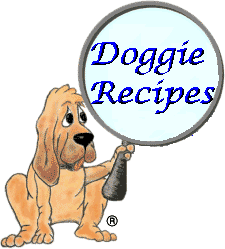 Doggie Recipes
The following are recipes that were sent in to Dog Breed Info Center® Feel free to send in your favorite "Doggie Recipe."
These recipes were sent in by the public. We did not test any of them. Dog Breed Info Center® is not responsible for any allergic reaction or ill effect your pet may have from these recipes. If you are unsure about one of the recipes on this site please contact your vet before trying it.
* Caution *
To Owners Feeding Anything Cold
Many of the recipes offered for Dog Goodies are frozen treats. In summer, even when the external temperatures are very high, giving too many frozen goodies—especially to our smaller friends—can be very threatening. According to a vet who has worked in veterinary medicine since 1982, there was once a standard Dachshund (about 28 lbs.) that came into the hospital shaking and lethargic. When they investigated, the owner said she'd been feeding him ice cubes because "he loves them." Love them dogs might, but reduce their core temperature they can! Just use lots of good sense and a little caution.
Rover's Rewards: By Adam M.
Ingredients
3/4 cup hot water or meat juices
1/2 cup powdered milk
1 egg, beaten
1/3 cup margarine
3 cups whole wheat flour
Directions
In a large bowl, pour hot water or meat juices over margarine. Stir in powdered milk and egg. Add flour, a little at a time mixing well after each addition. Knead on floured surface until you get a smooth dough and one that can be rolled out. Roll into 1/2" thickness and cut out with biscuit cutter or knife into desired shapes. Bake on greased baking sheets at 325F. for 50 minutes. Allow to cool and dry out until hard.
Doggie Brownies: By Alex Saufert
This recipe makes a lot of brownies so keep any leftovers (should there be any) in the freezer because they spoil very easily.
Ingredients
3 to 3 1/2 lbs. of liver, beef or chicken
1 C whole wheat flour
4.25 oz. jar fresh minced or crushed garlic
2 C white flour
1/2 C cornmeal
1 med shaker of grated parmesan cheese
Directions
Preheat oven to 350 degrees. Cover cookie sheet with foil, coat with cooking spray, sprinkle lightly with cornmeal and set aside. Process liver and garlic in food processor or blender until it looks like milk chocolate. Pour into large mixing bowl and blend in the rest of the ingredients. Spread evenly onto cookie sheet (the mixture will be thick) and sprinkle lightly with cornmeal. Bake until no pink is left. I usually bake them for about 30 minutes for one pan and then turn the oven off but leave the brownies inside until they are cool. Cut in pieces and be ready to be loved by your dog(s). I have yet to meet a dog that doesn't like SLBs and I think that this is about the greatest bait on earth.... Enjoy!!!
Doggie Jell-O
Ingredients
1 package of Jell-O and flavor (cherry works best)
1 chopped banana
1 chopped apple
1 sliced orange
1 chopped pear
2-3 chopped strawberries
Directions
Follow the directions for the Jell-O; you will find them on the back or somewhere on the Jell-O box. After you have the Jell-O ready, mix the fruit in the Jell-O mix. Put in the fridge until Jell-O is firm. You can add different kinds of fruit, just have fun with it. When Jell-O is firm you and your dog can enjoy a bowl!!
Frozen Pupsicles: By Wendy S
Ingredients
3 very ripe bananas
1 cup peanut butter (smooth or chunky)
1/2-3/4 cup wheat germ
1/2 cup unsalted peanuts chopped fine
Directions
Mix the bananas with the peanut butter. Mix in enough wheat germ to make fairly thick dough-roll into 1-inch balls. Roll in chopped peanuts. Freeze on cookie sheet.
Gingerbread Dog Cookies
Ingredients
4 cups whole wheat flour
2/3 cup dry milk powder
1/3 cup crushed vitamins or a combination of any nutritional item (bone meal, etc.)
1/2 t baking soda
1 t ginger
3/4 t nutmeg
1/4 t allspice
1/4 t cloves
1/2 c vegetable oil
1/2 c molasses
1/2 c water
2 eggs, beaten
Directions
Combine all the ingredients then knead until dough is no longer sticky (may need to add flour). Roll to 1/4" thick and cut into shapes (use cookie cutters—it is a lot easier!). Bake at 250° for 15 minutes, turn cookies over and bake for another 15 minutes. Then let the cookies cool. And then serve!
Dog Treat Ice Cubes: By Paula
Ingredients
1 mashed banana
1 cup of plain yogurt
1 cup water
Directions
Mix it all together then put in ice cube trays and freeze.
Nutty Treats (Peanut Butter Treats)
Ingredients
1 1/2 c flour
1/2 c water
3/4 c uncooked oatmeal
1/4 honey crunch wheat germ
1/4 peanut butter (Chunky peanut butter works good or smooth)
1/4 c salad oil
1/4 honey
*1 tablespoon molasses
*1 tsp baking powder
Directions
Preheat oven to 350°. Mix 1 c flour, water with the remaining ingredients until well blended. Stir in the remaining 1/2 c flour. Knead on well-floured surface until dough holds together. Roll out to 1/4" thick. Cut into shapes. Bake on large un-greased cookie sheet for 20 minutes. Turn off oven and leave cookie sheet in the oven for 45 minutes to an hour. Remove cookies and enjoy!!
Frozen Doggie Sicles: By Natilee B
Ingredients
3 very ripe bananas
2 strawberries chopped very fine
1 cup peanut butter (smooth or chunky)
1/2-3/4 cup wheat germ
1/2 cup unsalted peanuts chopped very fine
Directions
Mash the bananas with peanut butter. Mix in enough wheat germ to make a fairly thick dough-roll into 1-inch balls. Mix the chopped peanuts and strawberries together. Roll the 1-inch balls in the chopped strawberry and peanut mix. Freeze on a cookie sheet.
Peanut Butter Biscuits: By Adam S
Ingredients
1/2 cup milk
1 egg
2 spoons of peanut butter
a dash of water
a dash of salt
1 1/4 cup flour
Directions
Mix the egg, peanut butter, water, and the milk in to a large bowl. Then pour the flour and salt in. Stir well and heat in the oven at 350°F. ENJOY!