Schapso
Lhasa Apso / Miniature Schnauzer Hybrid Dog
Information and Pictures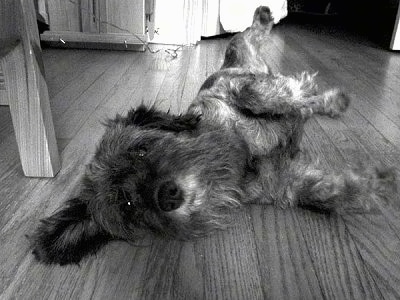 Lucas Oscar de la Cho the Schnauzer / Lhasa Apso mix (Schapso)—"He's very charming and affectionate. People frequently stop us on the streets, commenting on Lucas's color (grey, streak of white and black mixed in, very dignified salt and pepper) and his blissful temperament. He's very excited to have me home at the end of the day, hopping onto his back feet and jumping on me excitedly. He's a bit of a Velcro dog, following me from room to room. He's also a sleepy dog—taking naps in all the little nooks. He considers himself a guard dog, barking. Yet, he's quick to distinguish who are friends and who are strangers. With strangers, he does not cease barking, and with friends, he's cautious then warms up, allowing his belly to be scratched. This picture shows him asking for a belly scratch."
Description
The Schapso is not a purebred dog. It is a cross between the Lhasa Apso and the Miniature Schnauzer. The best way to determine the temperament of a mixed breed is to look up all breeds in the cross and know you can get any combination of any of the characteristics found in either breed. Not all of these designer hybrid dogs being bred are 50% purebred to 50% purebred. It is very common for breeders to breed multi-generation crosses.
Recognition
ACHC = American Canine Hybrid Club
DBR = Designer Breed Registry
DDKC = Designer Dogs Kennel Club
DRA = Dog Registry of America, Inc.
IDCR = International Designer Canine Registry®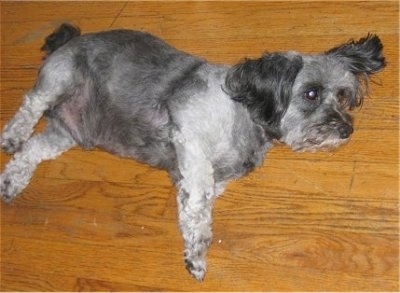 Lucas Oscar de la Cho the Schnauzer / Lhasa Apso mix breed dog (Schapso)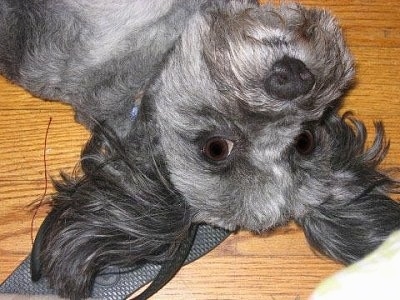 Lucas Oscar de la Cho the Schnauzer / Lhasa Apso mix breed dog (Schapso)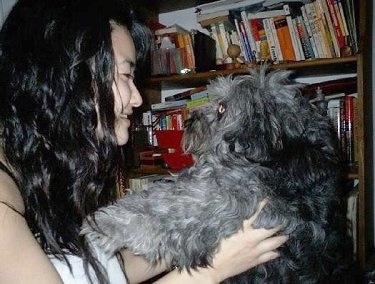 Lucas Oscar de la Cho the Schnauzer / Lhasa Apso Mix breed dog (Schapso) and his owner