Schnau-Tzu
Miniature Schnauzer / Shih Tzu Hybrid Dog
Information and Pictures
Lucky the Schnau-Tzu at 2 years old—"We got Lucky when he was a month and a half old; he has since been the best family pup we could ask for."
Recognition
Miniature Schnau-Tzu
Schnautzu
Shih Schnauzer
Description
The Schnau-Tzu is not a purebred dog. It is a cross between the Miniature Schnauzer and the Shih Tzu. The best way to determine the temperament of a mixed breed is to look up all breeds in the cross and know you can get any combination of any of the characteristics found in either breed. Not all of these designer hybrid dogs being bred are 50% purebred to 50% purebred. It is very common for breeders to breed multi-generation crosses.
Recognition
ACHC = American Canine Hybrid Club
DBR = Designer Breed Registry
DDKC = Designer Dogs Kennel Club
DRA = Dog Registry of America, Inc.
IDCR = International Designer Canine Registry®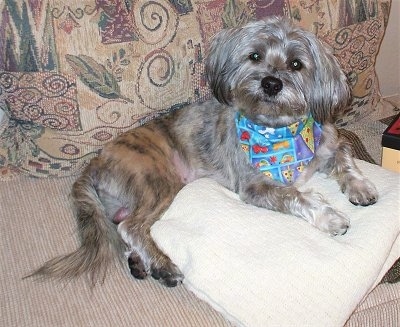 Brusier the Schnau-Tzu (Schnauzer / Shih Tzu hybrid)—"Brusier was named after the dog Brusier in Legally Blonde. Brusier is about 10 months in these pics. This is the first dog I have ever really had and I am 37. This is also the first dog my daughter has had obviously, too, and she is 15. If I knew a dog was this much fun I would have had one a lot sooner. I was not looking forward to housebreaking him in, but actually it wasn't too bad as he learned pretty quickly. I then wondered if he would try to chew up everything. I can't say he has been the best at not trying to chew up things, but he knows what's his and what's not his. Brusier is pretty much how the description says on him; he is playful, loyal and loves to be with my daughter and me. He also loves taking rides and sticking his head out the window in the wind to feel the air. He loves walks and almost even walks arrogantly as he walks the sidewalk in our neighborhood as to say "look at me." He sleeps with my daughter next to her bed or with her on the bed. I love it that he doesn't shed, as I didn't want a dog that did shed. He follows us around the house to make sure he doesn't "miss" anything. He also will lie down when we lie down. We don't know anything about doing dog tricks, but I would bet he could learn things pretty well. He knows a lot of words that we say and he has adapted to know when we are getting ready to leave the house. That's when he gets his little sad puppy face in gear the best. I can't say he loves a bath but he takes it in okay. What he does love is getting dried with the hair blower. When we go places with him like PetSmart people say his face is so cute and he is a pretty dog."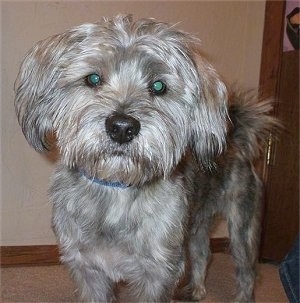 Brusier the Schnau-Tzu (Schnauzer / Shih Tzu mix breed dog) at about 10 months old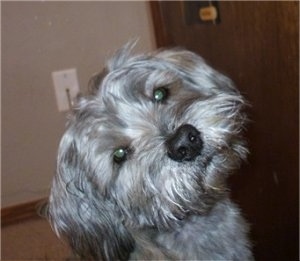 Brusier the Schnau-Tzu (Schnauzer / Shih Tzu mix breed dog) at about 10 months old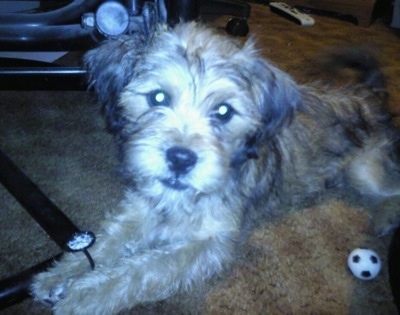 "This is Rex. We also call him Rexy. He is six months old now and is 2 inches taller than my full-breed Shih Tzu, but the same length as him. He is smart and he can sit, lie down and go up for treats. I am trying to teach him to shake hands. He loves the outside, unlike my Shih Tzu and is very playful especially with my other dog. When he is by other dogs that he doesn't know he is a real wimp if they try to come after him."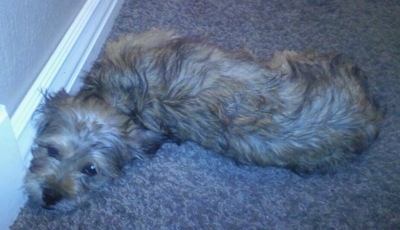 Rex the Schnau-Tzu puppy (Mini Schnauzer / Shih Tzu mix breed) at 6 months old
Rex the Schnau-Tzu puppy (Mini Schnauzer / Shih Tzu mix breed) at 2 months old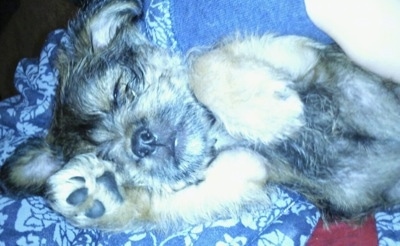 Rex the Schnau-Tzu puppy (Mini Schnauzer / Shih Tzu mix breed) at 2 months old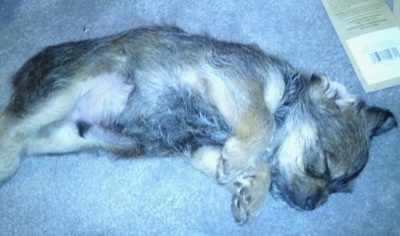 Rex the Schnau-Tzu puppy (Mini Schnauzer / Shih Tzu mix breed) at 2 months old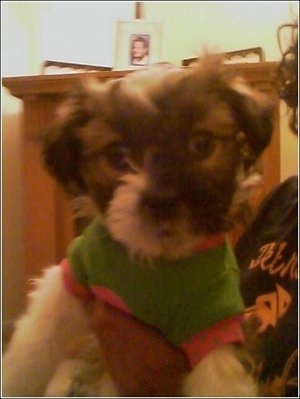 Coco the multi-colored Schnau-Tzu (Schnauzer / Shih Tzu mix breed) at 7 months old wearing a shirt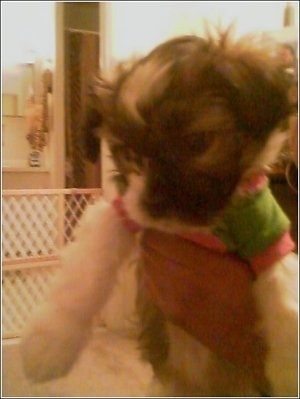 Coco the multi-colored Schnau-Tzu (Schnauzer / Shih Tzu mix breed) at 7 months old wearing a shirt