Description
The Sharp Eagle is not a purebred dog. It is a cross between the Beagle and the Shar-Pei. The best way to determine the temperament of a mixed breed is to look up all breeds in the cross and know you can get any combination of any of the characteristics found in either breed. Not all of these designer hybrid dogs being bred are 50% purebred to 50% purebred. It is very common for to breed multi-generation crosses.
Recognition
ACHC = American Canine Hybrid Club
DDKC = Designer Dogs Kennel Club
DRA = Dog Registry of America, Inc.
Lilly the Sharp Eagle as a 6-week-old puppy—"I picked up my puppy Lilly when she was only 6 weeks old. She is the sweetest little girl! She potty trained so fast before she was even 9 weeks old. She absolutely has the Beagle nose and howl, which I love. This picture is from the day I adopted her."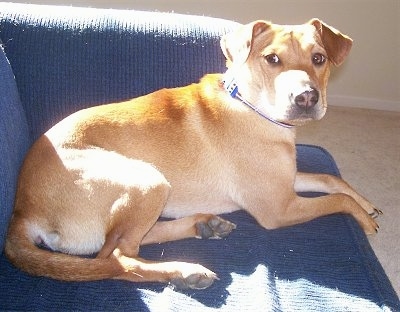 Xena the Sharp Eagle (Beagle / Shar-Pei Hybrid) at 1 year old, weighing 20 pounds—"She is super sweet, but super playful!"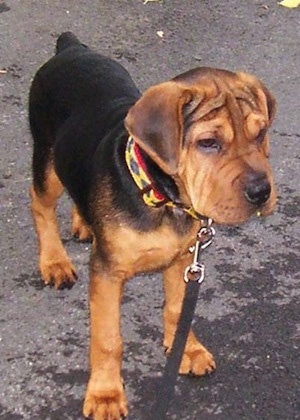 "Cash the Sharp Eagle puppy at 19 weeks—Cash's father is a 16-inch Beagle, and his mother a pure black Shar Pei. He has the look of a Beagle with wrinkles. Cash loves to chew, especially sticks. He is a very laid-back dog, spending most of his time sleeping. When he is awake, he runs around playing with our cat. He has a very gentle, docile nature; wants to be friends with everyone and everything."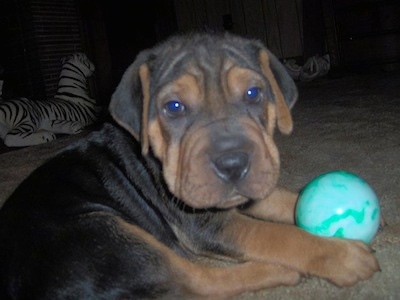 Cash the Sharp Eagle puppy at 14 weeks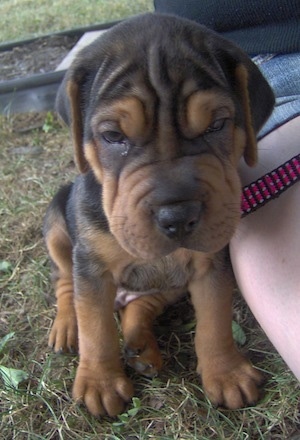 Cash the Sharp Eagle puppy at 9 weeks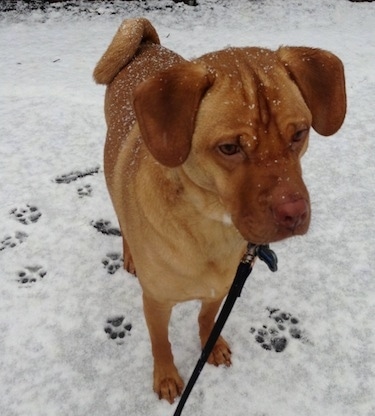 "Stewart is 1/2 Shar-Pei and 1/2 Beagle. He was the cutest puppy ever with wrinkles, a curly tail and green eyes!! He came from a PA farmer's market and I couldn't leave without him! He was quite the biter as a puppy, but grew into a regal, sweet handsome boy. He loves the bark park and playing with other dogs. He gets along with all animals including cats!! He is a mama's boy and a licker full of kisses!! He even puts his arms around you to "hug." Beauty of the Shar Pei with the sweet temperament of a Beagle. He is a wonderful, loyal family dog!!"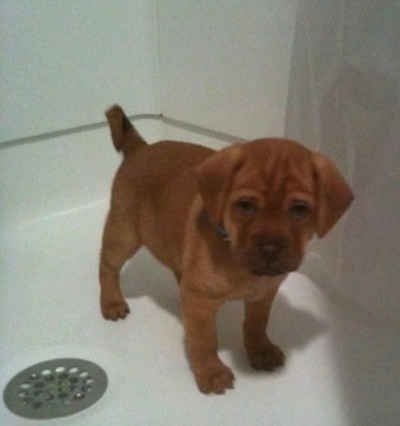 Stewart the Sharp Eagle as a puppy in the shower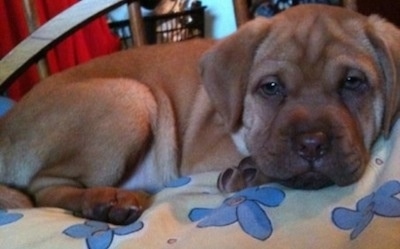 Stewart the Sharp Eagle as a puppy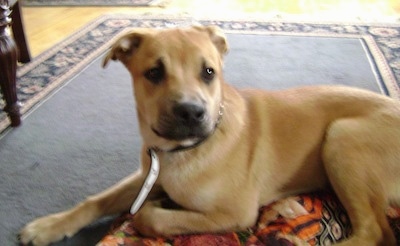 Tye the Sharp Eagle (Shar Pei / Beagle mix)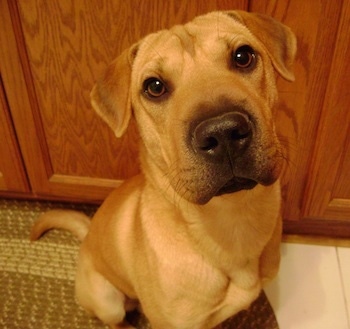 Snickers comes from a male Shar Pei and a female Beagle, shown here at 9 months old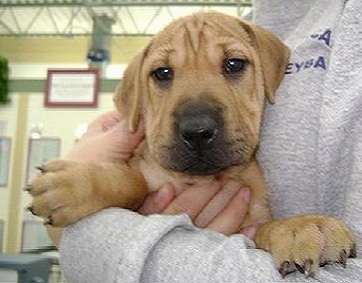 Snickers the Shar Pei / Beagle mix as a young puppy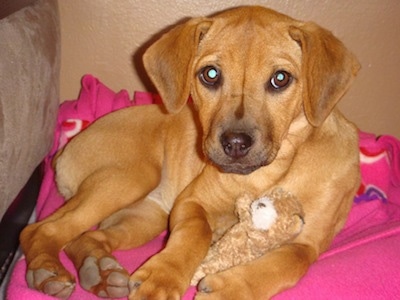 "Lexi is a Sharp Eagle (Beagle / Shar-Pei hybrid) who weighed 22 pounds at 10 months old. She is very playful, energetic and cuddly. We take Lexi to the dog park where she loves to play with all the dogs twice her size and be the first to say "hi" to dogs coming into the park. It has been a little difficult to train Lexi since she is so curious of everything around her, but once she learns, she doesn't forget. The biggest problem we've had is walking. Because of Lexi's Beagle nose, she'd rather pull and smell instead of have a relaxed, enjoyable walk but we watch the Dog Whisperer (Lexi loves to watch TV) and have been using his techniques to teach Lexi how to walk and to show her that my husband and I are "pack leaders." This picture is of Lexi when she was about seven or eight months old."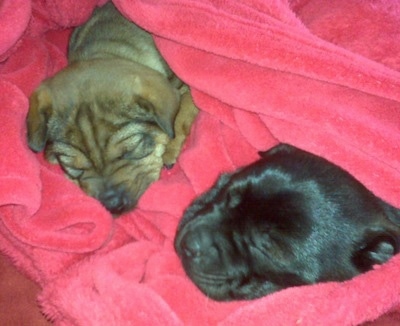 Shar-Pei / Beagle mix puppies Sasha and Sadie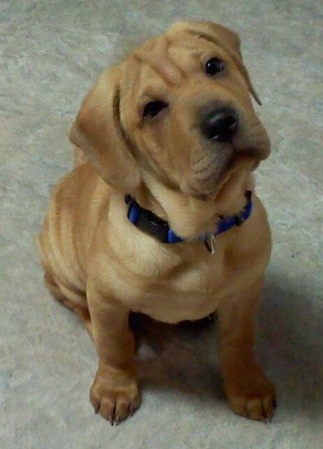 "This is Duke at 6 months old. He is a male Shar Pei / Beagle mix puppy. He's a very well-rounded dog. He's always happy and loves to play with his toys, especially his duck toys—they're his favorites. He loves squeaky toys, too. It did not take him very long to potty train or learn to sit. His worst habit would be taking the dryer sheets that fall from the laundry and chewing on them."