Shelestie
West Highland White Terrier / Shetland Sheepdog Hybrid Dogs
Information and Pictures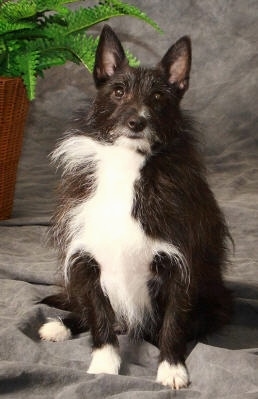 "This is Rosie. She is a Shetland Sheepdog and West Highland Terrier mix. If you want a Sheltie that does not shed much, this is it! Brilliant dog; loves Flyball, agility, swimming and plays in dog daycare all day. This is a high-energy dog and will challenge you. Not for the first-time dog owner. Good dogs take a lot of work."
Description
The Shelestie is not a purebred dog. It is a cross between the Westie and the Sheltie. The best way to determine the temperament of a mixed breed is to look up all breeds in the cross and know you can get any combination of any of the characteristics found in either breed. Not all of these designer hybrid dogs being bred are 50% purebred to 50% purebred. It is very common for breeders to breed multi-generation crosses.
Recognition
ACHC = American Canine Hybrid Club
DDKC = Designer Dogs Kennel Club
DRA = Dog Registry of America, Inc.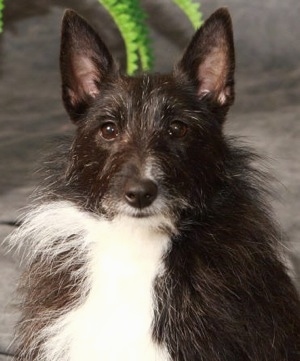 Rosie the black and white Shelestie (Shetland Sheepdog / West Highland White Terrier mix)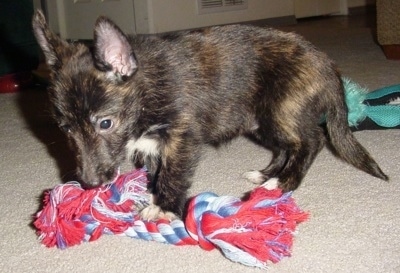 "Our Shelestie at 12 weeks old, which is a combination of a Shetland Sheepdog and a West Highland White Terrier. Her name is Bungee. We've only had her for a week, but she stole our hearts from day one. She's very playful and loves to taunt our other dog, a 7-year-old male Jack Russell Terrier. I think she has a crush on him! Bungee likes to chew, of course. She loves to play and run in our backyard. She doesn't seem to like appliances. The vacuum cleaner is a definite dislike, and when I open the dishwasher, she barks at it. We think that our Shelestie is going to be a very good dog and provide much love and joy for many years to come."
A brindle and white Shelestie puppy (a cross between a purebred Shetland Sheepdog and West Highland White Terrier)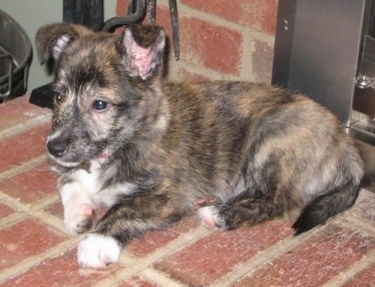 A brindle and white Shelestie puppy (a cross between a purebred Shetland Sheepdog and West Highland White Terrier)