Shug
German Shepherd / Pug Hybrid Dogs
Information and Pictures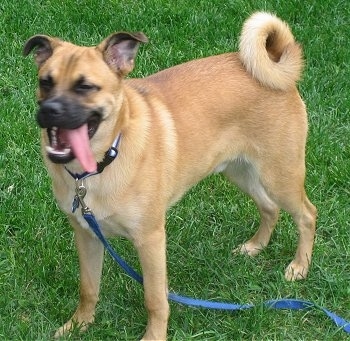 "This is my German Shepherd / Pug hybrid Finnian. He is 37 pounds at 7 months old in this picture. He has the best qualities from both breeds: lots of energy and incredibly smart. The only complaint we have is that he barks at everything. He's great with big and small dogs, kids and our cats (especially our 14-week-old kitten). He loves to cuddle and hang out on the couch, and is incredibly loyal so we can go outside and play fetch without worrying he'll run off. We get tons of compliments on how sweet he is—he loves to give and get kisses!"
Description
The Shug is not a purebred dog. It is a cross between the German Shepherd and the Pug. The best way to determine the temperament of a mixed breed is to look up all breeds in the cross and know you can get any combination of any of the characteristics found in either breed. Not all of these designer hybrid dogs being bred are 50% purebred to 50% purebred. It is very common for breeders to breed multi-generation crosses.
Recognition
ACHC = American Canine Hybrid Club
DDKC = Designer Dogs Kennel Club
DRA = Dog Registry of America, Inc.
IDCR = International Designer Canine Registry®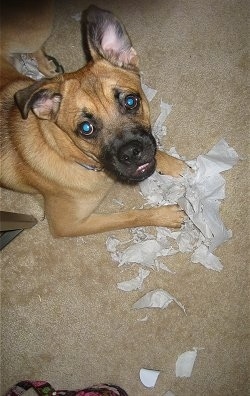 Finnian the German Shepherd / Pug mix breed (Shug) at 7 months old gets into a bit of mischief.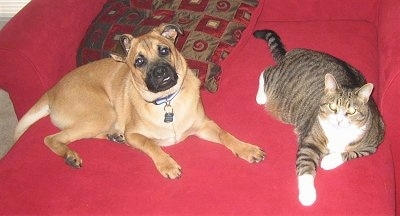 Finnian the German Shepherd / Pug mix breed (Shug) at 7 months old with his cat friend
Finnian the German Shepherd / Pug mix breed (Shug) at 7 months old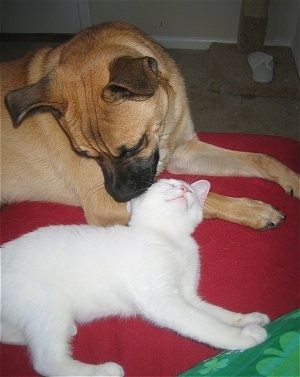 Finnian the German Shepherd / Pug mix breed (Shug) at 7 months old with his white kitty friend