Other Names
Huskydoodle
Huskapoo
Huskypoo
Poosky
Siberian Poodle
Description
The Siberpoo is not a purebred dog. It is a cross between the Siberian Husky and the Poodle. The best way to determine the temperament of a mixed breed is to look up all breeds in the cross and know you can get any combination of any of the characteristics found in either breed. This hybrid cross is recognized by the American Canine Hybrid Club. Not all of these designer hybrid dogs being bred are 50% purebred to 50% purebred. It is very common for breeders to breed multi-generation crosses.
Recognition
ACHC = American Canine Hybrid Club
DRA = Dog Registry of America, Inc.
IDCR = International Designer Canine Registry®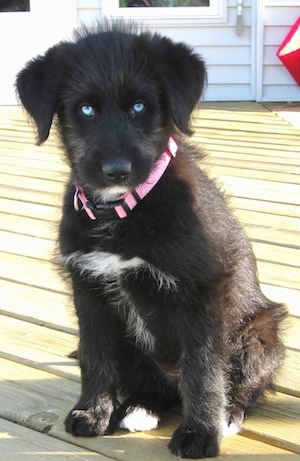 Kaycee the Siberian Husky / Poodle mix breed (Siberpoo) as a puppy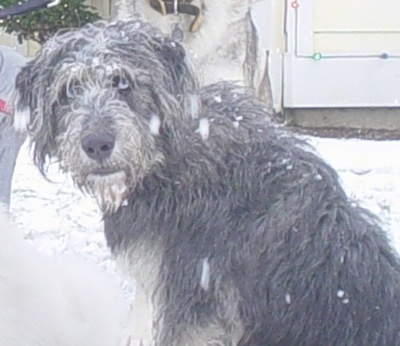 "Remy is our 1-year-old Husky / Poodle mix with white markings and blue eyes. I call the mix "Poosky" or "Huskydoodle". He is docile, sweet, intelligent, likes to be around people and other animals, not afraid of the vacuum. He likes fetching. He taught my other dog how. Loves to swim, thinks water is the best thing ever. Snow is his newfound favorite. LOVES to cuddle and nap with his brother So-Ko (Malamute / Arctic wolf mix). He was quick to potty train; likes baths/showers. He doesn't wander off like the Husky breed. He gets daily walks. He could be an apartment dog as long as he got plenty of exercise. He enjoys running and playing ball. I believe the Husky/ Poodle mix is a wonderfully balanced canine. Health issues are non-existent at this point, and the vet has been surprised with how fast he grew and with his docile temperament. I think the combination of these two breeds has made a great companion. The hair from the Poodle breed is great with the Husky, not shedding as much yet still fluffy with Husky markings. Overall, great dog! I rescued him when he was 12 weeks old and I love him entirely."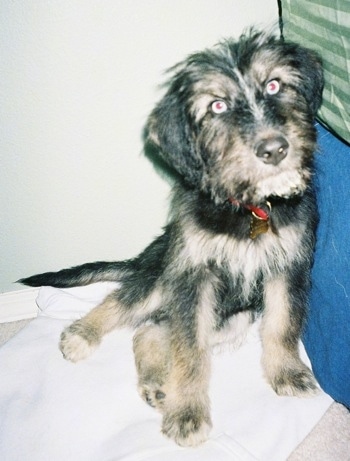 Remy the Siberpoo (Poodle / Siberian Husky mix breed) puppy at 13 weeks old