Soft Coated Wheatzer
Miniature Schnauzer / Soft Coated Wheaten Terrier Hybrid Dogs
Information and Pictures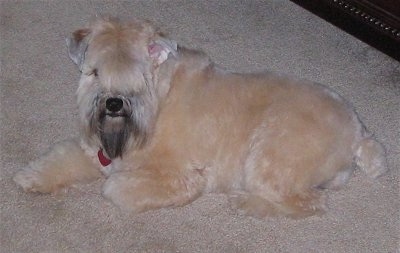 Cally the beautiful Soft Coated Wheatzer at 4 years old—"She is a Soft Coated Wheaten mixed with Miniature Schnauzer. Mostly she looks like a Wheaten except for her size. Cally is about 22 pounds. She is full of personality and is very loving. She enjoys family and is happiest when everyone is all together in one room. Immediately when arriving home from work, I know to expect many Wheaten kisses. Cally loves her walks and looks forward to the weekends with her mom and dad. One of Cally's favorite pastimes is to sunbathe while her owners take care of the yard work."
Description
The Soft Coated Wheatzeris not a purebred dog. It is a cross between the Miniature Schnauzer and the Soft Coated Wheaten Terrier. The best way to determine the temperament of a mixed breed is to look up all breeds in the cross and know you can get any combination of any of the characteristics found in either breed. Not all of these designer hybrid dogs being bred are 50% purebred to 50% purebred. It is very common for breeders to breed multi-generation crosses.
Recognition
ACHC = American Canine Hybrid Club
DBR = Designer Breed Registry
DDKC = Designer Dogs Kennel Club
DRA = Dog Registry of America, Inc.
IDCR = International Designer Canine Registry®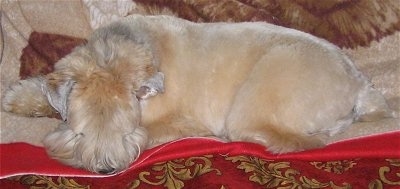 Cally the Soft Coated Wheatzer (Wheaten / Mini Schnauzer mix breed) at 4 years old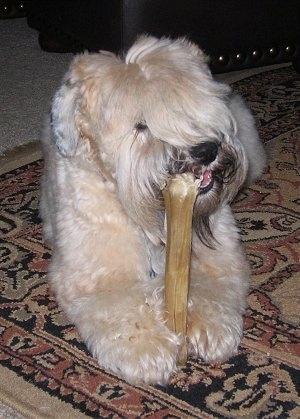 Cally the Soft Coated Wheatzer (Wheaten / Mini Schnauzer mix breed) at 4 years old chewing on her bone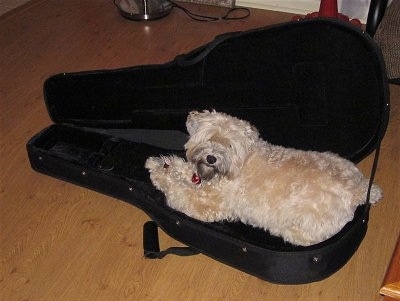 Cally the Soft Coated Wheatzer (Wheaten / Mini Schnauzer mix breed) at 4 years old in the guitar case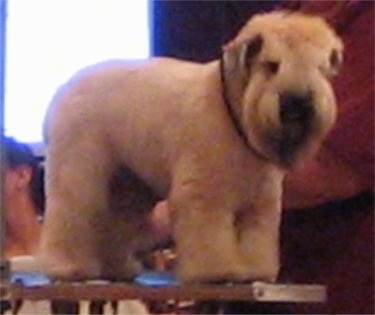 Cally the Soft Coated Wheatzer (Wheaten / Mini Schnauzer mix breed) at 4 years old