Shiffon
Brussels Griffon / Shih Tzu Hybrid Dogs
Information and Pictures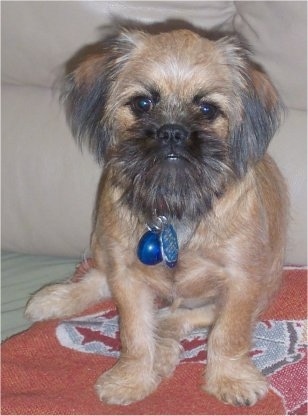 Stella the Shiffon (Griffon / Shih Tzu mix breed dog) at 1½ years old
Description
The Shiffon is not a purebred dog. It is a cross between the Brussels Griffon and the Shih Tzu. The best way to determine the temperament of a mixed breed is to look up all breeds in the cross and know you can get any combination of any of the characteristics found in either breed. Not all of these designer hybrid dogs being bred are 50% purebred to 50% purebred. It is very common for breeders to breed multi-generation crosses.
Recognition
ACHC = American Canine Hybrid Club
DBR = Designer Breed Registry
DDKC = Designer Dogs Kennel Club
DRA = Dog Registry of America, Inc.
IDCR = International Designer Canine Registry®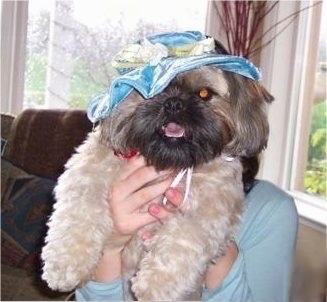 "This is my dog Marti. She is a Shiffon (Shih Tzu / Brussels Griffon). She is incredibly intelligent; I had her doing 'sit,' 'lie down,' 'come,' 'speak' and 'dance' within the first week I had her—and at the time she was only 10 weeks. She is also very friendly. She is a sturdy, hardy little girl, and very playful. Housetraining has been a bit touch and go, as is the case with most toy dogs. Because I live in a three-story apartment complex, the combination of being consistent in her training and trying to anticipate her schedule was giving me more exercise than I really wanted. So, besides the crate training that I did when I could not supervise her (at nighttime and while I am at work—I keep a blanket and toys and water in the crate with her), I have added another wire crate in a different room, for her to use as a bathroom. It is similar to having her use a litter box, but since there is no litter, it's much easier for me to clean up. I used clicker-training to get her started, and now when she has to go, she runs in and waits to make sure I'm watching before she does her business, then she runs over to me as quick as she is finished for a cookie. She is very good about using the crate, but once in a while if she appears to be annoyed with me, she will poop on the kitchen floor. She is a wonderful dog, and I recommend the Shiffon to anyone that wants a loving, smart, low-maintenance dog."