Dogs displaying "Top Dog" behaviors
Deep within every dog is the instinct to have a pack order, a leader. Dogs do not think along the same lines as humans. It is important to understand their way of thinking in order for humans and dogs to happily coincide. The more you understand your dog, the higher the chances are that you and your dog will live a long, happy life together.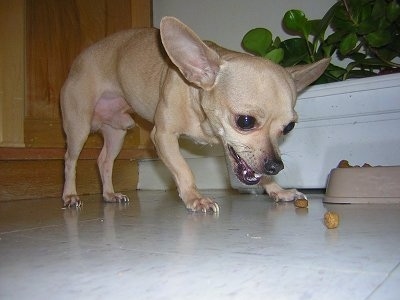 Tequila the Chihuahua is trying to tell whoever is near him not to eat his food, as the leader of the pack always eats first. This is an instinct that lies within every dog.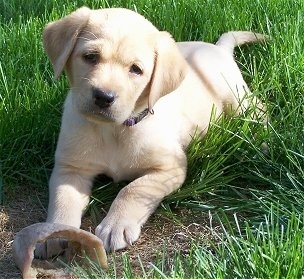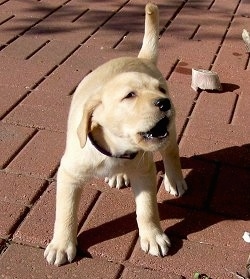 Female yellow Labrador Retriever at eight weeks already wants to be Top Dog.
Tilly, my eight-week-old puppy, is already showing signs of trying to take over the top-dog position. As you can see from the two photos she can be very, very sweet and very, very bossy. Tilly will be going into training, a puppy socialization class, in two weeks so we can both learn how to co-exist happily together.
Do you have a photo of your dog displaying "Top Dog" behaviors? Send it in for possible posting on DBI!
©Dog Breed Info Center® All Rights Reserved