Other Names
Neodeau Mastiff
Description
The Ultimate Mastiff is not a purebred dog. It is a cross between the Dogue de Bordeaux and the Neapolitan Mastiff. The best way to determine the temperament of a mixed breed is to look up all breeds in the cross and know you can get any combination of any of the characteristics found in either breed. Not all of these designer hybrid dogs being bred are 50% purebred to 50% purebred. It is very common for breeders to breed multi-generation crosses.
Recognition
ACHC = American Canine Hybrid Club
DBR = Designer Breed Registry
DDKC = Designer Dogs Kennel Club
DRA = Dog Registry of America, Inc.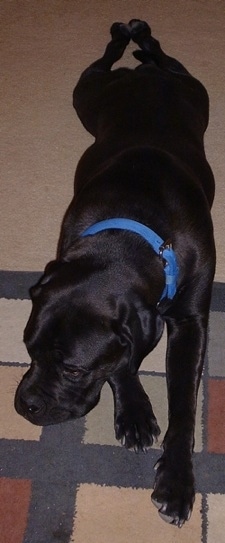 "Otis the Ultimate Mastiff (Dogue de Bordeaux / Neapolitan Mastiff hybrid) at 2 years old often lies with his back legs stretched straight out behind him (dog-legs)."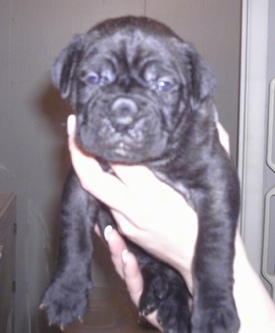 Ultimate Mastiff puppy at 4 weeks old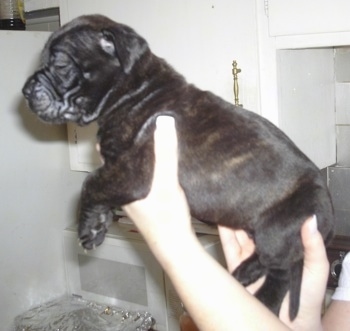 Ultimate Mastiff puppy at 4 weeks old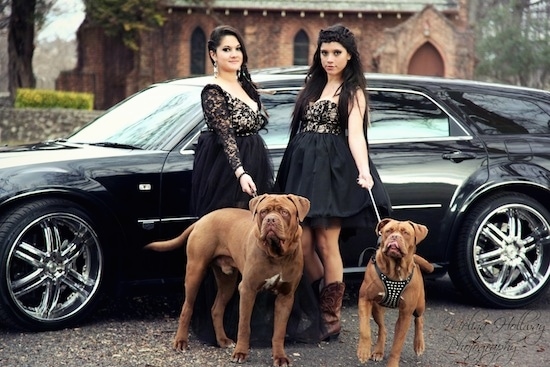 Ultimate Mastiffs, Rogue and Zeus—"This is Rogue and her brother Zeus. They are 3/4 Dogue and 1/4 Neo. Rogue has just had her first litter of pups to our pure Dogue "Rock" and her litter has come out with some stunning and rare colours including 3 traditional reds, 2 liver/chocolate and 2 lilac/isabella pups. We have used Cesar Millans methods and watch his videos on YouTube every week. Because we apply what we have learnt we have 2 of the most well behaved relaxed dogs. Rogue is completely submissive and a great protector, we have never owned a more loyal dog."
Rogue the Ultimate Mastiff with her puppies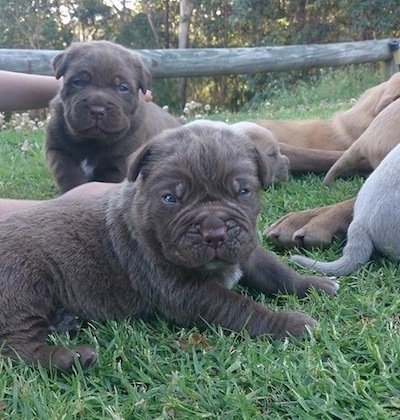 Rogue's Ultimate Mastiff puppies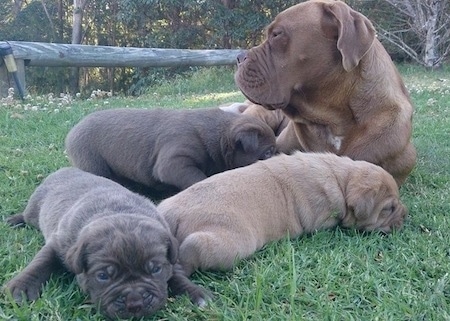 Rogue the Ultimate Mastiff with her litter of puppies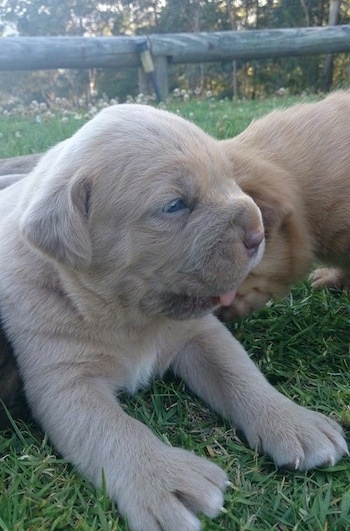 Rogue's Ultimate Mastiff puppies