Collectable Vintage Airedale Terrier Dogs
For your enjoyment only. This is my own personal vintage dog figurine collection. They are not for sale.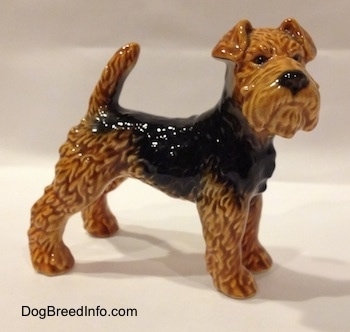 Pictured is a vintage Airedale Terrier dog West Germany Goebel figurine with the missing bee trademark 6 (TMK-6) Goebel logo stamped on the bottom. The TMK-6 logos were put on Goebel pieces between 1979 and 1990. There are also two number engravings. One is the number 57 on the front right foot and the other is 30 503-12 on the back right leg. This is a very detailed tan and black dog standing 4 1/2 inches tall from the ground to the top of the head, 5 1/2 inches long from the back of the legs to the tip of the nose and 2 inches wide across the front of the chest.
Other Dog Breed Names
Airedale
Bingley Terrier
King of Terriers
Waterside Terrier