Collectable Vintage Australian Shepherd Dogs
For your enjoyment only. This is my own personal vintage dog figurine collection. They are not for sale.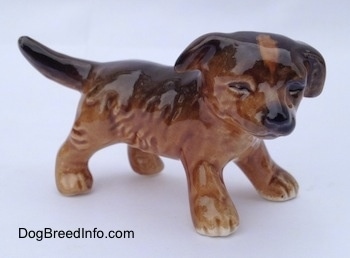 Shown is a vintage porcelain Aussie puppy by Goebel. This is an adorable little pup with tired squinty eyes that gives her a sweet look. On the bottom is the Goebel trademark 5 (TMK-5) logo dating the figurine to the 1970s. It stands 1 3/4 inch tall, 3 inches long from tail to the tip of the nose, 1 1/2 inches wide across the front from paw to paw.
Other Dog Breed Names
Aussie
Aussie Shepherd
Australischer Schaferhund
Australian Sheepdog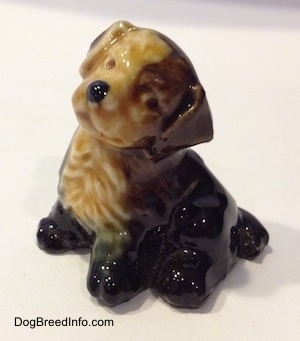 This tiny vintage ceramic Wade Red Rose Tea figurine is named "Mongrel Dog" from George Wade Pottery of Burslem, England. It looks like an Australian Shepherd puppy, however judging by the name it seems the artist had a mutt in mind when designing it. Perhaps it was meant to be an Aussie mix. It stands 1 1/4 inches tall and is 1 inch wide. It's adorable and appears to be smiling. It is from the 1970s and in great condition with no cracks, chips or repairs. Hand-painted with a nice glossy finish.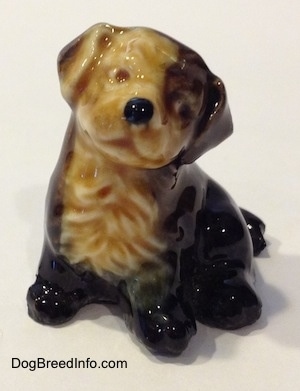 Tiny vintage ceramic Wade Red Rose Tea figurine is named "Mongrel Dog," but looks a lot like an Australian Shepherd puppy—front view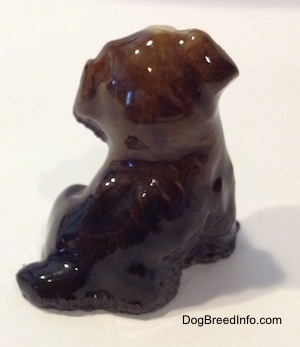 Tiny vintage ceramic Wade Red Rose Tea figurine is named "Mongrel Dog," but looks a lot like an Australian Shepherd puppy—back view