Collectable Vintage Basset Hound Dogs
For your enjoyment only. This is my own personal vintage dog figurine collection. They are not for sale.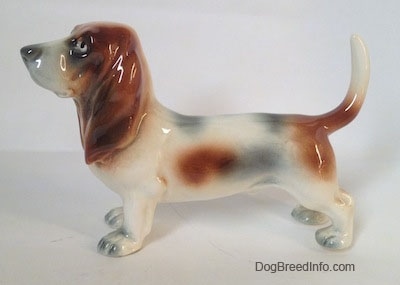 Pictured is a vintage trademark 4 (TMK-4) Basset Hound dog figurine by Goebel in a standing pose. It is of a white, brown and black tricolor dog. The nose is black and the eyes are nicely detailed in white and black. The tail is up in an excited position. On the bottom is the three line trademark 4 (TMK-4) Goebel logo. This particular mark was used between 1962 and 1971. The three line mark is of a large V with a bee inside of it. To the right are the copyright symbol (C) and the word by. The second line says W. Goebel. The third line says W. Germany. It measures 3 1/2 inches from the ground to the top of the head, 5 inches long from the tip of the nose to the back of the tail and 1 1/2 inch wide across the front of the face from ear to ear.
Other Dog Breed Names
Basset
Hush Puppy