Collectable Vintage Bulldog Dogs
For your enjoyment only. This is my own personal vintage dog figurine collection. They are not for sale.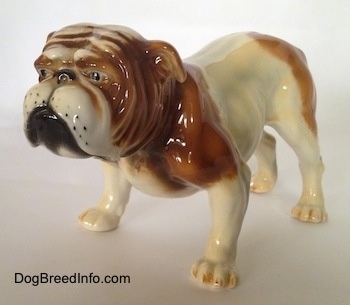 Shown is a West Germany vintage Bulldog figurine by Goebel. This is a very muscular brown and white Bulldog with lots of face wrinkles, big head with some black on the muzzle. He has the engraving CH626 on the back left leg. On the back right leg there is a stamp of the Goebel logo of the bee inside of the V above the 'bel' in the name Goebel. Under that it reads W. Germany. The date 1969 is engraved into the back right leg under the logo. The date indicates the year the mold was made. It is the logo that is the determining factor of the time period the actual piece was made. The logo this dog has is what collectors call the trademark 5 (TMK-5). It sets the date it was made between 1972 and 1978. He has a glossy finish and is in good condition. There is some crazing on the underbelly. This Bulldog is larger than some of the other Goebel Bulldogs that I have seen. He stands 4 1/4 inches tall from the ground to the top of the head, 7 inches long from the front of the face to the tip of the tail and 3 1/2 inches wide.
Other Dog Breed Names
English Bulldog
British Bulldog