Collectable Vintage Cairn Terrier Dogs
For your enjoyment only. This is my own personal vintage dog figurine collection. They are not for sale.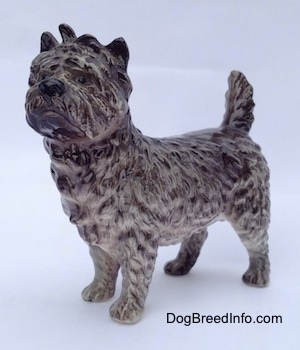 Vintage Goebel Cairn Terrier dog at 4 1/2 inches tall, 5 inches long from the back of the leg to the front of the snoot and 2 inches wide. This is a shaggy dog with a nice glossy finish. It's the same figurine as the one below however this one is in better condition. On the bottom is the trademark 5 (TMK-5) Goebel logo of the bee inside the V above the 'bel' in the name Goebel. Below that it reads W. Germany. This dates the figurine between 1972 and 1978. There is also an engraving that I believe reads CH 628. Just like the Cairn below, I cannot make out the last number. It could also possibly be a 7. Excellent vintage condition with no crazing, chips, cracks, breaks or repairs.
Other Dog Breed Names
Cairn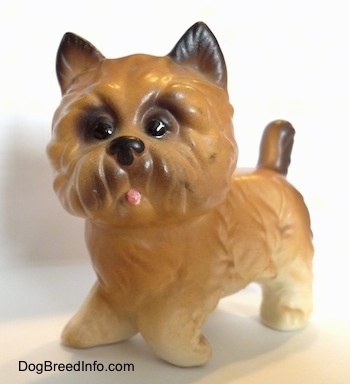 This is a vintage Cairn Terrier figurine that is believed to be ceramic, but that is just a guess. It stands roughly 3 inches tall and is about 3 1/2 inches long. It has an A613 stamped on the bottom of its paw. From looking at other figurines on the Internet that have the stamp A613, this is possibly a Lefton piece. A rough estimate of the date this was made is about 1960s / 1970s. It's in perfect condition with no chips, cracks or repairs. Purchased used at a flea market in the 1990s.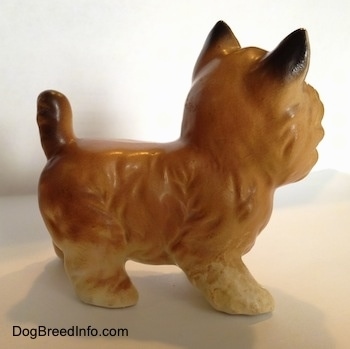 Vintage Cairn Terrier figurine — back view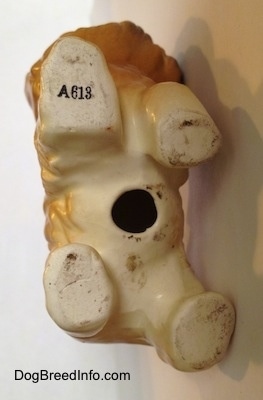 Vintage Cairn Terrier figurine — bottom view showing the stamp on the paw reading A613