Collectable Vintage Corgi Dogs
For your enjoyment only. This is my own personal vintage dog figurine collection. They are not for sale.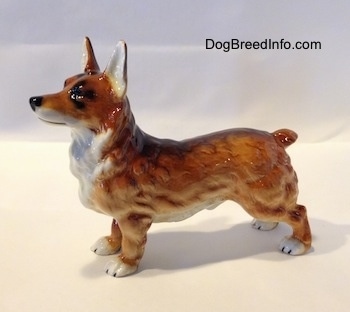 Pictured is a vintage Goebel Pembroke Welsh Corgi porcelain dog figurine. This Corgi is in excellent condition with a high gloss finish. There are no chips, cracks, breaks or repairs. It does have some crazing on the underbelly. Beautiful and very nicely done. He stands 5 inches tall from the ground to the top of the ears, 6 inches long from the tip of the nose to the tip of the tail and about 1 3/4 inch wide. It is engraved with CH619 on the bottom. There is also a date stamp of 1968. The bottom part of the last number does not show up very well and it is difficult to read, however going by other Goebels with date stamps that I own I am pretty sure the last number is indeed the number 8. It also has a silver Goebel sticker of the bee inside of a V on top of the 'bel' on the word Goebel with W. Germany below that. The date indicates the year the mold was made. It is the logo that is the determining factor of the time period the actual piece was made. The logo this dog has is what collectors call the trademark 5 (TMK-5). It sets the date it was made between 1972 and 1978.
Other Dog Breed Names
Welsh Corgi
Corgi
Cardigan Welsh Corgi
Pembroke Welsh Corgi