Collectable Vintage Dachshund Dogs
For your enjoyment only. This is my own personal vintage dog figurine collection. They are not for sale.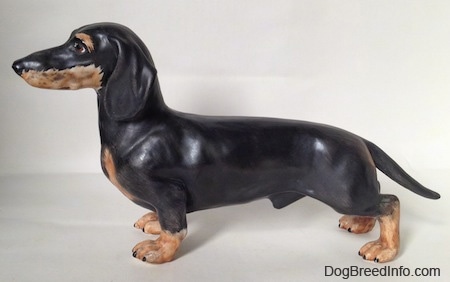 This is a 1970s West Germany Dachshund dog figurine by Goebel. It is a hand painted flat finish black and tan dog in a standing pose. There is tan on the bottom of the snout, over the eyes, on the chest, on the back end near the base of the tail and on the feet. On the areas of black there are highlights of gray giving it a blue-ish texture. On the bottom is the trademark 5 (TMK-5) Goebel logo of the bee inside the V above the 'bel' in the name Goebel. Below the Goebel name it reads W. Germany. There is also an engraving on the inside of the back right leg that reads 3063216. On the inside of the back left leg there is an engraving of the date 1973, which would indicate the date the mold was first made. This figurine stands about 5 1/2 inches tall from the ground to the top of the head, 10 1/2 inches long from the tip of the nose to the tip of the tail and 2 1/4 inches wide across the front of the chest.
Other Dog Breed Names
Standard Dachshund
Miniature Dachshund
Toy Dachshund
Kaninchen
Doxie
Wiener Dog
Little Hot Dog
Hotdog Dog
Sausage Dog
Long Dog
Little Burrow Dog
Earth Dog
Badger Dog
Dackel
Teckel
Tekkel Doxie
Bassotto
Sosis
Worshond
Perro Salchicha
Taksis