Collectable Vintage Dalmatian Dogs
For your enjoyment only. This is my own personal vintage dog figurine collection. They are not for sale.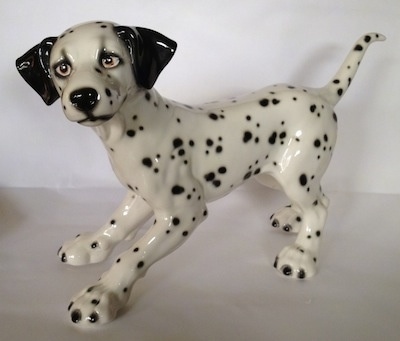 This is a retired giant vintage West Germany Dalmatian dog by Goebel. This is a very large figurine standing 9 1/2 inches from the ground to the top of the head, 15 inches long from the tip of the ear to the tip of the tail and 6 inches wide across the front from paw to paw. On the bottom is the trademark 6 (TMK-6) Goebel logo stamped in blue of the name Goebel and W. Germany below it. This dates the figurine, which is borderline statue size, between 1979 and 1990. Engraved in the bottom is the number 30021-38. This is a very spunky looking dog which captures the true character of the Dalmatian breed. It is in mint condition.
Other Dog Breed Names
Carriage Dog
Dal
Dalmatiner
Firehouse Dog
Leopard Carriage Dog
Plum Pudding Dog
Spotted Coach Dog