Collectable Vintage Doberman Pinscher Dogs
For your enjoyment only. This is my own personal vintage dog figurine collection. They are not for sale.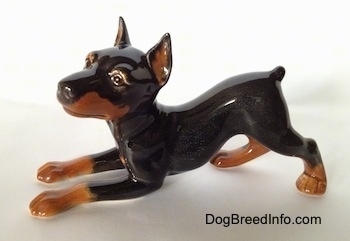 Vintage porcelain Doberman Pinscher dog Goebel figurine made in West Germany—this is a Dob puppy with a docked tail and cropped ears in a play bow pose. It has the original Goebel sticker still on the bottom that is missing the bee, but has the words W. Germany below the word Goebel. This means it was made somewhere between 1979 and 1990. There is an engraved number on the inside of the back left leg that reads 30777. This little girl is 3 1/4 inches tall, 5 1/2 inches long and about 2 inches wide. She's in excellent condition with no chips, cracks, breaks, repairs or crazing.
Other Dog Breed Names
Dobermann Pinscher
Dobe
Warlock Doberman