Collectable Vintage English Cocker Spaniel Dogs
For your enjoyment only. This is my own personal vintage dog figurine collection. They are not for sale.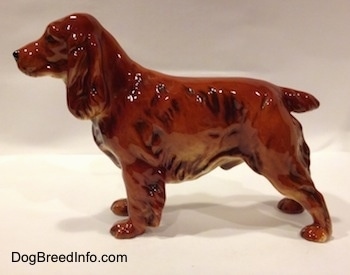 This vintage solid red English Cocker Spaniel by Goebel is very detailed with a nice, glossy finish. On the bottom is the trademark 5 (TMK-5) Goebel logo of the bee inside the V above the 'bel' in the name Goebel. Under that it reads W. Germany. The trademark on the bottom dates this figurine between 1972 and 1978. There is an engraving of a date on the bottom that reads 1968, which is the date the mold was made. It is also engraved with CH 623. It stands 5 3/4 inches tall from the ground to the top of the head, is 8 inches wide from the tip of the nose to the back leg and 2 1/4 inches wide across the back legs.