Collectable Vintage French Bulldog Dogs
For your enjoyment only. This is my own personal vintage dog figurine collection. They are not for sale.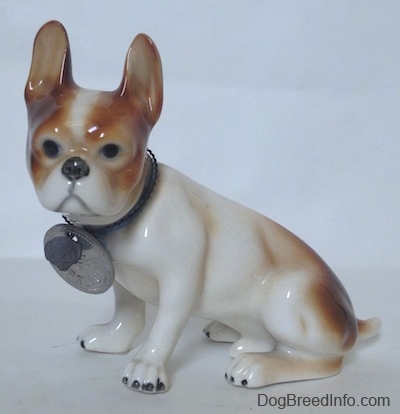 Pictured is a vintage Goebel French Bulldog from the Goebel Archives in Germany. It is of a white dog with a brown mask face and a brown patch on its back end in a sitting pose. The eyes, nose and toe nails are black. It is wearing a blue collar, which is built into the mold. It also has a metal collar around its neck with a Goebel Archives seal coin attached. On the front of the coin it reads W. Goebel Oeslau. On the back of the coin it reads Arbeitsmuster. Arbeitsmuster is the German word for 'work patterns.' On the bottom in black ink it says Germany. There is also a trademark 2 (TMK-2) logo with the registered (R) symbol stamped in blue next to it. The logo is of the full bee inside the V. It was in 1950 that the Goebel Company implemented the bee and the V in memory of Sister M.I. Hummel, the artist behind the famous Hummel figurines. Hummel means bumble bee in German. The V stands for Verkaufsgesellschaft, which means sales company. There is also an incised engraving that reads CH 191/0. It came with a Certificate of Authenticity from the Goebel Archive, shown below. It measures 3 1/2 inches tall from the ground to the tip of the ear, 4 1/2 inches long from the side of the face to the tip of the tail and 1 3/4 inches wide across the front paws.
Other Dog Breed Names
Bouledogue Francais
Frenchie