Collectable Vintage Husky Dogs
For your enjoyment only. This is my own personal vintage dog figurine collection. They are not for sale.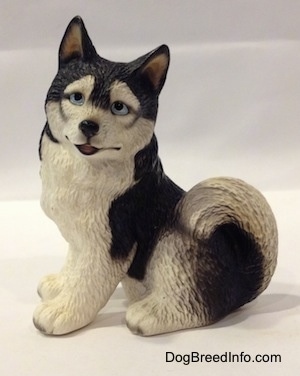 This is a Goebel Siberian Husky dog dated 1983. It is of a black and white dog in a sitting pose with bright blue eyes. When you hold this figurine it feels lighter than the older Goebel pieces and at first I thought it may not be made out of porcelain, but tapping on the bottom confirmed it was indeed. It is a very detailed life-like dog measuring 4 inches from the ground to the tip of the ear, 3 1/2 inches wide from the front paws to the base of the tail and 2 inches wide across the back from hip to hip. On the bottom is an engraving that reads D275B and a gold and blue sticker that reads Goebel, Harvey Knox, (C) Goebel Inc. 1983. This figurine was made in Germany.