Collectable Vintage Irish Terrier Dogs
For your enjoyment only. This is my own personal vintage dog figurine collection. They are not for sale.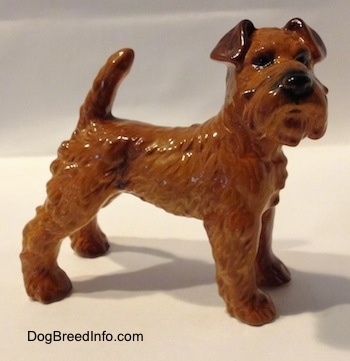 Pictured is a vintage 1970s West Germany Irish Terrier dog by Goebel. This is a trademark 5 (TMK-5) figurine made between 1972 and 1978. The logo is stamped in blue on the dog's belly. This Irish Terrier has a golden red coat with slightly darker ears and a black nose. It is nicely detailed showing the wiry coat, done in a smooth glossy finish. There are two engravings: on the bottom of the front right foot is the number 12 and on the inside of the back right leg is the number 30 503-12. It stands 4 1/2 inches tall from the ground to the top of the head, 5 1/2 inches long from the back of the legs to the tip of the nose and 2 inches wide across the front of the chest.