Collectable Vintage Welsh Terrier Dogs
For your enjoyment only. This is my own personal vintage dog figurine collection. They are not for sale.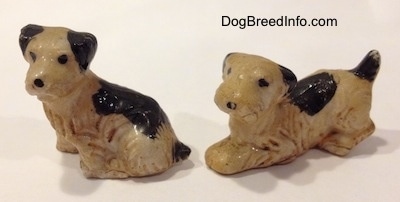 Shown are two miniature vintage bone china Welsh Terrier puppies. One of the puppies has the name Japan stamped on the bottom. They are translucent when held up to the light. They appear to be hand painted. One puppy is sitting and the other is in a play bow pose. The sitting puppy is 1 1/4 inch tall, 1 1/4 inch long and 1/2 inch wide. The puppy in the play bow pose is 1 inch tall, 1 3/4 inch long and 1/2 inch wide.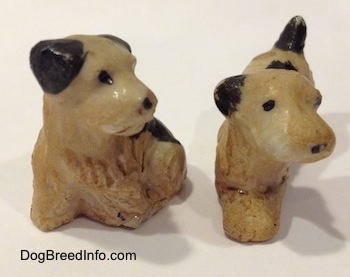 Two miniature vintage bone china Welsh Terrier puppies—front view
Two miniature vintage bone china Welsh Terrier puppies—image showing one of the puppies with the name Japan on the bottom