Whelping and Raising Puppies
Week 6
At six weeks, the pups have now fully developed their vision and hearing, but are still too young to respond to a name. They are ready to investigate anything. They should be starting to wean or be nearly weaned. Putting a weaning bra on the dam promotes her to spend more time with the puppies, but they are unable to nurse. Some dams want to spend more time with the pups, but they cannot.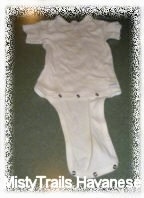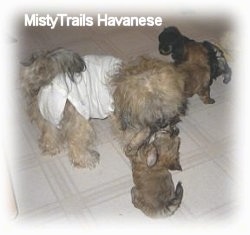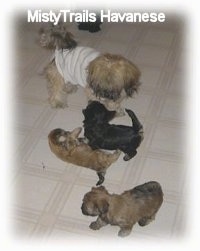 By putting a snap-up shirt on the dam, she will spend more time playing with the puppies. You do not want them constantly trying to nurse at this age, stimulating milk production. The shirt is an easy way to stop the puppies from nursing, and works well. These shirts come in a variety of sizes from a children's department store.
The puppies are getting free time to run around the 20' x 20' kitchen, and play with the other dogs...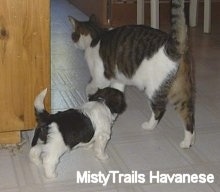 ...and meet the cat.
Their world is gradually getting larger...a little at a time, so as not to overwhelm them.
Although this section is based on a whelping of an English Mastiff, it also contains good general whelping information on large-breed dogs. You can find more whelping information in the links above. The links below tell the story of Sassy, an English Mastiff. Sassy has a wonderful temperament. She loves humans and adores children. An all-around mild mannered, wonderful Mastiff, Sassy, however, is not the best mother toward her puppies. She is not rejecting them; she will nurse them when a human places them on her to feed, however she will not clean the pups or pay any attention to them. It is as if they are not her puppies. This litter is getting mom's milk with major human interaction, manually giving each and every pup what they need. In return, the pups will be super socialized and will make remarkable pets, however the work involved is astounding. It takes one dedicated breeder to keep this situation healthy. Thankfully this litter has just that. Read the links below to get the full story. The pages within include a wealth of information that everyone can appreciate and benefit from.
Whelping: Close-to-Textbook Case