Yorkinese
Pekingese / Yorkshire Terrier Hybrid Dogs
Information and Pictures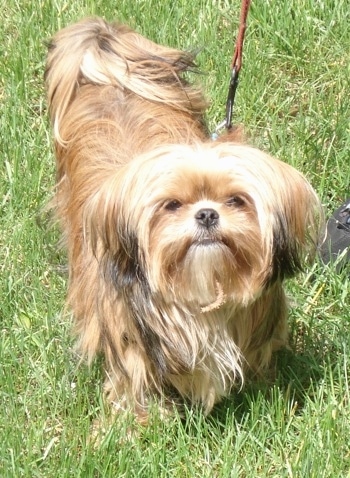 "Bear is silver and black like his Yorkie dad. He has his mom's Pekingese caramel coloring and flat nose. Bear is full of life, loves to fetch, run, jump and dig. Bear loves everyone. He is friendly, gentle and very intelligent. Bear is not a barker. Love this dog; just makes you smile looking at him."
Other Names
Yorkingese
Description
The Yorkinese is not a purebred dog. It is a cross between the Pekingese and the Yorkie. The best way to determine the temperament of a mixed breed is to look up all breeds in the cross and know you can get any combination of any of the characteristics found in either breed. Not all of these designer hybrid dogs being bred are 50% purebred to 50% purebred. It is very common for breeders to breed multi-generation crosses.
Recognition
ACHC = American Canine Hybrid Club
DDKC = Designer Dogs Kennel Club
DRA = Dog Registry of America, Inc.
IDCR = International Designer Canine Registry®
DBR = Designer Breed Registry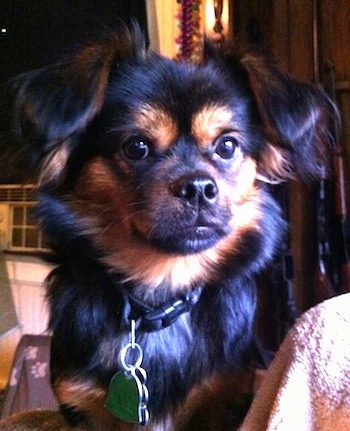 "Tucker the male Yorkinese at 8 months old outgrew both of his parents in weight. He now weighs 13 lbs. You can clearly see both breeds of dog in Tucker. He is a very friendly and energetic little guy. He loves to chew on rawhides and go for long walks."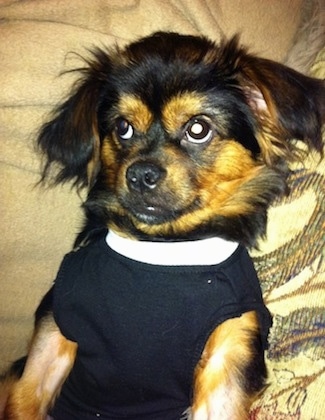 Tucker the male Yorkinese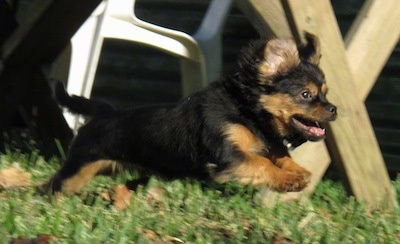 Tucker the male Yorkinese as a puppy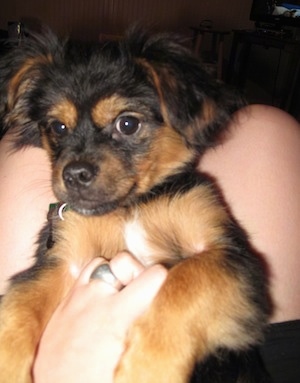 Tucker the male Yorkinese as a puppy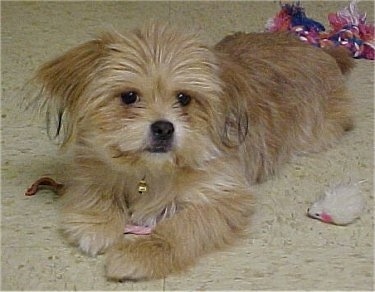 Sophie the Yorkie / Peke mix (Yorkinese) at 6 months old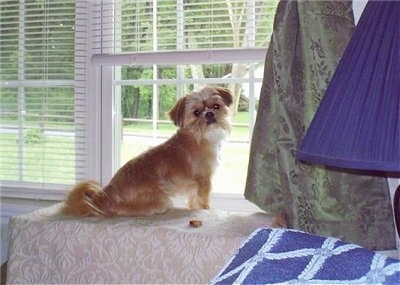 "This is Oliver, a 10-lb. Yorkinese. His father is a Yorkie and the mom is Pekingese. He is about 1 ½ years old in this picture. He is the best natured dog. He does not warm up well to other dogs and tends to shy from children as we are empty nesters and children are not an everyday occurrence here. Once he gets used to a child he will play with them until his feet fall off. Ollie was a handful to housebreak as well. He finally decided to cooperate at about 5 months old. He was a challenge but has turned into the most treasured member of the family. Some of his other quirks are he did not start going down stairs until just over 2 years old. He was going up stairs as soon as his legs were long enough to reach. He takes a mouthful of food and goes into another room to eat it, and he is our only dog, too. We got him at three months. He loves to get his hair cut but does not like to be brushed; he bites at the comb or brush. He sleeps either on the back of the couch or on my pillow. Oliver: the perfect companion."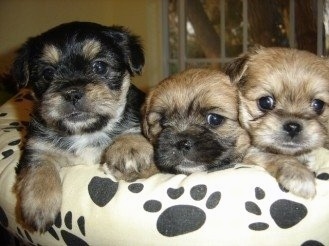 5-week-old Yorkinese puppies, photo courtesy of 3 Pines Kennels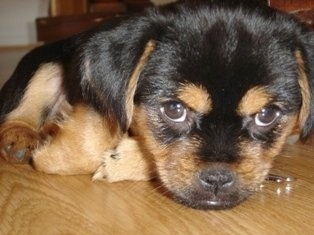 "Lil' Chex (pronounced "checks") the Yorkinese at 8 weeks old—his mother is an 8-lb. Pekingese and his father is a 6-lb. Yorkshire Terrier. He is always mistaken to be a mini Rott...we always hear others say that their Rott wasn't as small."