Dog Training vs. Dog Behavior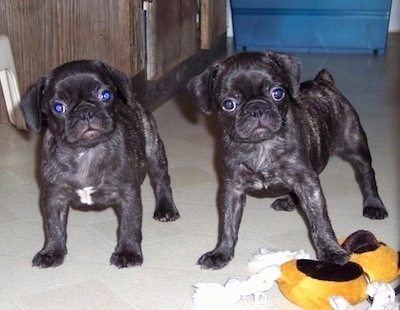 Frenchie Pug puppies: Penny and her brother at 12 weeks.
When people have a behavior issue with a dog, for example the dog has started growling, snaps, bites, bolts out the door, does not come when called, is destructive, pulls on the leash, chases the cat and will not stop when told, barks obsessively, is yappy, obsesses over objects, does laps around your house, chases its tail, chases cars, is aggressive with other dogs, gets possessive, is overly protective, jumps on humans and so on, a lot of people seek a dog trainer, take training classes or read books on how to train a dog. However, they often find that the training does not completely solve their dog's issues.
Any dog can absolutely go the wrong way in their behavior, but they can also absolutely go the right way. It's all up to the humans who live with the dog. When a dog has behavior issues it does not mean it is a reject or bad dog, just a misunderstood dog that is not getting its instincts met. Never forget that a dog is an animal with very different needs than humans. A dog does not think like humans and does not have the ability to fully learn human, but we humans do have the ability to learn dog.
When a dog's instincts are not being met it often dominos into many other bad behaviors. If you go back to the beginning and fix the first domino often times these behaviors will disappear.
If you have dog behavior issues, be sure to seek out dog behavior information as opposed to dog training. Do not put a Band-Aid on an infection. Look deeper into the issues that you have in order to stop the behavior where it started. Dog training and dog behavior are different in the respect that a dog might be able to do 100 different kinds of dog tricks, but that does not mean it is a balanced dog. A balanced dog is well adjusted, stable-minded and well trained with good canine manners and has all of its instincts met.
Written by Sharon Maguire© Dog Breed Info Center® All Rights Reserved