Blue Spaniel
Australian Cattle Dog / Cocker Spaniel Hybrid Dogs
Information and Pictures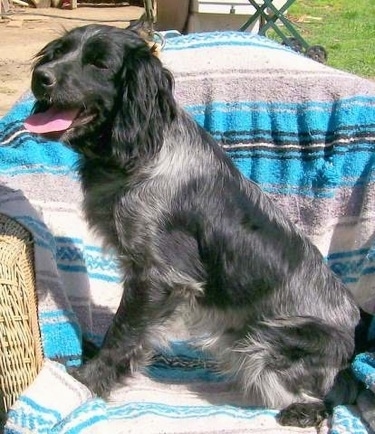 "F1 female and mother of the F2 pups (shown below)—notice the Cocker ears on her." (F1 means one of the parents was a purebred Cocker Spaniel and one of the parents was a purebred Blue Heeler.) Photo courtesy of TALK'N DAWGS' BLUE SPANIELS
Other Names
Cocker Heeler Spaniel
Description
The Blue Spaniel is not a purebred dog. It is a cross between the Australian Cattle Dog and the Cocker Spaniel. The best way to determine the temperament of a mixed breed is to look up all breeds in the cross and know you can get any combination of any of the characteristics found in either breed. Not all of these designer hybrid dogs being bred are 50% purebred to 50% purebred. It is very common for breeders to breed multi-generation crosses.
Note: the Australian Cattle Dog is also called Australian Heeler, Hall's Heeler, Queensland Heeler, Blue Heeler, Red Heeler, Australian Cattledog and Australischer Treibhund.
Recognition
ACHC = American Canine Hybrid Club
DDKC = Designer Dogs Kennel Club
DRA = Dog Registry of America, Inc.
IDCR = International Designer Canine Registry®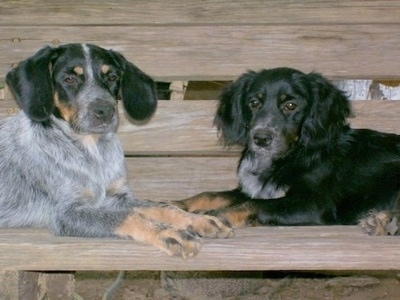 "A couple of the F1 pups. This picture was taken when they were a couple of months old. These pups are highly intelligent and very, very playful. They should mature around 30 lbs. They have the coloring of the Blue Heeler with the ears and coat of the Cocker Spaniel. They are extremely loyal (like the Heeler) and very playful (like both breeds)." Photo courtesy of TALK'N DAWGS' BLUE SPANIELS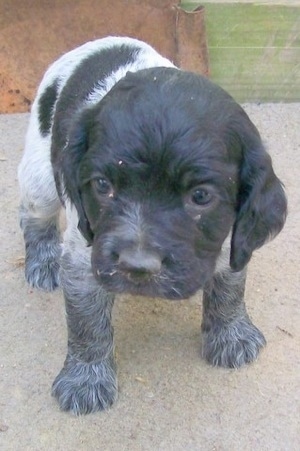 F2 female Blue Spaniel hybrid puppy named JuneBug; she is a 75% Cocker Spaniel. Her mom was an F1 hybrid (purebred bred to a purebred) and her father a purebred Cocker Spaniel. Photo courtesy of TALK'N DAWGS' BLUE SPANIELS
F2 female Blue Spaniel hybrid puppy named Matilda; she is a 75% Cocker Spaniel. Her mom was an F1 hybrid (purebred bred to a purebred) and her father a purebred Cocker Spaniel. Photo courtesy of TALK'N DAWGS' BLUE SPANIELS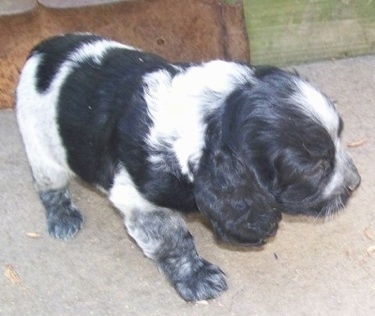 F2 male Blue Spaniel hybrid puppy named Devon; he is a 75% Cocker Spaniel. His mom was an F1 hybrid (purebred bred to a purebred) and his father a purebred Cocker Spaniel. Photo courtesy of TALK'N DAWGS' BLUE SPANIELS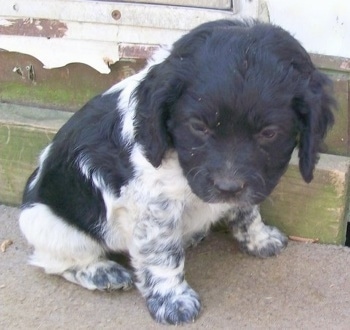 F2 male Blue Spaniel hybrid puppy named Doughboy; he is a 75% Cocker Spaniel. His mom was an F1 hybrid (purebred bred to a purebred) and his father a purebred Cocker Spaniel. Photo courtesy of TALK'N DAWGS' BLUE SPANIELS