Bordoodle
Border Collie / Poodle Hybrid Dogs
Information and Pictures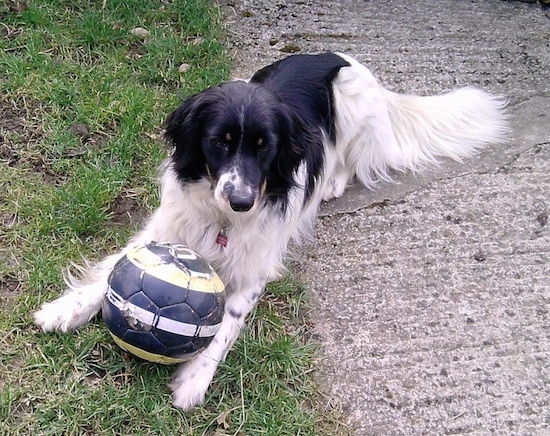 Kaiser the black and white Bordoodle (Border Collie / Standard Poodle mix breed) at 3 years old—"This is my Border Collie x Standard Poodle dog named Kaiser. He has a fairly tolerant nature. He is very good with children of over four or so years, but he can be a bit nervous of younger, rough children! He has funny quirks like having his "crazy moments" when he runs around the house / garden for a few minutes like crazy barking and growling (playfully, not aggressively). He likes other dogs and is very playful with them. He is always wanting to meet new dogs and run around with them for as long as possible. He has a tendency to scare other dogs as if he sees them from a distance he sort of stalks them and lies down and slowly shuffles forward and then a few meters away he madly runs up to them, which can alarm some dogs."
Other Names
Border Poodle
Borpoo
Borderpoo
Borderdoodle
Description
The Bordoodle is not a purebred dog. It is a cross between the Border Collie and the Poodle. The best way to determine the temperament of a mixed breed is to look up all breeds in the cross and know you can get any combination of any of the characteristics found in either breed. Not all of these designer hybrid dogs being bred are 50% purebred to 50% purebred. It is very common for breeders to breed multi-generation crosses.
Recognition
ACHC = American Canine Hybrid Club
DBR = Designer Breed Registry
DDKC = Designer Dogs Kennel Club
DRA = Dog Registry of America, Inc.
IDCR = International Designer Canine Registry®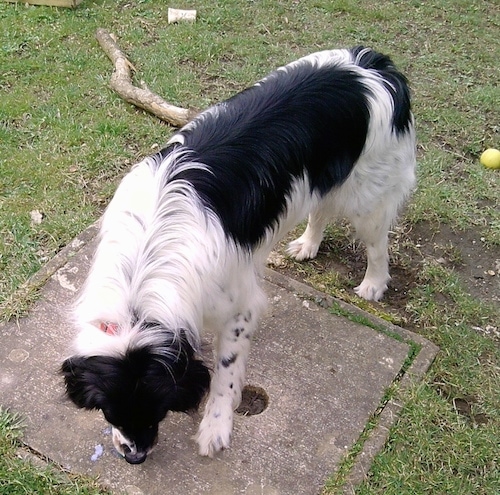 Kaiser the black and white Bordoodle (Border Collie / Standard Poodle mix breed) at 3 years old—"Kaiser loves long walks, the longer the better. He can come back from a walk, lie down for five minutes and then be ready for another! His dislikes would be water, if a ball is thrown in then he will go in for a swim to fetch it, but he definitely wouldn't go in out of choice. Another one of his dislikes would be vacuum cleaners and ironing boards. He has been scared of these since we got him and nothing seems to get him to calm down around them. His final dislike is the car/traveling. He whines and if he's in the car for more than ten minutes he is sick several times. His bad habits would be that he isn't always very good at coming back. He tends to have a "can't be bothered" attitude if we call him to go back on the lead and walks over very slowly, he does always come back though, just sometimes it takes a long time. Another bad habit is that he picks up bad habits very quickly. He once barked at a lorry and my sister laughed about it and now every time we walk past something big such as a lorry or tractor he thinks it's appropriate to bark at it. "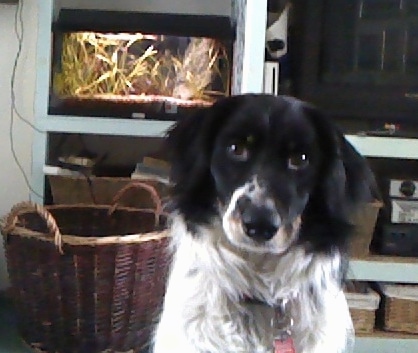 "Kaiser's good habits would be that he is very clever and learns new tricks very quickly. He is very out going and is fairly tolerant of smaller animals such as guinea pigs etc, but not cats! He needs at least one long walk a day otherwise he gets sad and goes a bit crazy indoors all day. A long walk being of at least an hour. You would also think being that he is half Poodle that he wouldn't moult. This however is not true and we need to vacuum every day despite being told that he "wouldn't moult". But we don't mind anyway. He is about the same height of an average Labrador and weighs about 50 pounds(22 kg.). He has the brain of a Border Collie and definitely the ability. He is very fast, faster than any dog I've known and can keep up with someone doing at least 25mph on a bike."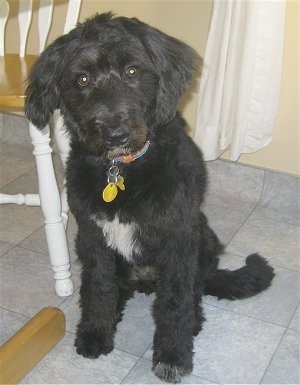 Lola the Bordoodle (Border Collie / Poodle mix breed) at 7 months old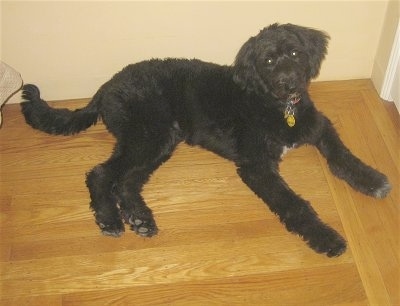 Lola the Bordoodle (Border Collie / Poodle mix breed dog) at 7 months old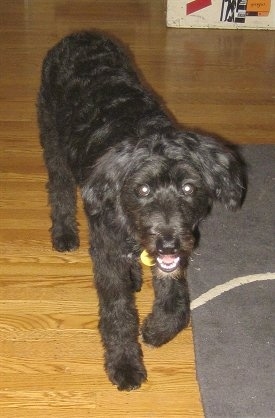 Lola the Bordoodle (Border Collie / Poodle mix breed dog) at 7 months old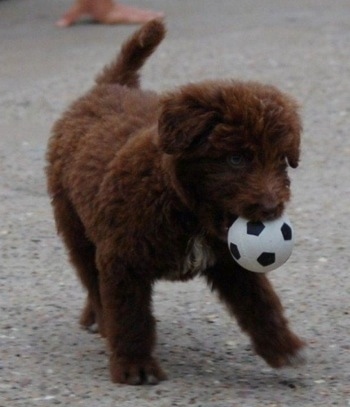 "This is Woody. His mum is a working Border Collie and his dad is a Standard Poodle. Woody is 10 weeks old in this picture and we have only had him for 4 days, yet in this short time he has shown a high level of intelligence, he can sit on command, give paw, has learnt "no" and has shown no real interest in our cat, Naldo, although Naldo has shown lots of interest in Woody! He has a very lovely, sweet nature and is excellent with our 10-year-old son Jack. He likes to play with his football and will nearly bring you back the ball on command. He loves sitting on your knee for cuddles and then falls fast asleep."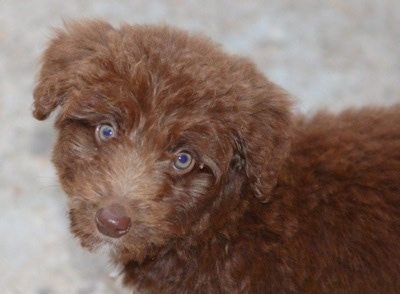 Woody the Bordoodle puppy at 10 weeks old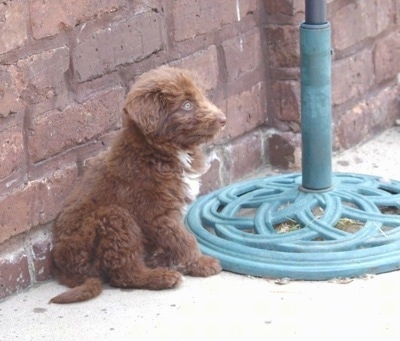 Woody the Bordoodle puppy at 10 weeks old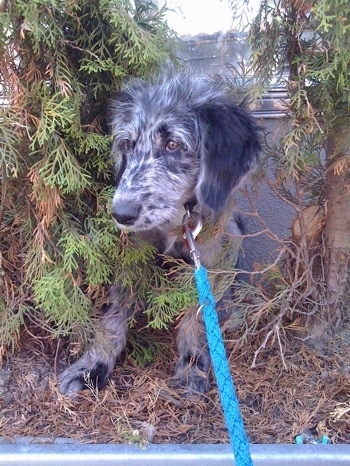 "Izzy was the runt from a Border Collie breeder's first cross litter. Her mother is a blue merle Border Collie and her father a white Standard Poodle".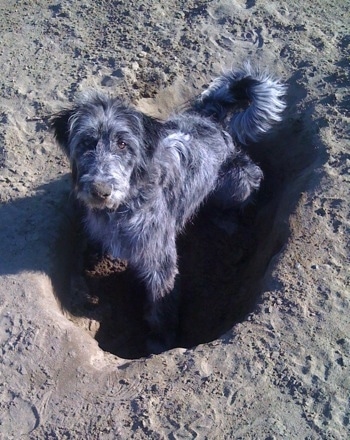 "We chose Izzy because of her timidity. We live in an apartment and own an art gallery. We wanted a dog that wasn't too hyper and that would be polite to humans. For the first 6 weeks she would not walk out our front door on her own (we live on a main intersection in the city). Once she got to know the neighborhood her confidence soared. She LOVES other dogs and always wants to play. She is very gentle with small dogs but has a little trouble with big aggressive ones (bullies). Izzy is now 8 months and 45 pounds tall and thin. She doesn't shed yet (fingers crossed) and a relative with allergies has had no problems being around her."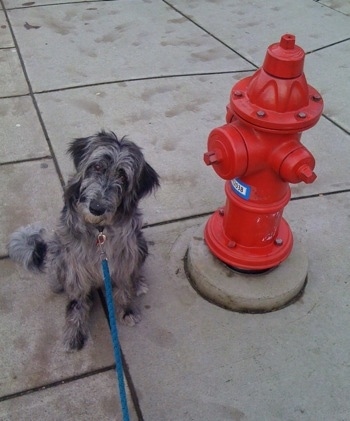 Izzy the Bordoodle at 8 months old posing next to a fire hydrant.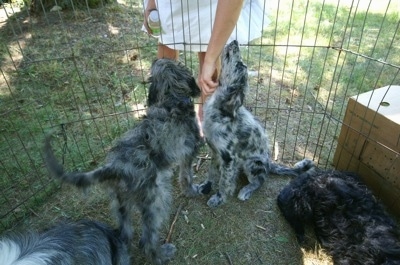 Izzy the Bordoodle as a puppy with her littermates