Borgi
Border Collie / Welsh Corgi Hybrid Dogs
Information and Pictures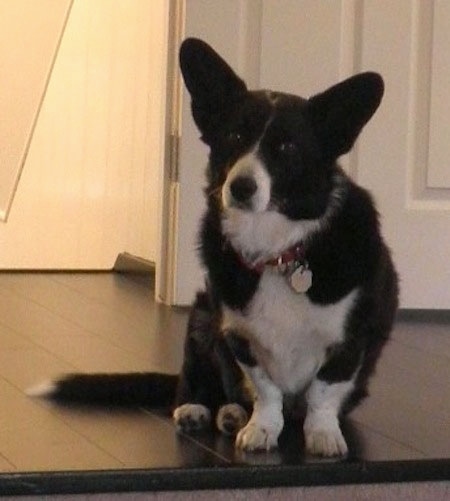 "This is Lizzy, our Borgi (Border Collie / Pembroke Corgi cross) at 5 years old. She's a wonderful dog! We got her at 4 months old. She loves everyone, both human and other animals alike. Her favorite thing is Tucker, our little 4-year-old Doxi / Pekapoo cross. Lizzy has the quieter temperament of the Corgi, not quite as 'busy' as a Border Collie. She's a wonderful dog both outside and inside. If it wasn't for her shedding (actually 'blowing coat' like the Corgis do!) she'd be the world's most perfect dog :-)"
Other Names
Bordigan
Cardigan Welsh Borgi
Pembroke Welsh Borgi
Description
The Borgi is not a purebred dog. It is a cross between the Border Collie and the Welsh Corgi (Pembroke or Cardigan). The best way to determine the temperament of a mixed breed is to look up all breeds in the cross and know you can get any combination of any of the characteristics found in either breed. Not all of these designer hybrid dogs being bred are 50% purebred to 50% purebred. It is very common for breeders to breed multi-generation crosses.
Recognition
DRA = Dog Registry of America, Inc.
IDCR = International Designer Canine Registry®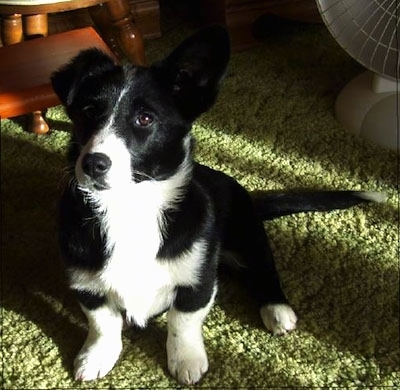 "This is our Border Collie / Pembroke Welsh Corgi cross as a little 4-month-old puppy. She is very sweet and has a wonderful disposition. She's very friendly with all she meets. Because both breeds are in the herding group, it appears that this cross is a good one. Lizzy has little, short legs like a Corgi, but has a long tail like her daddy the Border Collie. Lizzy's ears tend to flip over, but oftentimes you'll see her with one ear erect like the Corgi. As evidence to her smart, intelligent nature, it took us only two days to housetrain! We bought her from a family who lived on a farm with horses, cows, chickens and three children, but she seemed to have no problem adapting to our city home. She loves to sleep and play on our couch and has garnered her favorite pillow—a silk one, at that! Sometimes crossing two breeds can turn out badly, but with Lizzy, it appears all the great qualities of both these intelligent breeds have come through!"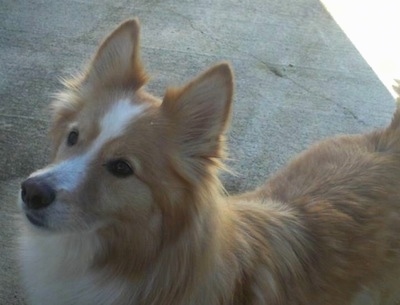 "Corky is my 8-year-old Corgi / Border Collie hybrid dog. He's very active, even though he's 8 years old, but still makes time for snuggling. We think he looks kind of like a fox. His favorite hobbies include barking, sleeping in front of fireplaces, chasing trucks and chewing on squeaky toys."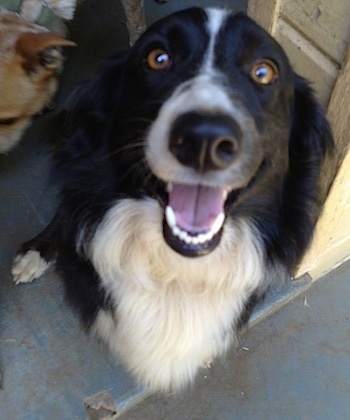 Stoli the Borgi at 3 years old—"We bought Stoli as a replacement for my mom's favorite dog, a Corgi / McNab that passed away, as Mom's Christmas present. But she's turned out to be much different! She's so happy and cuddly all the time and she loves playing in the dirt with the big dogs! She's also a great conversation starter, since she takes after her Corgi side in her height but her Collie side in color. Most people just laugh when they see her; her shaggy fur makes it look like she has no legs!"