Bullboxer Staff
Boxer / American Staffordshire Terrier Hybrid Dog
Information and Pictures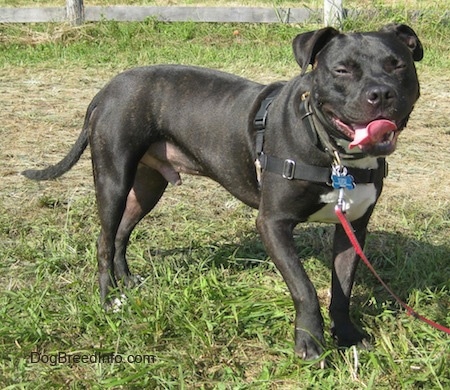 Brandon the 1 3/4 year old Bullboxer Staff (Boxer / Staffie mix) is training to be a therapy dog
Description
The Bullboxer Staff is not a purebred dog. It is a cross between the Boxer and the American Staffordshire Terrier. The best way to determine the temperament of a mixed breed is to look up all breeds in the cross and know you can get any combination of any of the characteristics found in any of the breeds in the hybrid. Not all of these designer hybrid dogs being bred are 50% purebred to 50% purebred. It is very common for breeders to breed multi-generation crosses.
Recognition
DRA = Dog Registry of America, Inc.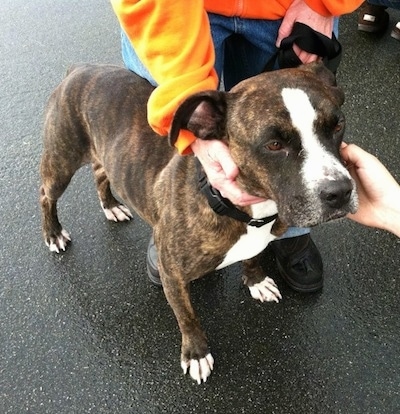 "Olly Bear is about four years of age. He is fairly mellow, and loves to cuddle and just hang out with his favorite people. He is low-key, does well on the leash and knows his basic commands. Olly Bear is treat-motivated so we can see him learning all sorts of tricks. He is crate-trained and leash-trained. Olly Bear is great around other animals, as long as they don't try to mount him and show dominance. Olly Bear occasionally mounts other dogs, but a quick "get down" or "no" will get him to stop. Right now, he is being fostered with another mini Schnauzer and Poodle. They do wonderfully together. Olly Bear is friendly to people, and allows others to pet him. He often curls up on patio furniture to take a nap while we take him out to adoptions. It's quite a cute scene to watch:). He is a charmer. He has a sensitive personality; he will cower and bow his head down when he senses that a person is upset or angry. Perhaps this arises from his past when he was completely neglected, chained up, and left to die on his own. The Fuzzy Pet Foundation rescued him after he was seized from his original owners by law enforcement officers."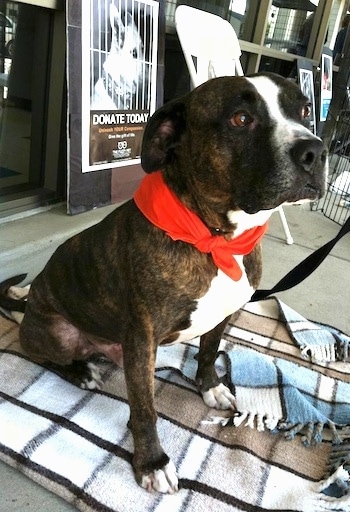 Olly Bear the Bullboxer Staff sitting on a blanket.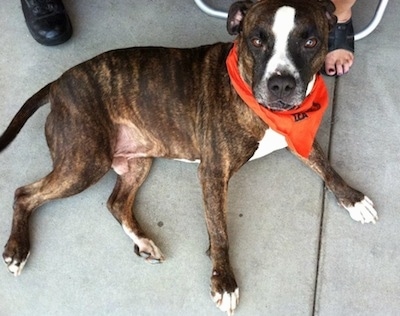 Olly Bear the Bullboxer Staff laying down.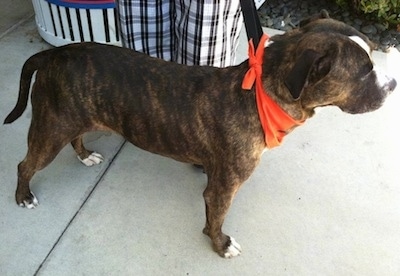 Olly Bear the Bullboxer Staff standing up.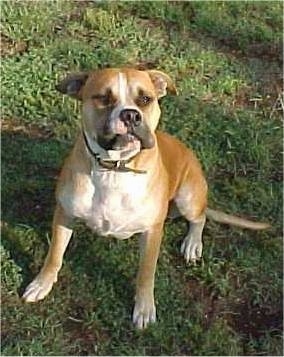 This is Leo. He is 13 months old and has a great temperament. His mom is an American Staffordshire Terrier and his father is a white Boxer.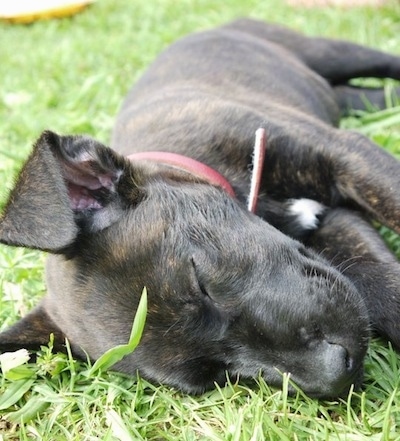 Bullboxer Staff puppy at 2.5 months old sleeping in the grass.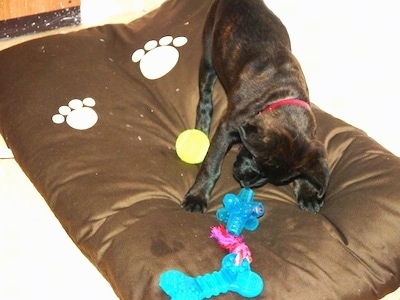 Bullboxer Staff puppy at 2.5 months old playing with its toys.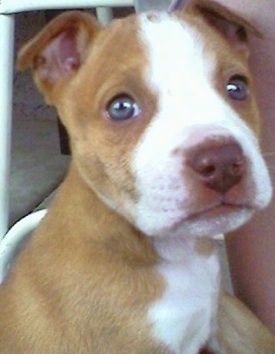 "Here is a pic of my 11-week-old Staffordshire Terrier / Boxer mix puppy Bella. She is very calm and LOVES kids. I am a nanny and she just loves all ages. She loves to cuddle and give you kisses. She has very bad puppy breath and flaunts it LOL. She is very proud and loves to play with my two cats. She is very receptive to her training. She is just a joy to have. I look forward to our life together...."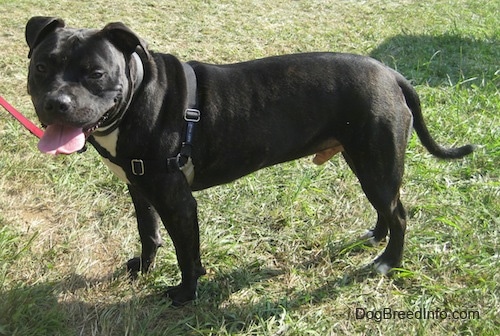 Brandon the Bullboxer Staff (Boxer / Staffie mix) at 1 3/4 years old
Brandon the Bullboxer Staff (Boxer / Staffie mix) at 1 3/4 years old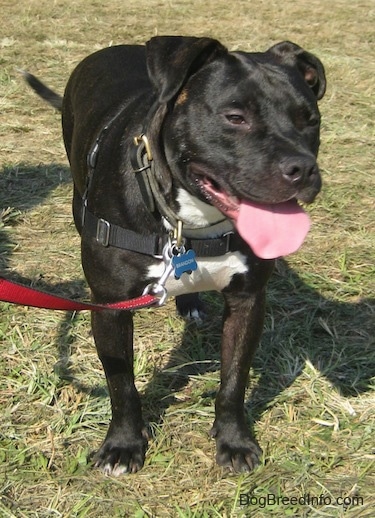 Brandon the Bullboxer Staff (Boxer / Staffie mix) at 1 3/4 years old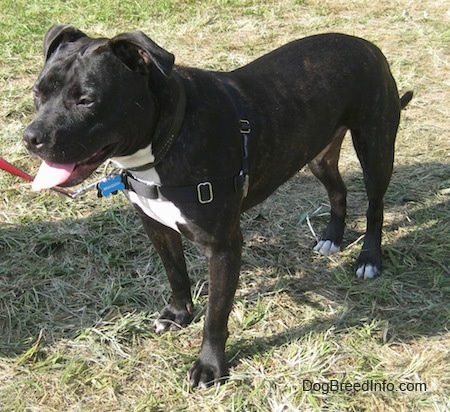 Brandon the Bullboxer Staff (Boxer / Staffie mix) at 1 3/4 years old