The Bull-Boxer types go as far back as the early 1950s or more. Many variations emerged and there was no real standard on just what a Bullboxer really was. When a Boxer was crossed with any other bull breed such as the American Pit Bull Terrier, English Bulldog, American Bulldog and of course the Staffordshire Bull Terrier, it was referred to as the Bullboxer, also spelled Bull-Boxer. In 2009 an attempt was made to distinguish the different variations of the Boxer hybrids and names were given to each. They are as follows:
Boxer x American Pit Bull Terrier = Bullboxer Pit
Boxer x American Staffordshire Terrier = Bullboxer Staff
Boxer x Staffordshire Bull Terrier = Staffy Bull
Boxer x American Bulldog = Bulloxer
Boxer x Bull Terrier = Dogue Brasileiro or Box-Terrier
Boxer x French Bulldog = French Bulloxer
Boxer x English Bulldog = Bull-Boxer or Valley Bulldog
The Valley Bulldog is said to originate in the Annapolis Valley, Nova Scotia, Canada, giving it its name "Valley Bulldog." Its lines include the Boxer and the English Bulldog and can be traced back to the mid-1900s. They are popular around the Nova Scotia, Canada, area. Some Valley Bulldog lines are breeding pure in both form and type. While other breeders are breeding simple Boxer to Bulldog crosses and calling them Valley Bulldogs. The ACHC and the DDKC hybrid clubs, however, call the Boxer crossed with Bulldog a Bull-Boxer.
Pronunciation
bull BAHK-sur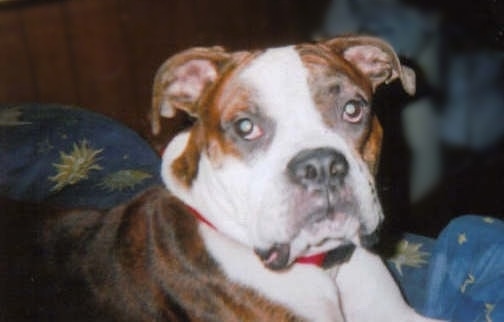 This is Blaze, a 1-year-old American Bulldog / Boxer mix. He is about 60lbs. He is very playful, but he knows when enough is enough. He is also very gentle even with the kitty!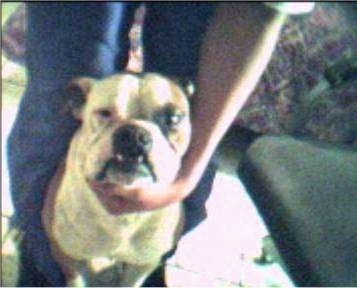 Two-year-old Spunky from Mexico, a Boxer / Bulldog mix breed dog