Boxador
Boxer / Labrador Retriever Hybrid Dogs
Information and Pictures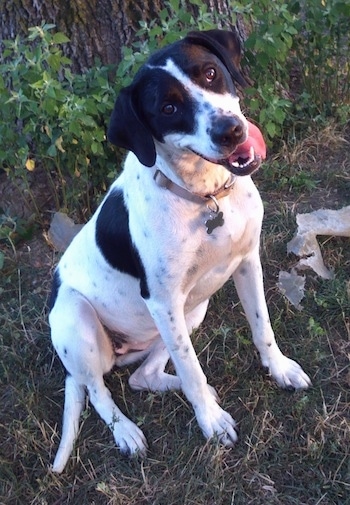 Abby the Boxador (Boxer / Lab mix) at 2 years old—"Abby is a half Boxer half Lab. She loves to run and play with other dogs and she loves water. Abby is great with my 4-year-old son and they have been together since she was a puppy. Abby has no problems with cats or goats, but likes to chase sheep and eat chickens. She loves to dig and has dug a hole deep enough that she can disappear into it. Abby is a big sweetheart and thinks she is a lap dog. She wants nothing more than to be loved and to give all her love in return. She has such funny coloring everyone is always surprised she is a Boxer / Lab."
Pronunciation
Box - a - DOOR
Boxerdor
Boxerlab
Laboxer
Description
The Boxador is not a purebred dog. It is a cross between the Boxer and the Labrador Retriever. The best way to determine the temperament of a mixed breed is to look up all breeds in the cross and know you can get any combination of any of the characteristics found in either breed. Not all of these designer hybrid dogs being bred are 50% purebred to 50% purebred. It is very common for breeders to breedmulti-generation crosses.
Recognition
ACHC = American Canine Hybrid Club
DDKC = Designer Dogs Kennel Club
DRA = Dog Registry of America, Inc.
IDCR = International Designer Canine Registry®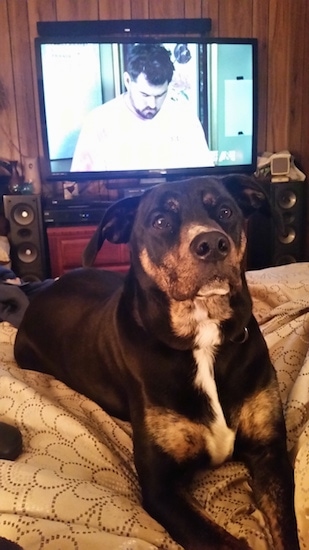 Harley the Boxador at 2 years old—"We adopted Harley at our local animal shelter at his age of 6 months. He is absolutely the most intelligent dog I have ever had."
"Dysen is a great dog. He weighs about 115 pounds (52 kg). His dad is Boxer and his mom is a small Lab. We met him for the first time when he was 5 days old. He is 4 years old in this picture."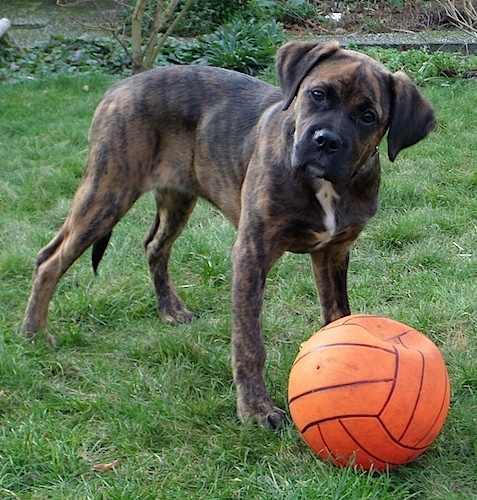 Nimble the brown brindle Boxador puppy at 4 months old playing with his orange basketball—"Naughty but nice. Nible is doing well in her training. She is clever and pretty. Her daddy is a yellow Boxer and her mommy is a Chocolate Lab."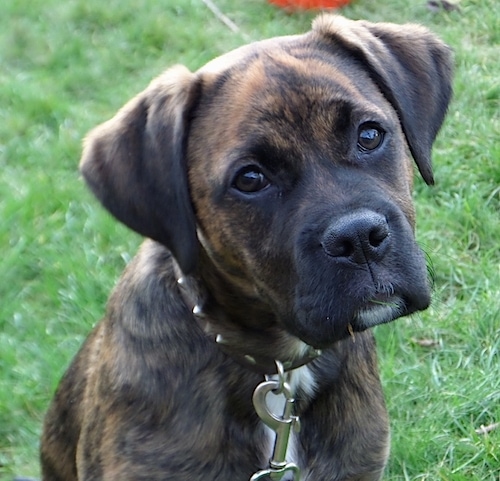 Nimble the brown brindle Boxador puppy at 4 months old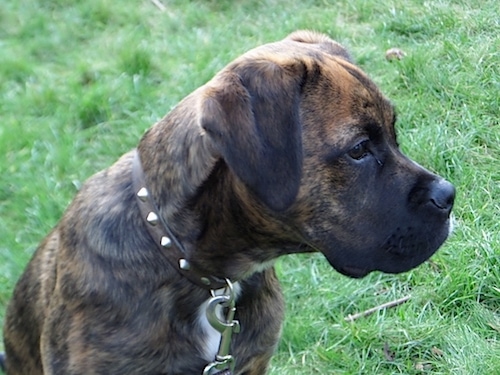 Nimble the brown brindle Boxador puppy at 4 months old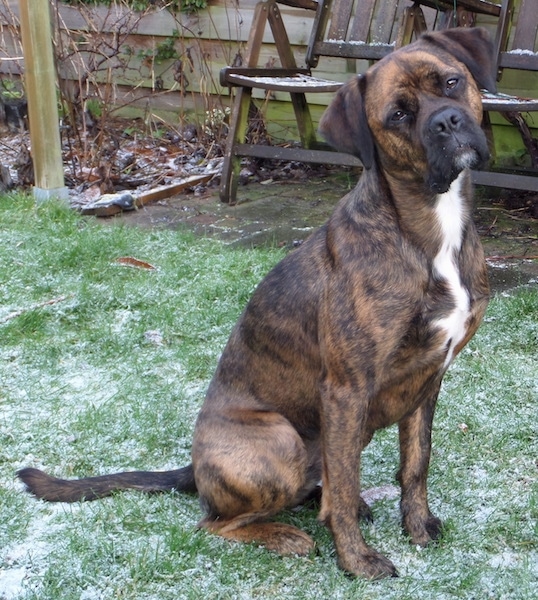 Nimble the brown brindle Boxador dog at 1 1/2 years old—"A little update on our Boxador Nimble. Now 1 year and 5 months old weighing about 27 kg. (59 1/2 pounds). Her fur looks like a Boxer fur but is a bit thicker and longer. Very friendly towards children and people. She makes everybody feel special so we don't tell them that she like that with everybody. A very energetic, playfull, strong and happy dog. She has some issues with insecure dogs but good with all others. Fairly obedient when she wants te be. Still working on that."
Nimble the brown brindle Boxador dog at 1 1/2 years old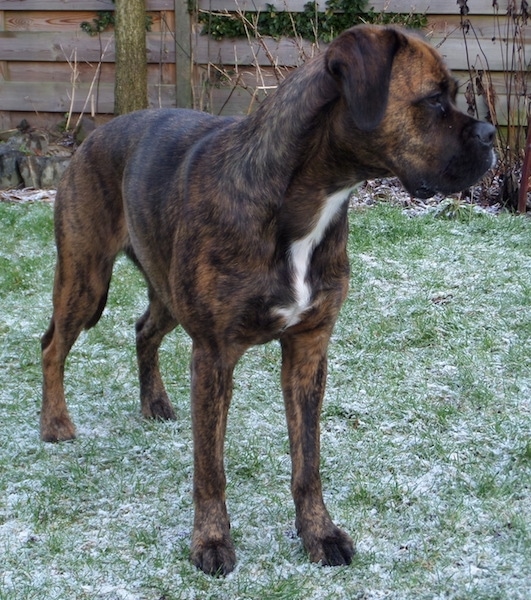 Nimble the brown brindle Boxador dog at 1 1/2 years old
Nimble the brown brindle Boxador dog at 1 1/2 years old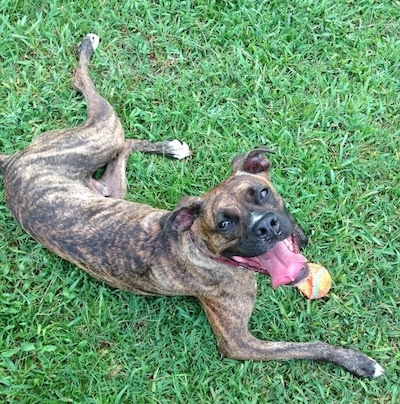 Guinness the Boxador at 2 years old—"I have had Guinness ever since he was 5-weeks-old. I know most experts frown upon taking a dog away from its mom that young. Guinness is a wonderful, fun-loving boy, who is FULL of energy. He is great with other dogs as well as people. He goes to doggie daycare 3 days a week and I am constantly being asked by the other pet parents for tips on how to get their dogs to be as well behaved as Guinness, which makes me feel great. I own several of Cesar Millan's books, which is like a bible for me. How to raise the perfect dog from puppyhood and beyond established a foundation for myself and Guinness that I have been able to build on 2 years later. Due to the tips from Cesar's books, I have a dog that goes everywhere with me, from restaurants, to the grocery store, to parks and even the carwash. He is currently being service dog certified, which is a big accomplishment for him."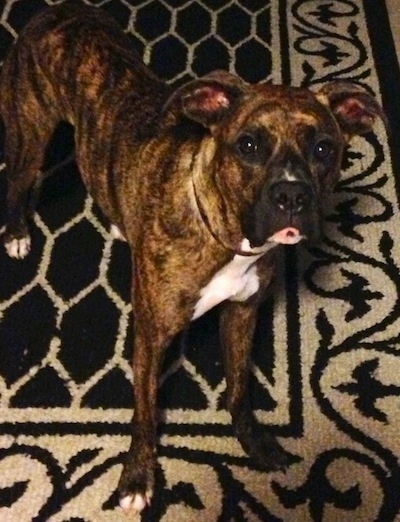 Guinness the Boxador at 2 years old
Duke the Boxador (Boxer / Lab mix) at 1 year old—"Duke has the sweetest personality, he loves everyone. He is a 60-pound lap dog and is at my feet wherever I go. You definitely know he's part Boxer because of the way he uses his front paws for everything! He is also very clownish, making him very entertaining to watch. Everyone comments on how handsome Duke is and they always want to know what kind of dog he is."
"Paddy the Boxador at 14 months old—his mother was a Boxer and his father was Labrador. I have had him for about 9 months now and he was mistreated for the first 4 or 5 months of his life. He was stuck in the kitchen or the back garden if he was too much to handle, which he was. He was lucky if he had 1 walk a night. He never saw another dog till I got him and took him down the park (HEAVEN). He was also given adult food every day, and that has left him with a sensitive tummy. He is very clever, learns tricks with only a few attempts. He has calmed down loads since I got him. He loves his walks, which he has at least 3 a day. We live near the sea and he loves it when the tide is out. He loves to play football and he is too good for any of us. He also likes the woods and the park at the end of the road. I have videos on YOUTUBE of him being Paddy. The whole family loves him to bits and he is the pride of the family. He loves sausages, plain whole chicken, rice, pasta, peas, also he loves fresh cod and salmon, turkey, beef, pork, rabbits—any meat."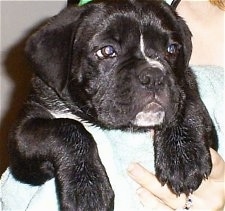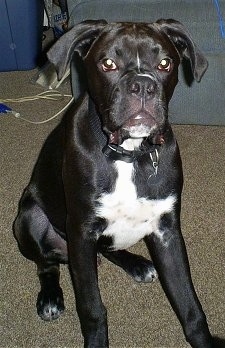 "Hi, my name is Moose. Here is a picture of me when my Mommy and Daddy first got me when I was 6 weeks old and a picture of me at 6 months old and weighing 65 lbs. I love to play fetch and ride in the car. I learned that I shouldn't go potty in the house in only two weeks, though I did have a few accidents, but now I remember to tell my parents that I have to go outside when I feel the urge. I am very affectionate and play well with other dogs and grownups. Mommy and Daddy think I will do well around children, once I realize my size. I sometimes think I am a lap dog, which is OK for Daddy, but I can get a little heavy for Mommy. I do have a bad habit of shredding newspaper when given the chance, but come on what puppy doesn't? My daddy says I have a great personality and show it with the funny faces I make, and my mommy is always calling me a character and a ham. My parents say that they can't believe how lucky they were to get such a smart, easy to train puppy."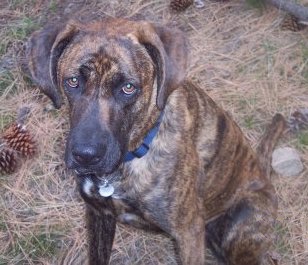 "This is Chopper, a 20-month-old Boxer / Labrador cross. He is at my feet and his nose is in what I am doing ALL the time. He is one wonderful guy! He is the most time-consuming dog I've ever had. Everything is play to him and I spend a lot of time "putting things away." He insists on sleeping where I am, even on a lounge chair. He is smart, athletic, loyal and a great buddy. Loves to ride, chase the goat and fetch the chickens. He definitely got the best of both breeds. In this picture he was waiting for my next move; he doesn't leave my sight."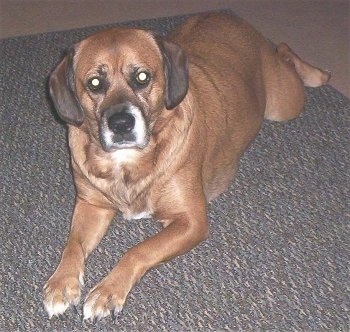 Buffee the 5-year-old Boxador—her owner says, "She is still full of a lot of energy. We love the mix of breeds, she is so lovable and too friendly at times, everyone comments about Buffee, with her puppy face and expressive eyes!"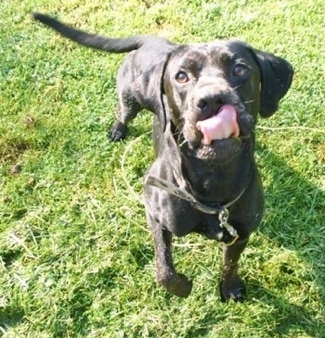 "This is my Lab / Boxer, Durango. He is 3 and a half years old. He's a very friendly dog, but likes to hide behind mommy and daddy when around strangers or if he hears strange alarming noises."
"He is very smart. Each time he gets a new toy, it gets a name. He only needs to hear it 2 or 3 times, then has it memorized. If we tell him to go get one, he does. He knows so many words, such as: ride, food, potty, grandma, potato chips, eat…and so many more. We've had to start spelling some words, and he's picked up on that as well."
"He loves to play fetch and Frisbee. I swear he's part Energizer bunny, he never stops. There are times when he seems too clingy and has separation anxiety issues. He doesn't destroy things, but carries on in a way which you wouldn't expect from a dog his size. He whines and howls in a desperate manner. Since we now live in a town, we try to play with him in the house as much as we can, or throw the Frisbee in the backyard as often as possible. He loves when we visit home where he can have all the free running and playing with a dog friend of his."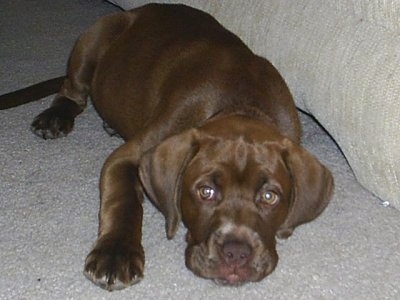 Annabel the Boxador (Lab / Boxer mix) as a 12-week-old puppy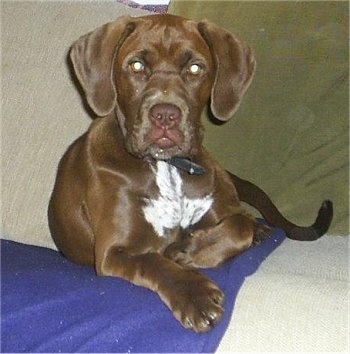 Annabel the Boxador (Lab / Boxer mix) at 5 months old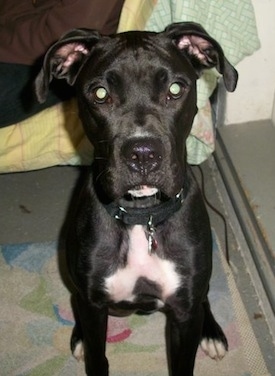 "This is Bailey, a Boxador or Boxer / Lab mix, at 1 year old. We recently adopted Bailey from a local shelter and have learned that we are her 4th home in one year. She is very playful and full of energy. She is very smart and is quick to learn new tricks that we teach her or that she teaches herself. We take her to a local dog park on a daily basis (sometimes twice a day) where she can run "free" and socialize with other dogs. On days that we are not able to get her to the dog park for exercise she tends to get destructive. We think that the previous owners were not giving her the amount of exercise that she needed. Because she loves to run and jump we are thinking of training her to be a flyball dog, once the basic manners have been mastered. She is very playful and shows no aggression toward other dogs or people, however she has a fascination with squirrels and cats and will chase them if given the opportunity. She has some manner issues that we think are due to being in so many homes in a short amount of time and a lack of consistency with training. We are currently working on the basics with her such as come, stay, off etc. No matter where we take her, people always stop and ask us what kind of dog she is and say how beautiful she is. Bailey is a wonderful playful dog that my fiancé and I are proud to show off and call our "baby"."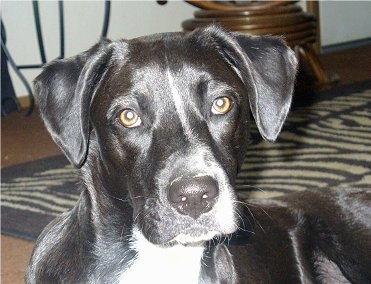 Toby the Boxador (Lab / Boxer cross) at 10 months old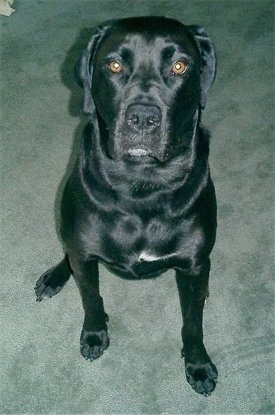 Jet the Lab / Boxer cross (Boxador) at 5 years old. His owner says, "He's an all-around great dog."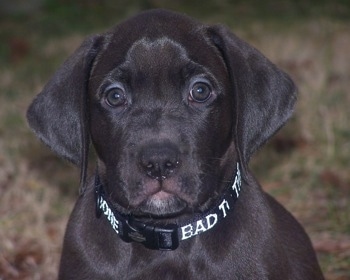 "This is our ½ chocolate Lab / ½ Boxer named Guinness. He is around 2 ½ months old in these pictures."
Guinness the ½ chocolate Lab / ½ Boxer mix puppy at 2 months old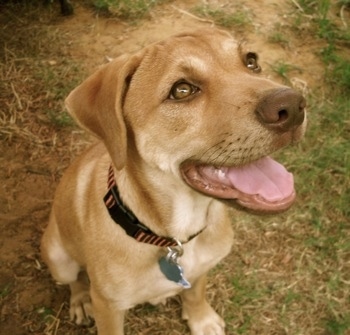 "This is my puppy Faith. She is a 30-lb., three-and-a-half-month-old Boxador puppy (Boxer / Lab mix). She was the only puppy in the litter that had a chocolate brown nose and hazel eyes, so I just had to pick her. How could anyone not love that cute face?! She is a bundle of energy, always up to something. She loves to swim in the local pond, go for long walks in the woods, play with her toys and run around the yard with our little mini Dachshund."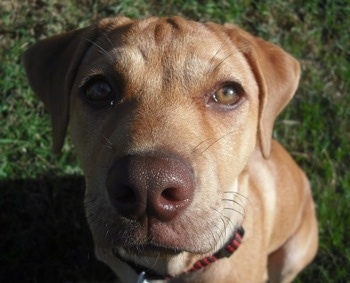 "She walks on her leash like a pro now and has already learned her basic commands like sit, stay, come, down, off, shake, speak, quiet, etc. She is turning out to be one of the best dogs we have ever had, and I am looking forward to her company for years to come."