Bruno's First ACL Ordeal: Third Week after the Suture Lateral Surgery Left Knee—The Recovery
Anterior Cruciate Ligament (ACL) rupture/tear in dogs
Week three...
Bruno's week three written instructions are as follows:
"Continue exercises and adjunct therapy initiated in week two; increase leash walks to 20 minutes and include uneven surfaces (grass along concrete). Repeat rehabilitation sessions and evaluate for the need for continuation or change of protocol."
Day 15
Bruno saw the vet this morning. This treadmill water therapy was postponed until next week due to the way his wound has opened up around the knee joint. It was decided to leave the remaining staples in for another week because they may be supporting the open area from not opening up any more.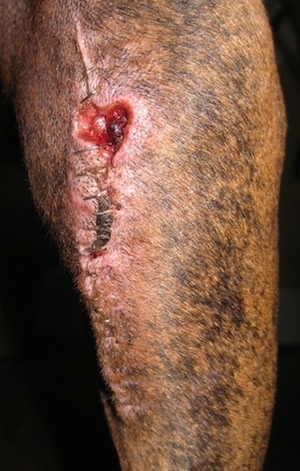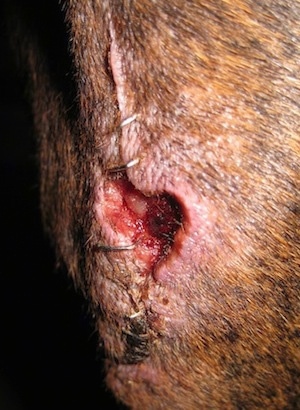 The vet thinks that over the next week the wound will fill in and his hair will eventually grow back over the area.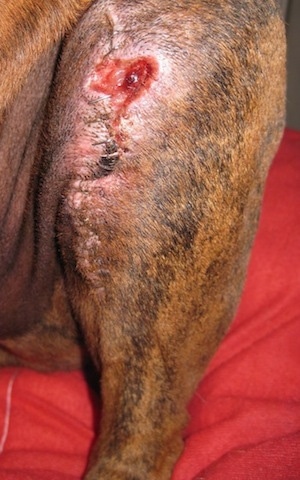 Bruno seems to be feeling good overall and does not mind sitting down, lying on top of his knee or even scratching himself with this bad leg (which can be kind of sad since the cone prevents him from actually satisfying his itch). The vet does not think it opened up because of Bruno's kid brother Spencer the Pitbull (who we thought may have licked it), but rather the skin weakened from this water therapy on the treadmill and since Bruno is using his leg so much it stretched out the area. So the staples stay in for another week and the cone stays on. The water therapy is scheduled for next week. Bruno has to be leashed when outside to keep him from running or playing with the other dogs.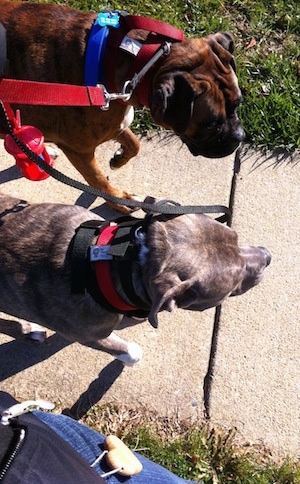 Bruno is allowed to go for short walks, even up to three times a day, but we need to watch him for any signs of limping and not push him at all. Here Bruno goes for a walk with Spencer his Pitbull brother. Spencer will need to be taken out later for longer walks as he needs much more than Bruno can handle right now.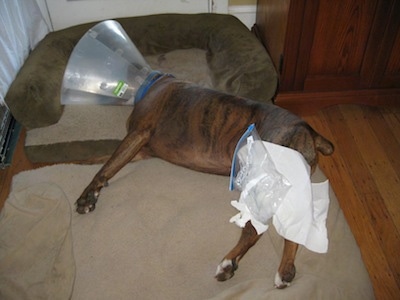 Bruno getting his knee iced after going for a short walk.
Day 16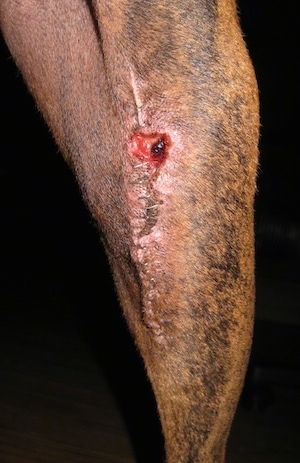 Day 18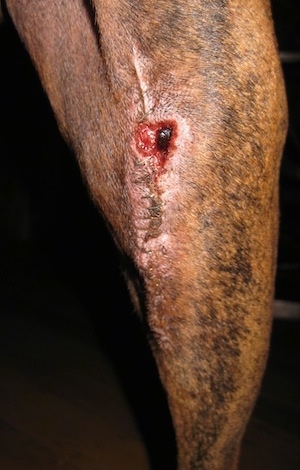 It is hard to tell from these pictures but the wound is getting shallower. Not as deep as it was.
Bruno sitting down—when he sits he stretches the area.
This is a clip of Bruno walking on day 18. The only pain med he had taken was Zubrin, which is more of an anti-inflammatory. It works but it is not a very strong pain killer. Bruno is walking very well considering. He even started trying to play the day before and I had to calm him down. He is not allowed to run, jump or play just yet. He has been going on 20-minute walks with no signs of limping during or after. Notice Sugar the cat trying to give Bruno love. Everyone loves Bruno.
Day 20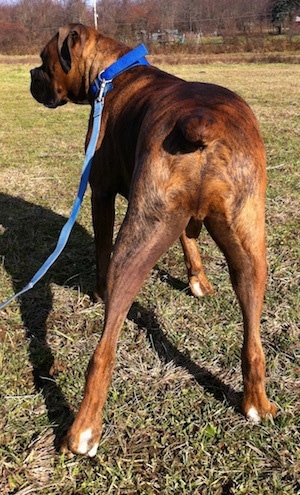 Notice how Bruno is putting all of his weight on his good leg. The plan is to get Bruno to use is left leg more and to not favor the good leg. About 50% of dogs that have ACL surgery on one of their knees blows out the other knee soon after. This is due to muscle degeneration of the operated leg and all of the stress placed on the good leg. It's going to be hard but I'm going to work on building his left leg muscle to the same size as his good right leg. Bruno's case of muscle degeneration is not as bad as some dogs, but his right leg is most definitely larger. His operated on left leg feels flabby to the touch. When a dog has muscle degeneration in its legs and it begins to all-out run and play it runs the risk of blowing the ACL out on the good leg. I am hoping to walk Bruno enough to build that muscle up before he is at the stage where he is allowed to run. I cannot push him, however or his bad leg will hurt, preventing him from using it, hence causing more muscle degeneration. We must go on controlled walks and watch for any signs of pain or stress on the bad leg. Bruno's chances of blowing his good knee are higher because he is a larger dog with more weight. Keeping his weight down will be important. He has been on a glucosamine and chondroitin with MSM supplement for a couple of years which is a plus. Since Allie the Boxer was taking it I had just decided to give it to Bruno too. I am sure he has benefitted from being on it so long.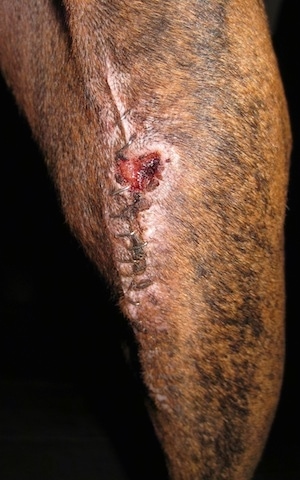 Bruno's popped or stretched staple seems to be heeling up. He goes back to the vet tomorrow with plans to get the staples removed. It will be nice when he does not have to wear a cone anymore. He bumps into everyone and everything. He does not realize the cone is an extension of his head or how large it is.