Chihuahua Pictures
Page 8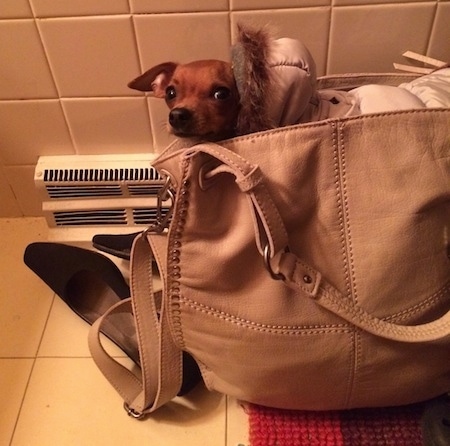 Louis Valentino the Chihuahua at 15 months old—"Louis Valentino, or Tino for short, is my baby dog. He is so sweet he is friendly, he was a runt and was born with a broken tail and some abnormal ribs. Weird I know. Despite the rough beginning when I rescued him I fell in love immediately. He doesn't like children, even older children, but he's fine with other animals as long as they are respectful to him. His favorite thing to do besides cuddle 80% of the day is play with his two Chihuahua friends and go visit his favorite humans. He is so funny and smart. I couldn't have custom made a better dog than my little Valentino. Thank you God!"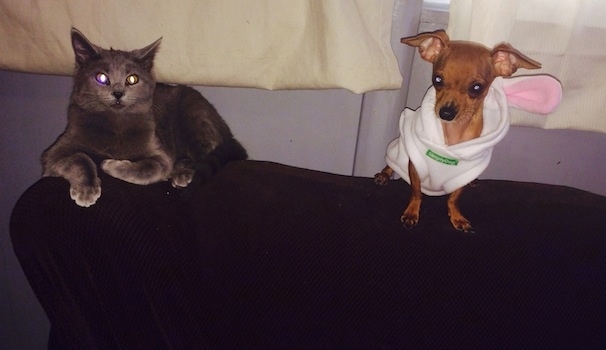 Louis Valentino the Chihuahua at 15 months old with his cat friend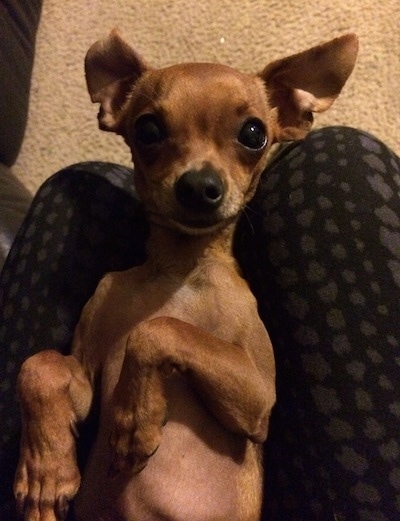 Louis Valentino the Chihuahua at 15 months old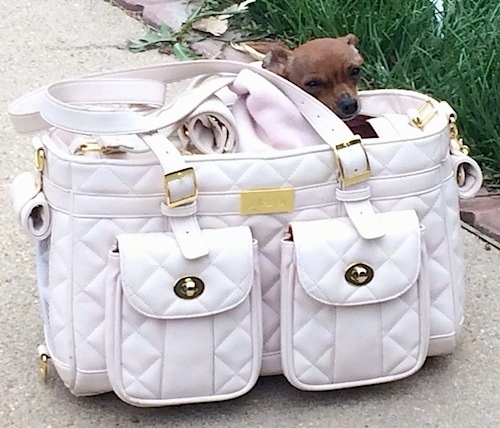 Louis Valentino the Chihuahua at 15 months old in a purse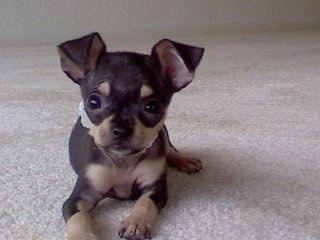 "This is our 6-month-old, shorthair, female Chihuahua, better known to the family as Lulu Belle. She currently weighs 3 lbs., 12 oz. Lulu is a very attentive and loving puppy. She absolutely loves her mommy and daddy. Lulu does not bark at other animals or passers-by, unless she can hear them but not see them. She has a great temperament and loves to play with people, other dogs and toys. Her best friend is a 35-lb. Cocker Spaniel named Tiffany. Car rides anywhere for any reason are exciting to her. She loves to ride in the car while sitting on mommy's lap (when it's safe, otherwise she is in a carrier, we swear). She equally loves to sleep and snuggle. Lulu Belle is extremely clever and has learned many tricks in her 6 months. Housebreaking her and training her for the weewee pad was as easy as could be. Every morning before she leaves her room and every night before bed, she is required to do peepee on the pad, which is rewarded by a small treat. She sits, gives one paw, gives two paws and stays. She waves bye-bye. She also obeys her mommy's commands not to grab toys or food that are not for her (she loves human food, but does not get more than a taste). At bedtime, not to be confused with naps, she will go in her crate without fussing. Lulu is very patient and allows us to dress her for shopping sprees, social excursions and just recently, her first Halloween! She loves her clothing collection and Halloween costumes. She is even able to take off her own clothing when she wants to take a nap! When playing in the house, she is very springy and nimble. She never runs into things or stumbles around when carrying toys that are easily double her size. Her favorite toy is a stuffed monkey which is twice her size. She can run and jump with her monkey like she's a big girl. She is also very attentive with us walking around her and never gets under our feet. She loves her family and makes us very proud to be her owners and part of her pack. We do not treat her as human as some might, however, with all of our love and respect, Lulu Belle is a welcome and refreshing member of the family."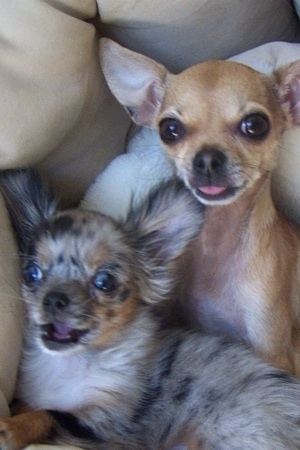 Roxi (left), a longhaired Chihuahua with Stoli (right), a shorthaired Chihuahua, two lucky little pups that have owners who care more about satisfying their canine instincts than their own human instincts to treat them like babies. Read more about these well-balanced Chihuahuas.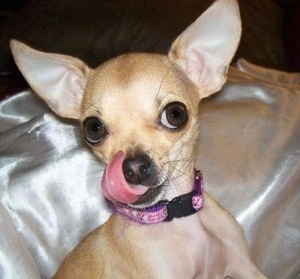 Stoli, a 3-year-old shorthaired Chihuahua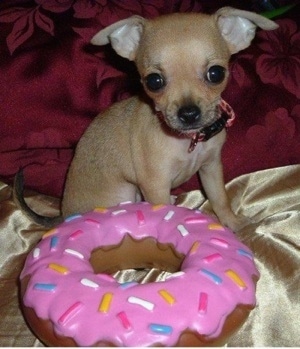 Stoli, a 3-year-old shorthaired Chihuahua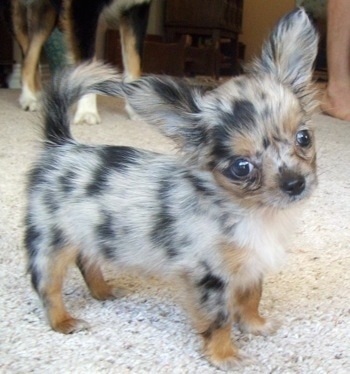 "Roxi, a longhaired Chihuahua puppy at 8 weeks and 15 ounces—her color is technically black and tan with a partial white collar and white feet. She also has merle markings that give the spotted blue and black pattern to her coat."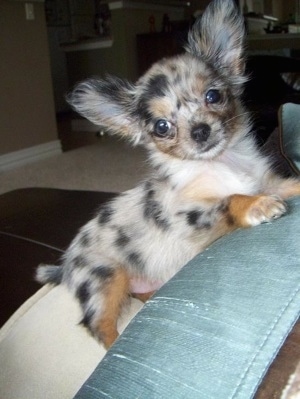 Roxi, a longhaired Chihuahua puppy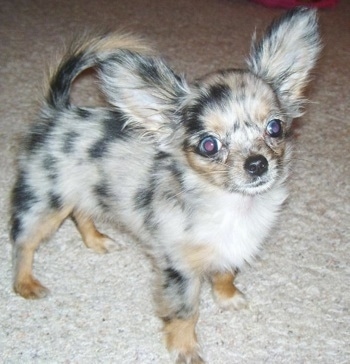 Roxi, a longhaired Chihuahua puppy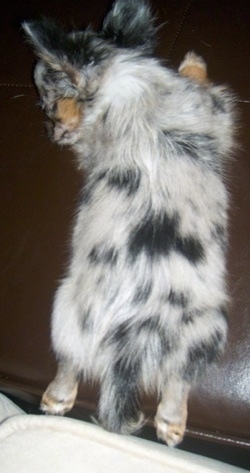 Roxi, a longhaired Chihuahua puppy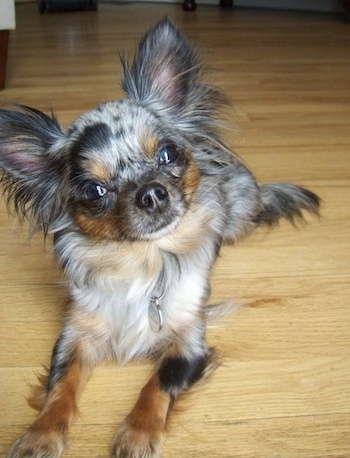 Roxi, a longhaired blue merle Chihuahua at 3 years old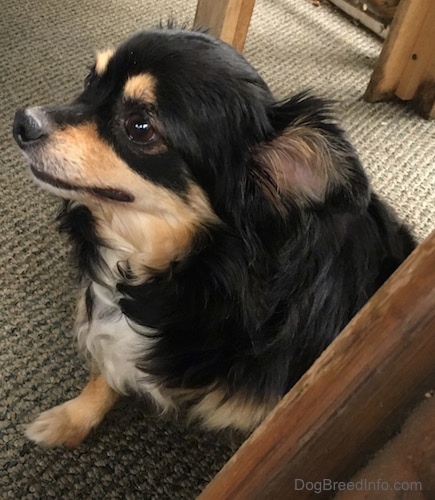 Gidget, a longhaired Chihuahua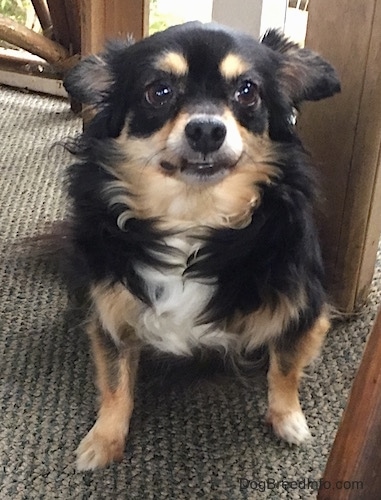 Gidget, a longhaired Chihuahua