Saving Baby E, a Cleft Palate Puppy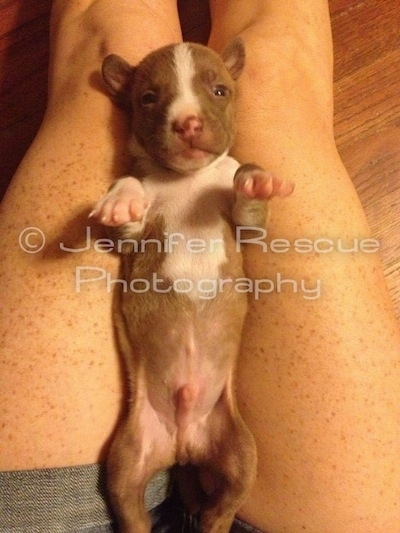 I have a cleft puppy named Ian Huckleberry, who we just call "Baby E" and "Bug." His mother was a Pit Bull Terrier. His father is unknown and we think there may have been more than one father siring his litter. He kind of looks to have some Bull Terrier in him, but that is only a guess.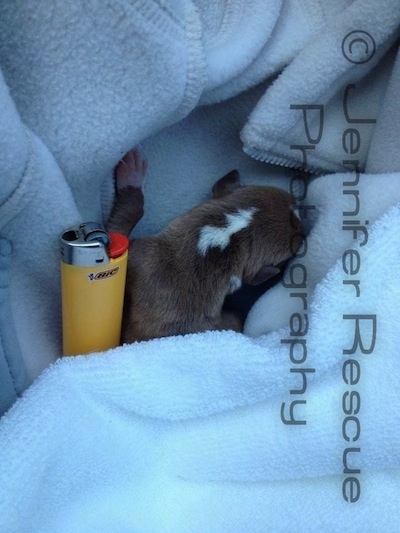 He was brought into my life at just one day old nearly dead. He was one of 9 puppies to a stray mama we rescued. The mama and babies went to one foster and Ian stayed with me so he could get private one-on-one care. He was close to 7 ounces when I got him at 24 hours old. Not much bigger than a Bic lighter, if that gives you some idea just how tiny he was.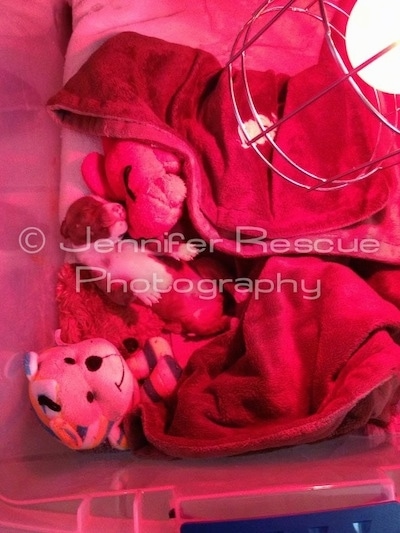 He had to be stimulated to urinate and defecate, and he was placed on a heating pad under a warming lamp for weeks. If not, his temp would tank out and he would become critical. For a week or so, until I could stabilize him, we were bound to the home only, but after he began to stabilize I started bringing him to the foster's home where his mom and siblings were staying so he could have time with them. His siblings were three times his size and I would have to watch him closely to make sure they did not trample him.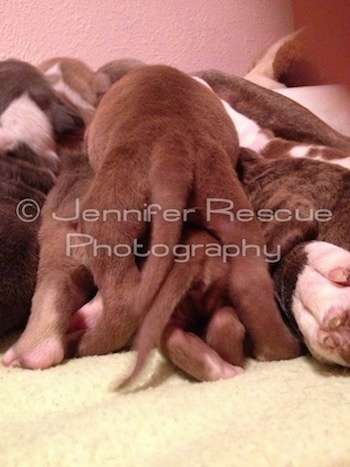 He would lie with the pack up against mom while they would eat and he would join them for naps. He did not know that he was supposed to nurse; this was never possible for him—the instinct to do so didn't seem to really be present. So while they pigged out, he slept nuzzled up to his family and I felt that his bonding with them was very important in his mental growth. We did this a couple of times a week for almost three months.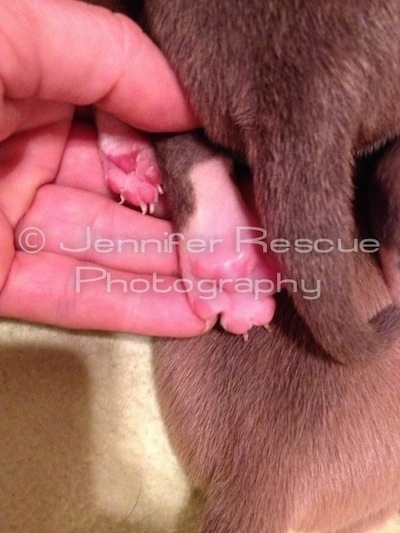 This picture shows a comparison of how small his foot was next to his normal-sized littermate.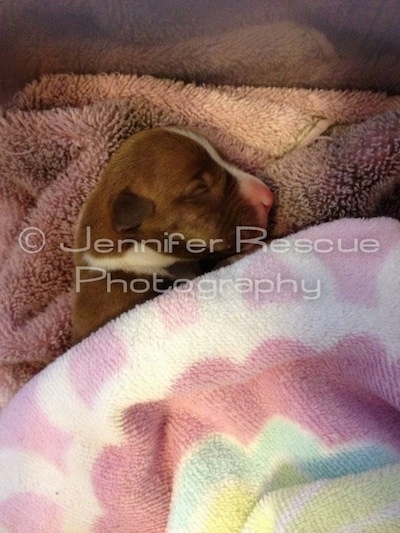 He was at death's door. He had no readable temperature, his blood sugar was tanked, and he was severely dehydrated. His heartbeat was barely able to be heard. This boy appeared to not have much of a fighting chance, but even in his weakened state, there was something about him that I knew was worth fighting for. There was no denying he was special and I just knew he wanted to live.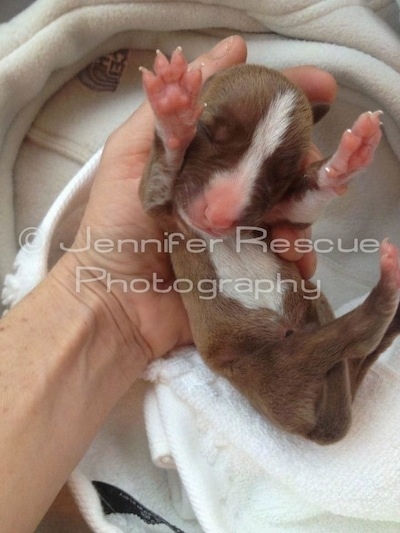 Ian was tube fed for 9 weeks straight around the clock. We started at first every 2 hours for 3 weeks, then every 3 hours for 2 weeks, then every 4 hours for 4 weeks until we finally graduated to less tube feedings while slowly and cautiously introducing food and water. While tube feeding, Ian went everywhere with me. In the process he became "famous" around places I would go, and people just immediately fell in love with him. The girls at the vet's office would just fawn all over him and let me tell ya, he loved that. I am not sure if it is possible really, but I swear he would flirt with them and charm them into his spell. He was definitely a ladies' 'man.'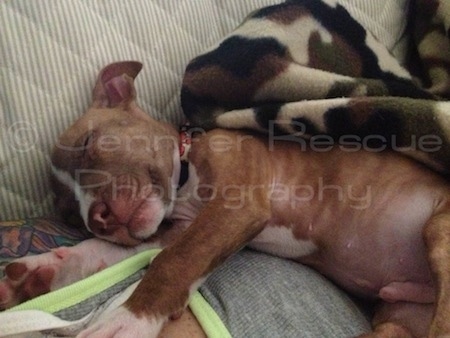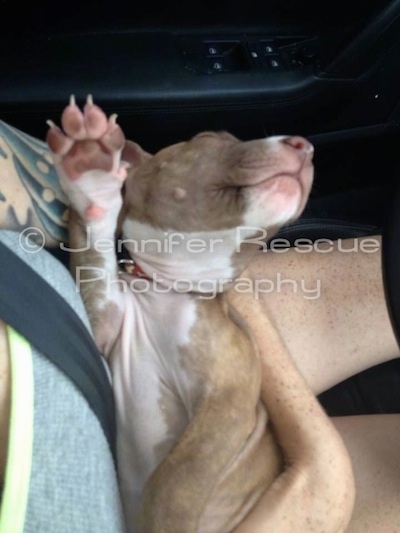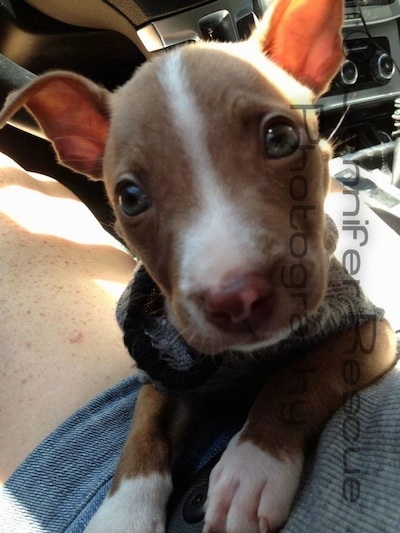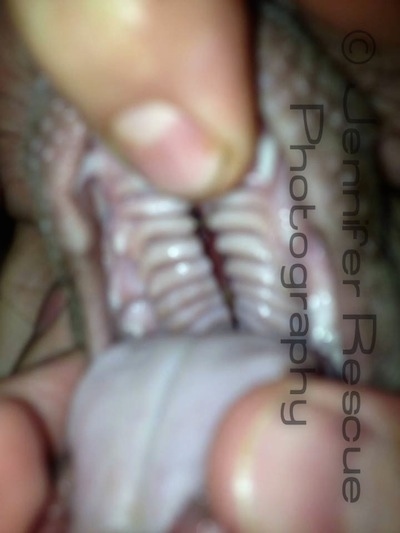 The vet did not see his cleft palate initially until he was over 2 weeks old, but because I believed he did not have a natural suckle instinct I started tube feeding him immediately in an effort to save his life. At the time when his cleft was initially diagnosed it appeared to only affect his hard palate. However, my vet did not perform cleft surgeries so the hunt for a vet that could help him was in full gear.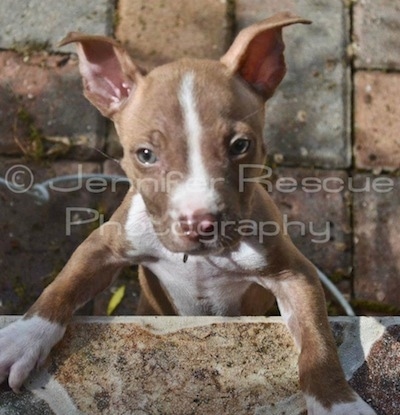 I started teaching him to drink water at 9 weeks old from a rabbit feeder while receiving supplemental water via tube accompanied by regular tube feedings. Then he was slowly introduced to hard kibble by hand, one piece at a time. He now can drink freely from a bowl but since he learned from a rabbit feeder, he has learned to manage by taking a couple of sips and then tilting his own head back to allow the water to roll down his throat and bypass his cleft. What a smart little fella. He does still have to be monitored when eating hard kibble so he does not eat too fast and choke. He is quite the little piggy and would eat all day long if he could.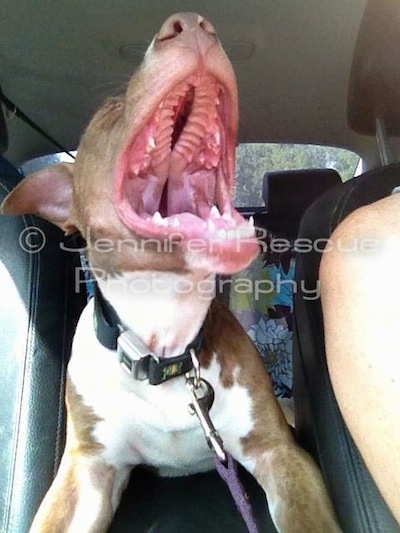 His cleft now not only affects his hard palate, but his soft palate as well. As he has aged his cleft palate has become larger, finally appearing to have stopped or slowed down in expanding at around 4-5 months old.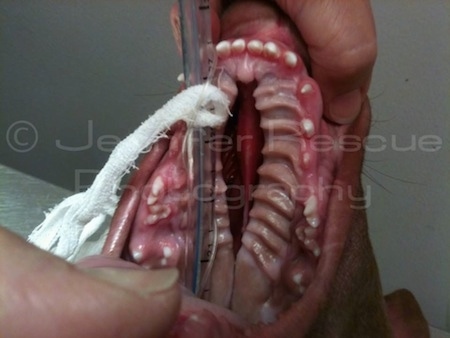 His cleft is so large (and covers most of his mouth) that the hunt for the right sized kibble is a challenge but we manage just fine. This is another reason I feed him in very small amounts multiple times a day and monitor him for every feeding.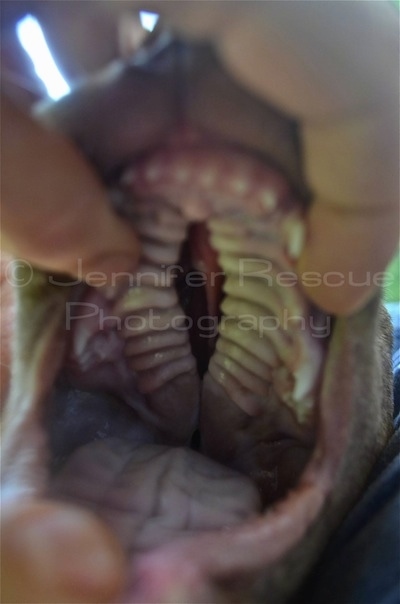 He was going to have surgery done at around 8 weeks of age due to the severity of the cleft, but as he grew older and due to the fact that the cleft was continually expanding, the decision was made to hold off for a while to allow the cleft expansion to slow down and to possibly avoid having to put him through multiple surgeries.
A fundraiser was created and managed by myself for his surgery and the funds for his care and surgery were raised in a matter of weeks. The outpouring of love and support for this baby who had the odds stacked against him was overwhelmingly beautiful. Unfortunately, the rescue that was collecting the donated funds from Ian's fundraiser has, in essence, abandoned him and has withheld his funds. Ian will never see a penny of those funds and we have now had to come to terms with that. But he is alive and doing well, so the big picture is what matters here. So when the time comes that he is ready for surgery, I will again do what I need to do to ensure he is able to get the surgery he needs and that the funds are raised yet again. Now that he is no longer at an elevated risk of aspirating and all the other things that newborn cleft puppies have to worry about, we can do the surgery when it is the best time and not rush it in a last ditch effort to keep him alive. He has proven he is strong and can manage just fine as long as the proper precautions are taken. The surgery should ideally be done around 6 to 8 months of age before he finishes growing and preferably when the cleft growth slows down a bit as he will heal better.
Surgery may likely be a necessity at a later date, and there is also a small chance that he may not require it if he continues to progress as he has been doing. Only time will tell. At this time he is doing remarkably well and I am very thankful for that. He is such a resilient little boy. I just can't imagine life without him.
To this day, every vet that meets him is stunned he survived and all agree he is one of a kind. I am blessed. He has defied the odds and is doing well and has no idea that he is different from any other puppy. He is a miracle baby. He is healthy, playful and loves all people and animals. He is so very smart too and eager to please.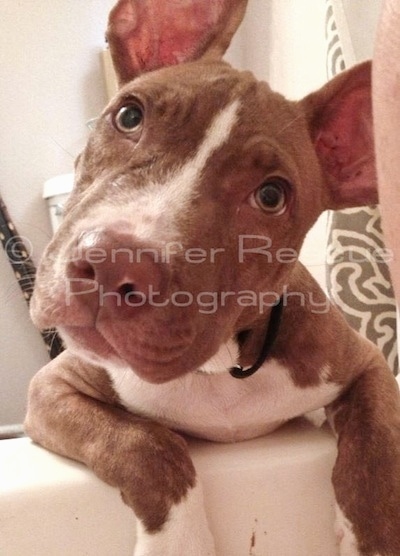 Ian (also known as Baby E) is now almost 7 months old, and considering all of the obstacles he has overcome, is a true fighter. Starting out just below 7 ounces, he is now 38 pounds of pure puppy love. In comparison, his siblings are around 55-60 pounds at 7 months old. We really don't expect him to bypass 45 pounds when grown, while his siblings are expected to be between 60 (females) and 80 (males).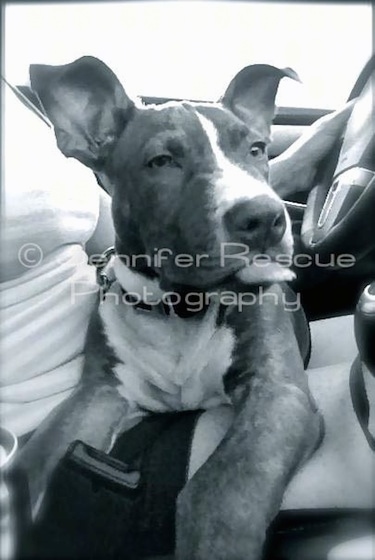 At this time, he is not ready for adoption and he may always remain here with me. That will depend on time, how he manages, if and when we do surgery, and if or when the PERFECT family presents themselves. Until then, and maybe always, he will remain safe here in the place he has called home since his first day here on earth. We will see the vet again soon to reevaluate his progress and needs and make the tough decisions as they need to be made. We will take it as it comes and do what is best for Ian and for his overall quality of life. That has been the focus and priority all along and it will remain that way. As it stands now, progress continues and he couldn't be happier or more loved.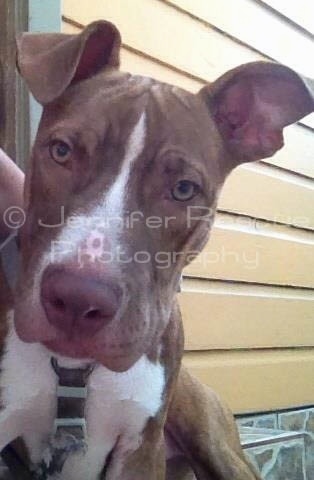 I am proud of my boy for being such a fighter. People do need to know cleft palate puppies are savable and that it is so worth it to try and help them. It takes a LOT of time and tears but well worth it in the grand scheme of things.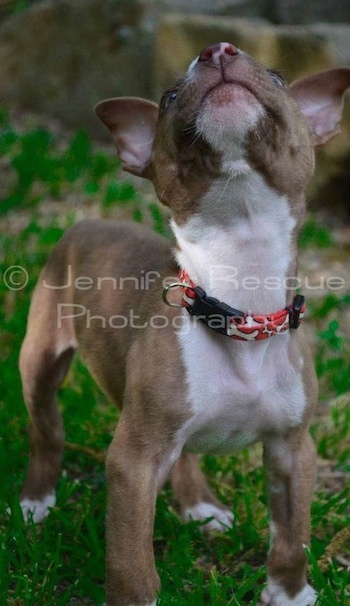 Keep fighting Ian, and when or if you fall, I will be there to pick you up.
Story courtesy of Jennifer Rescue