Cleft Palate Puppies
(They are SO worth the time to save!)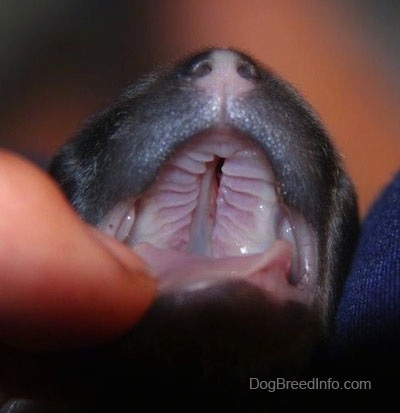 In 2003, I had the opportunity to save this puppy. It was not one of my puppies, but I took over on a mission to save him. Tube-feeding every two hours for weeks, around the clock. Saving puppies takes time sometimes, but it is really worth it.
Most vets and breeders will tell you to euthanize, and for good reason, as they do not want to see the puppy suffer, and most people do not realize how much time it can take. If someone just tries to save the puppy by putting a little effort into it, instead of a LOT, the puppy will suffer, and slowly die. This is NOT fair.
It is encouraging to hear that they can be saved with commitment and time.
Many cleft puppies are being saved around the world, and the vets that recommended euthanasia are getting to see how good these puppies can do, and what normal, healthy, active lives they can live. The vets cannot be blamed for recommending euthanasia. That is what they learned in vet school, and it has been the normal recommendation for years and years. The vets also believe clefts have to be repaired ASAP for the puppy to survive. That is not always true.
What is Cleft?
A cleft palate is an opening in roof of the mouth. Clefts can be very different in size and placement. Pictured to the left is a cleft on a 4-month-old cleft puppy.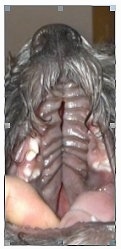 This pup was bottle-fed for five weeks and tube-fed for six weeks. He now swallows kibble whole and drinks water from a bowl. Photo courtesy of Bev, from BC, Canada
He is a normal, active, thriving puppy that shows no medical signs of being a "poor doer."
We decided on surgery at six to nine months of age. We watched and waited for a natural close-down, but it didn't happen. At this time there was no reason for surgery to improve his life/health.
Cleft puppies cannot nurse no matter how hard they try, as they cannot get any suction. It would be like you trying to suck on your finger without closing your mouth. Also anything going into the mouth can get into the sinuses and nasal passages, and could cause the pup to get sinusitis and/or pneumonia. The sign of a cleft pup is when the pup tries to nurse, there is no latch-on and it can only mouth the nipple.
Some cleft palates are so severe that euthanasia is necessary. Cleft puppies normally die within days if human feeding doesn't start (bottle or tube). PLEASE, do not let these pups starve to death, that is totally unfair.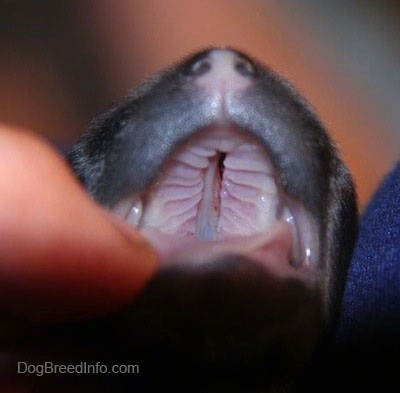 Cleft palate on a newborn puppy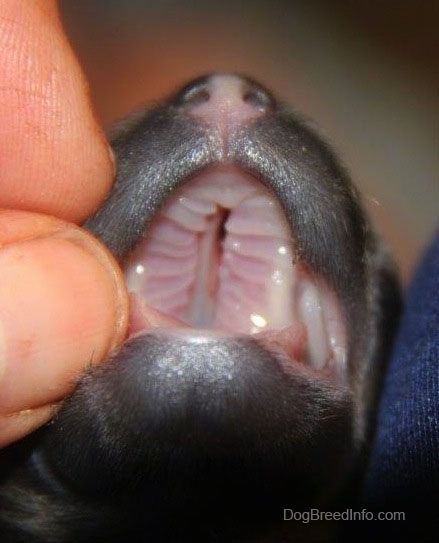 If you choose not to intervene, please take the pup to the vet and have him humanely put to sleep, as otherwise he will slowly starve to death.
A Decision Must be Made
The question you need to ask yourself is:
Are you willing and able, and do you have the time and desire to devote to the care of your special pup.
If your answer is yes, it is recommended you seek info from an experienced vet. Time is VERY important to intervene.
We have had the most rewarding experience of saving one of these pups. I work full-time, so with the help of a friend, we did it! Bev from Canada.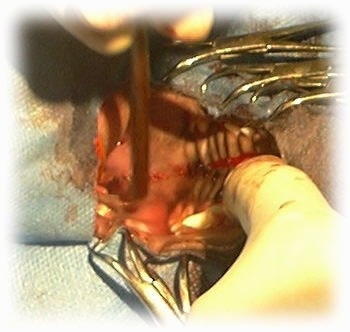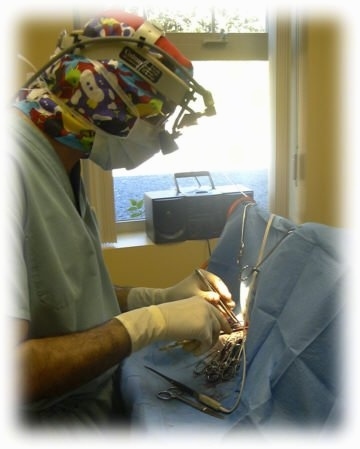 Timbit was born on July 23rd, 2003 with a cleft palate, which was eventually surgically repaired when he was 6 months old. At birth he was turned over to MistyTrails Havanese to ensure he received the best care and was raised and cared for by them and is now a happy, healthy, well trained little guy who fits right in with his home that adopted him after surgery about 9 years ago. Their reputation for being able to save cleft palate dogs has led many to seek out their help. They have since fostered and saved two more Cleft puppies, that are thriving in forever homes.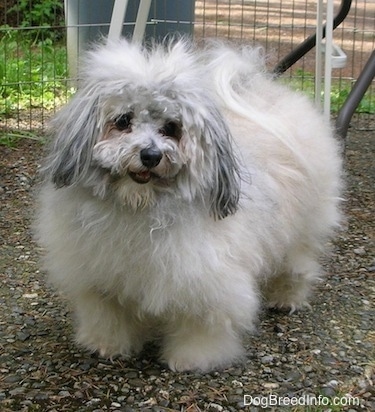 Timbit at 10 years old
Courtesy of MistyTrails Havanese
As of 2005
Cleft Palate Surgery
5 hours of surgery
cost of surgery $2,300
misc. costs before surgery $700
Some small clefts can be fixed for $1,200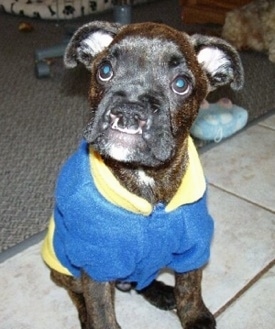 "Brosa, a 13-week-old Boxer puppy with a harelip/cleft palate. He was rescued by Boxer Rescue Atlantic Canada at four days old and was tube-fed every two hours until six weeks old by a wonderful and dedicated foster mother. He is small for his age/breed, but completely healthy except for the two holes in his mouth. He can eat and drink normally (hard kibble and treats only as soft food gets trapped and poses an infection risk). His palate changed/closed dramatically in weeks 10-12; therefore, the veterinarian recommends we wait to perform the palate repair during his castration appointment in the summer of 2009. Brosa was adopted in February 2009 and is ecstatic to torment an older sister Delta (Boxer mix), an older brother Oscar (Lhasa Apso) and two cats."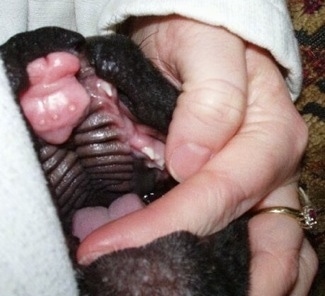 Brosa, a 13-week-old Boxer puppy with a cleft palate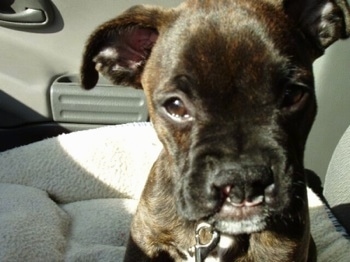 "At 13 weeks, he weighed 13.5 lbs.; a steady gain of about one pound (or so) a week. I'll be weighing him weekly just to stay on top of it, due to his being slightly undersized."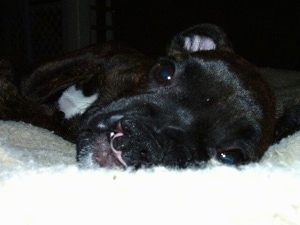 Brosa, a 13-week-old Boxer puppy with a cleft palate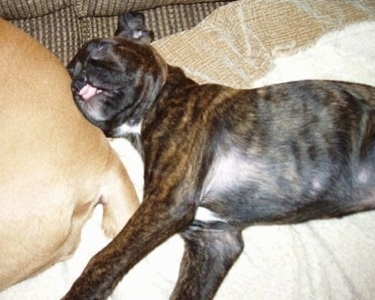 Brosa, a 13-week-old Boxer puppy with a cleft palate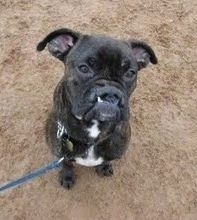 "One-year-old update on Brosa. His palate has closed up so well that surgery is not being considered at this time. Although he had one infection in the summertime (which recovered within two days with antibiotics), surgery will not be considered unless infections become a recurring thing—he is eating fine and is being a normal, rambunctious Boxer puppy. :) He is small for his breed at only 45 lbs. His growth was stunted when he was still in the first two months of his life, and must have had a lasting impression. He's perfectly in proportion through the body, even if his head is a little off, LOL! Once I got the word that surgery wasn't required "at this time" I went ahead and had him neutered last month. Hopefully that will be the only surgery he ever needs (in a perfect world!)."