Finding the Right Breeder for You
(for the family looking for a pet)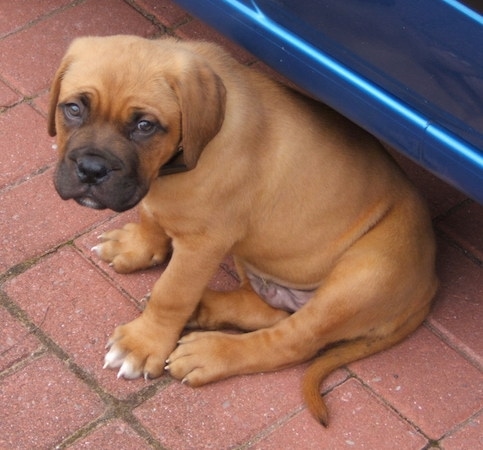 You have decided to choose a puppy or adult dog for your family. If you are in the city or suburbs you have a fenced yard. If you do not have a fenced yard (as some people who live in apartments) you have someone to babysit while you are gone. You have found a vet you feel comfortable with, and you have spoken to a groomer or two. If you are at dogbreedinfo.com you have obviously taken the time to research the breed (or breeds) that is right for you and your family. You have searched the net and read a ton of information. Now, you need to find a breeder. When you are interviewing breeders, what should you look for?
Some of you may have already had a bad experience with a rude breeder. You should never feel uncomfortable speaking to a breeder, and you should not feel as though you are being interrogated. The conversation should be give-and-take. You ask questions, the breeder asks questions, and it should feel comfortable. The first conversation is just get to know each other. The breeder is, of course, concerned with where their babies are being placed. But, a good breeder can tell if you are the right home without being short or harsh. Our job is to facilitate a long-lasting relationship and educate pet owners. We encourage our families to call or write before and after the birth if they have any questions or concerns. Some of the questions that we might ask our customers are: "What state do you live in?" "Tell me a little about your home." "Do you have children or grandchildren?" "Do you have other pets?" "Do you understand canine behavior and what dogs instinctually need as an animal?" Sometimes during the conversation, I learn that they have never had a dog. That in turn leads to a discussion of what they envision having a dog in their lives to be like. These families usually will require more education, advice, and after-care before and after their dog gets home. The good breeder does not mind sharing their knowledge, and enjoys guiding these families to ensure that they are happy, and the puppy has a smooth transition. We want it to be an enjoyable experience and that should be the case for every family working with a good breeder.
Another question you can expect is, "What sort of temperament are you looking for?"Each family has a different temperament in mind. Some want cuddly, others rambunctious, some laid-back, some independent, some very obedient. Each puppy is an individual, and it is important for the buyer and the breeder to communicate effectively so they can pick the right puppy together. The buyer needs to realize how they treat the dog has a whole lot to do with how the dog will behave. Breeders need to match the right dominance and energy levels with the family's own levels. For instance, we have a policy that people with babies (ages four and under) and the elderly (who have fragile skin) have first dibs on the more laid-back pups.
Your breeder should keep you involved throughout the process. You'll think of questions as you go along, and you should not be afraid to ask. Even if you think it is a dumb question, you should feel comfortable enough with your breeder to know that they will not get annoyed or mad because you do not know something. I have spoken to many wonderful families who have been treated horribly by some breeders. It is a sign of arrogance and a lack of self-esteem, and I certainly hope that if this article does anything, it lets people know that they do not have to put up with this sort of treatment. We are, after all, talking about people who are looking for pets.
Now, if we move to the area of people wanting to breed or show, that is a whole new ballgame. Of course, good breeders have stricter criteria in this area. But, families that are looking for pets that have done their research, and are trying their best to educate themselves, should not be treated badly just because they are not as educated in the area of breeding as breeders are. And, even we don't know it all.
Now, what should you ask? Good breeders will tell you about their breeding and testing programs, and they will tell you about how the babies are raised, and when they let them go to their new homes. But, if they miss something, here is a list for you.
Do you require that my puppy be spayed or neutered? You want them to say yes and your registration papers should be marked for limited registration. This simply means that the puppy can never be bred and have registered offspring.
What is your worming schedule for your puppies?
Do you vaccinate your puppies, and when do you do it? Also, ask what diseases and viruses they vaccinate for. Handling the vaccinations is very important. Ask where they purchased their vaccines. We always purchase are vaccinations directly from our vet. Your puppy should receive distemper, hepatitis, lept o, Parvo, Corona, influenza, and bordetella vaccinations.
When do you wean your puppies? We prefer to let nature take its course. If a breeder weans too early, we suggest that you look elsewhere. I have heard a lot of excuses for weaning too early. Ask for five or six weeks of age. It is not too hard on them. But, I have heard a lot of excuses from breeders like, "It's hard on the mom, their breasts would drag to the ground and after age five weeks there is no nutritional value." A puppy is simply not ready to leave mom and siblings at 4 to 7 weeks and in most cases not at 8 weeks old either. If the mother is taking care of them medically, nutritionally and emotionally, it is not hard on them. Mother knows best. She will wean them when it is time, and the puppies will be healthier and more emotionally stable. And that is what should be strived for.
Along the same lines of emotional stability and health you want to ask this very important question: When does my puppy get to come home? Our answer is always that it depends on mom and the individual puppy. If a breeder says 6 or 7 weeks, find another breeder. An excellent book that we love and follow in raising our puppies is "The Art of Raising a Puppy," by the Monks of New Skete. When mom weans her babies from nursing, that does not mean that she emotionally weans them as well. When siblings start sleeping apart and they prefer being with us rather than mom and siblings, then they are ready to go to their new homes. A good age is between 10 to 14 weeks of age. Do not overlook older pups either. They are well-socialized with their family, but they will fit right in with your own family very quickly and they will still bond with you and your children. Since caring breeders do not sell to brokers (which in turn sell to pet stores) there are times when we have puppies that have not been placed that are between 4 to 9 months old. This can be a blessing, because you do not have to go through the "chew on everything and anything stage" as long, and their attention span is much longer, which means they are able to be housetrained more quickly and are ready to begin basic obedience.
By this time, your prospective breeder will usually have already told you about the bloodlines and pedigrees they use, and what testing the do. If they don't, you should ask.
Now that you have decided to adopt the puppy from a particular breeder, the work of choosing your puppy begins. You and your breeder will work together to pick the puppy whether it be through pictures and possibly video along with visiting or talking on the phone or via the Internet. A good breeder will make sure you are fully informed and has your best interest—and the puppies'—in mind and will do everything possible to make a good match.
We form close relationships with our customers and visit often during the adoption process. We have the customer name the puppy and that is what we call it. When the puppy gets to you, he will feel at home hearing his name and will feel comfortable with you and will adjust more quickly. After the customer gets the puppy home, we are always happy to hear from them and if they need help, well, that is what we are here for.
Find a breeder that raises the puppies and adults in a clean, roomy home environment. The puppy should not be raised in a cage. After all, he is going to live with the family, not in a cage. A puppy that is used to a small area means it is used to going to the bathroom anywhere which makes it harder to housebreak. We keep them in a large clean environment and they get it much more quickly. When you see those puppies in the pet stores, in the small cages, you see they don't seem upset about it. What do you think they are used to?!! Most of those puppies have never felt the grass beneath their feet. Just because you do not choose your puppy from a pet store does not mean that you purchased one from a breeder that it is not in a similar environment. There are many breeders out there who keep their adults and puppies in cages or runs. You want to choose a breeder that is raising a puppy that is being socialize properly to go into a pet home, your home. You want a breeder that breeds for the whole dog: health, temperament, longevity, conformation, good skin, good eyes, etc.
Your breeder should also offer you some sort of good health agreement. There are options available in case something does go wrong. After all, we are not dealing with machines; they are living beings, and are as fallible as we are to health problems. A good breeder is there for the families they serve. For instance, a puppy has a chemical imbalance that causes seizures. She's only five years old. If you and your vet are unable to control this problem with medication, you should be able to call your breeder, and that breeder should offer you another puppy (when you're ready). The breeder should also take note of your experience, for future reference. If there are problems again in the future they need to readdress their breeding program. Further genetic testing and test breedings may need to be done to find out where the "bad gene" is coming from. We have a five-year genetic death and temperament guarantee.
Good luck. Follow your instincts and you will find the puppy that is right for you and your family from a breeder you know is working for you and has your best interests as well as the puppies' in mind.
Written by Dawn Littlefield